Tired of working a slew of odd jobs and temporary side gigs? Not sold on the idea of college? A construction apprenticeship could be your ticket to a long-term career path and a stable living. 
The benefits of working in construction are pretty rock-solid (pun intended). Not only can you make serious bank in this industry (the median annual wage for construction managers was over $95K in 2019), you can also reap some lesser-known benefits—like building muscle as you build your community.
So, how do you score a construction apprenticeship? What does it look like? And how can you use it to launch your career? We're covering everything you need to know to help you decide whether this career pathway is the right one for you.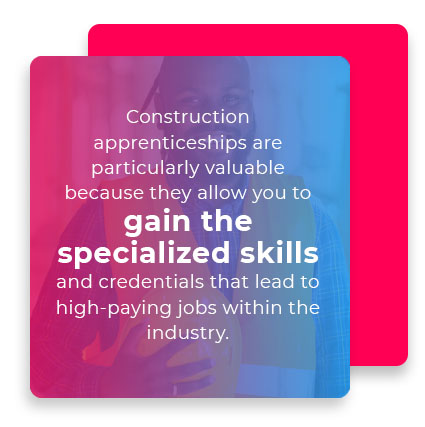 Why Apprenticeship?
OK, first things first: What is an apprenticeship and why should you consider it? Apprenticeship is a type of structured employment where apprentices are trained by their employers. You'll get a combination of classroom education and on-the-job (OTJ) training designed to ready you for a successful career in the trades.
The best part? You'll get paid from the beginning and you can earn more as your apprenticeship progresses. 
Construction apprenticeships are particularly valuable because they allow you to gain the specialized skills and credentials that lead to high-paying jobs within the industry. Some government-sponsored apprenticeships even allow you to earn college credit that you can use to earn your degree and score a well-paying job as a construction manager or glazier.
How to Launch Your Career with a Construction Apprenticeship
Thinking that a construction apprenticeship may be right for you? Here's how to score an apprenticeship and how to use it to successfully launch your career:
Earn Your High School Diploma or Equivalent –

One of the biggest perks of construction apprenticeships is that most of them require little to no formal education. All you really need is your high school diploma or a GED and a reliable form of transportation. 

Find Your Ideal Construction Role –

There are many different roles in the field of construction that are worth exploring. For example, you could work electrical systems in commercial buildings (see: electrical apprenticeships). Construction plumbing is another in-demand career that could earn you a steady income (see:

plumbing apprenticeships

). Do your research and look for a role that suits your interests and skillset.

Consider Vocational Training –

If you don't meet the requirements for a certain apprenticeship program, consider beefing up your skills through vocational school. If you're still in high school, consider taking math and carpentry classes that could open more doors for a career in construction.

Create a Digital Portfolio–

Ready for apprenticeship? Start by sprucing up your resume and creating an

online student portfolio

that showcases your unique talents.  Then, get in touch with your local construction union and ask about apprenticeship opportunities. Many employers also offer government-sponsored apprenticeships (hence, the importance of your resume/portfolio). Some employers will even pay for you to go to college, which is worth considering if you've set your sights on a six-figure construction job.

Gain Experience – Once you land a construction apprenticeship, expect to work as an apprentice for three to four years. After that time, you can become a journey worker, which is essentially a skilled worker who has the credentials and authorization to work as a qualified employee in his or her field. Some employers require their construction employees to gain additional certifications, such as the Occupational Safety and Health Administration (OSHA) Construction

10-hour or 30-hour course completion cards

.

Expand Your Skillset –

If you want to work in a specific industry, consider expanding your skillset by taking additional certifications. While some of these certifications can be completed online, most require you to demonstrate your skills in person.

Consider Entrepreneurship –

Has it always been your dream to start your own construction company? Once you gain experience and grow your skills, consider taking the plunge into entrepreneurship. After going through apprenticeship and working for other companies, you'll have valuable insight that can give your business a leg up on the competition. And who knows? You may end up sponsoring an apprentice of your own one day, and it will all come full circle.
Building Your Career with Apprenticeship
Sure, you could always skip apprenticeship and go straight to work in the construction industry. Or you could get paid to be a construction apprentice and earn while you learn. By becoming an apprentice, you can set yourself up for long-term success in the construction industry. If you want to maximize your earnings AND your career opportunities, apprenticeship is an option worth exploring further.