JOIN THE MOVEMENT
YOUR FUTURE BEGINS HERE.

TAKE ACTION.
Be Pro Be Proud GA, an initiative led by the Cherokee Office of Economic Development, is thrilled to announce a new partnership with Tallo, a leader across the United States in helping YOU connect with employers, training programs, and schools. COED is leading the movement to bring a new generation of pride, progress & professional to Georgia's skilled workforce. If you think you're ready to use your passion and talent to start shaping our state's future, then it's time to take a look at a skilled profession. Explore some of Georgia's innovative, in-demand professions below and click TAKE ACTION  when you find the one that's right for you.
Automation & Robotics, CAD/CAM Drafter, Welder, CNC Operator, Machinist and more
GET YOUR DIGITAL BADGE NOW.
Your Digital Badge equals Power.  Join the Movement.  Get Your Badge.  Signal to employers and schools that you're ready to take the next step in pursuing your PROfessional aspirations. 
Add the Be Pro Be Proud Badge to your Profile by scrolling to the Badge Section and "Add an Entry."  Search "Be Pro Be Proud" and Select "Request Your Badge."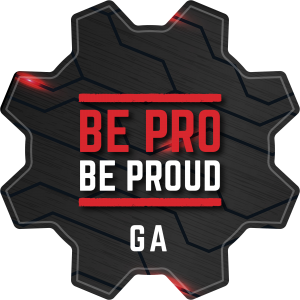 IMPORTANT RESOURCES
HOW TO GET THE MOST OUT OF TALLO
Here are a few resources to help you build and polish your profile, access new opportunities and apply for billions in scholarship and grant dollars.

TALLO
& YOU
Working together, Be Pro Be Proud and Tallo provide the tools and resources you need to connect with interested schools and employers.  Join the Movement today and begin your journey to becoming a highly-skilled professional.