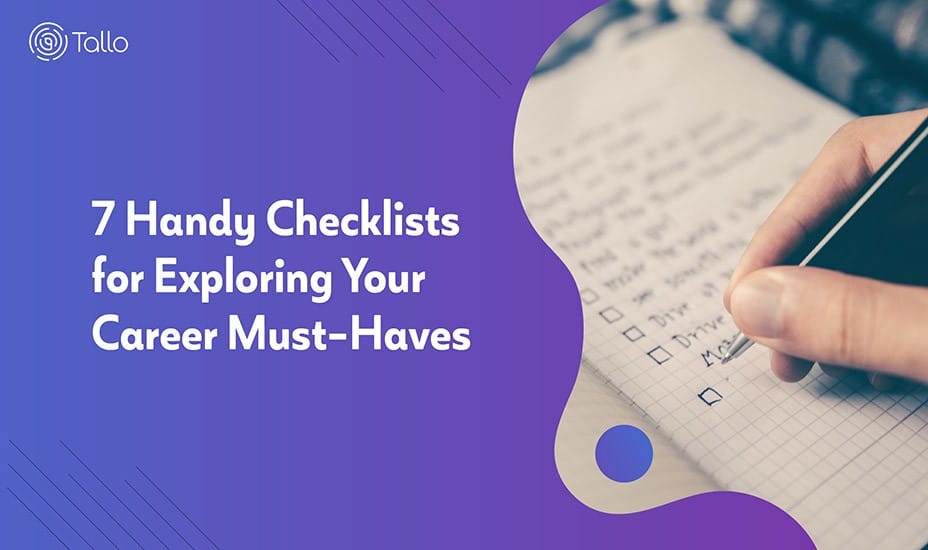 Summary: Use checklists to help you determine your career preferences in categories like workplace features and structure, skills, education requirements, and benefits.
Checklists Can Help You Prioritize Your Career Essentials
There are many reasons to choose a career—interest, income, and advancement opportunities, to name a few. Knowing what matters to you most will help you narrow down your options to find a challenging and fulfilling career. At current estimates, there are 11 million job openings in the U.S. alone.
If you're wondering how to choose a career or where to begin, here are seven checklists that you can use to help you identify your career preferences. To get the most out of these lists, browse each category and highlight, circle, or mark the items that are important to you. Then, cross out the ones that don't matter as much. When you have gone through all seven career categories, look at what you selected and try to rank them from most to least important.
Work Structure
Work with others
Work solo
Work regular hours
Work overtime as required
Work flexible hours
Work from home
Have a certain amount of vacation/leave/paid time off (PTO)
Lead and take responsibility for others
Receive guidance/orders from supervisor
Help or teach others
Compete with others
Workplace
Work at a large company
Work at a small company
Be a contract worker or self-employed
Join the private sector (i.e., public, for-profit businesses)
Join a governmental organization
Join a nonprofit/public service group
Work indoors
Work outdoors
Work in a shared/open space
Work in an office/cubicle
Be located in a city
Be located in a smaller town
Stay in one location
Move for a job
Work anywhere in the country
Work in one specific place
Work in another country
Job Characteristics
Create/manufacture products
Produce information/knowledge
Provide service to others
Implement other's ideas
Invent/design original concepts
Perform regular/predictable tasks
Have variety in your daily routine
Carry out employer's objectives
Pursue personal goals
Skills/Education/Training
Have some job-specific skills
Need prior job-specific skills
Require no special training
Train on the job
Apprentice to learn
Earn certification in less than a year
Earn a 2-year college degree
Earn a 4-year college degree
Earn a graduate school degree
Financial Rewards
Require high earning potential
Prefer rewards other than salary
Need job security
Expect regular/guaranteed salary increases
Need a benefits package/health care/pension
Work for an hourly wage
Prefer the possibility of overtime pay
Work on commission
Expect bonuses/performance incentives
Personal Rewards
Help others at work
Improve community/benefit society
Achieve status/power/respect
Travel
Work independently
Work creatively
Has a volunteer program/community partners
Family
Consider family highest priority
Achieve balance of work and family
Provide benefits for families (e.g., discounted/free childcare or paid parental leave)
Bring your pet to the office
Avoid any travel for work
Finding the Best Career Fit
Career fit refers to how well your job aligns to your passions, personality, and priorities. Completing your checklists can help you find the best fit. You can use your lists in a variety of ways—when looking for employment or selecting a career path, check how the career path or job meets your priorities.
You may also want to revisit your prioritized list over time after you've had some training or job experience. With additional experiences or education may come new ideas about your career path or potential job. Keep in mind that even if a job seems like a good fit or an exciting job, chances are you will only be happy if it meets the majority of items on your priority list.