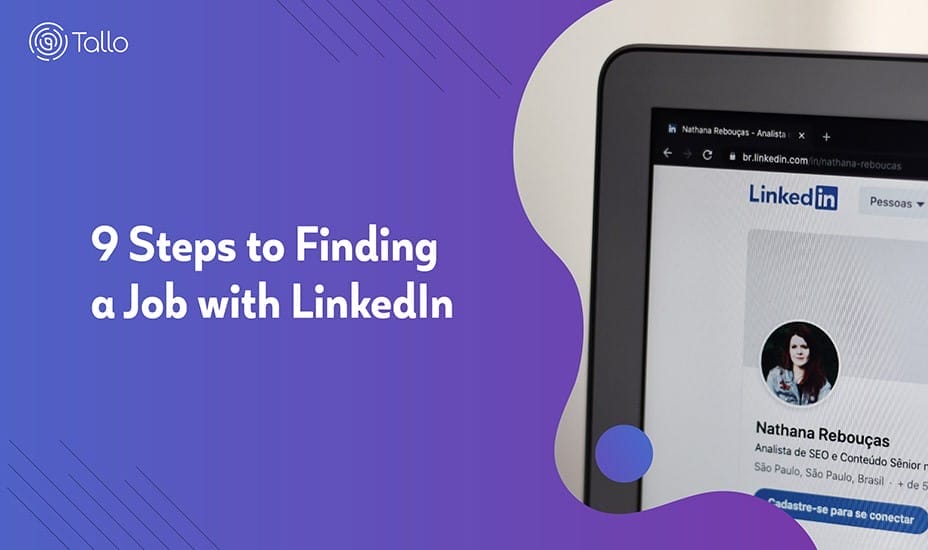 LinkedIn is a social network focusing on professional, educational, and business networking. You can use LinkedIn to connect to other business professionals, find a job or internship, or learn skills needed to advance your career. You can access it from a desktop or through the LinkedIn mobile app. This article will look at the steps to set up a LinkedIn profile for networking or job-hunting.
1. Set Up a LinkedIn Profile with Your Headshot
If you want to use LinkedIn to find a job, set up your LinkedIn profile and include a professional headshot. This personalizes your profile site and is the first thing people will notice. In addition to adding a headshot, LinkedIn provides wallpapers (or professional-looking backgrounds) to add to your profile site.
2. Write a Descriptive Headline
LinkedIn allows you to add a descriptive-type headline beneath your name. Keep in mind that your LinkedIn headline gives viewers insight into your profession or professional skills. Create a headline that clearly states your interests, skills, or abilities. For example, you could say, "Recent biology graduate passionate about cancer research" or "Certified dental assistant (CDA) with professional experience."
3. Showcase with Skills

Highlight all your skills—LinkedIn allows 50 skill slots with your profile. Since recruiters constantly search LinkedIn, try to fill in as many skill slots as possible. Remember, skills count as keywords and search terms in your profile. If you need ideas of what skills to include, look at other professional profiles within your industry on LinkedIn.
4. List Work Experience as Results and Accomplishments
Organize your previous work experience into an easy-to-read, bulleted format. It is important to avoid long paragraphs and big blocks of text if you want employers and recruiters to review your LinkedIn profile. Focus on detailed results and accomplishments, and include metrics, numbers, and data when possible. For example, instead of saying, "Responsible for managing customer requests," say, "Successfully handled 100+ customer requests per week with a 99% customer satisfaction rating."
5. Ask for Recommendations and Community Involvement

Ask peers or colleagues to write recommendations for you—these will help your LinkedIn profile stand out from the competition and provide positive information about you and your work ethic. When starting, you may not have a ton of work experience. The community and volunteer experience section allows you to list your community or volunteer work; share details about how your volunteerism contributes to your professional skills and abilities. For example, "Provided ongoing monthly training for 15 volunteers in the care and handling of homeless animals at the Fargo Animal Shelter."
6. Network, Network, Network
Start networking on LinkedIn by connecting with past colleagues or friends and letting them know you're job searching. Use your contacts to start building new connections. Follow companies, people, or topics related to the industry you wish to join. You can even reach out to new people at companies you want to work for on LinkedIn and follow their posts.
7. Use Easy Apply for Job Openings
LinkedIn has thousands of jobs posted by employers. Take advantage of the Easy Apply feature on LinkedIn, which allows you to submit your details and attach a résumé for a job listing without ever leaving LinkedIn. When there is a job opening that interests you, you can submit your résumé almost immediately.
You can also turn on job alerts and filter jobs for your industry, job title, or skills. LinkedIn will notify you via email or text when a job that fits your criteria or filter is posted.
8. Stay Active on LinkedIn

Get active and stay active on LinkedIn. The more active you are on LinkedIn, the more you'll get seen by recruiters or potential new colleagues. Keep engaged and build your network by following, commenting, and posting on profiles you are connected to or want to be connected to.
Consider posting or linking industry topics on LinkedIn that may interest others in the same field. Apply for jobs that are of interest to you. You may not get a response from a recruiter or hiring manager but keep applying. You never know when you will get a reply.
9. Include a Link to Your Profile on Your Résumé
Be sure to include a link to your LinkedIn profile in the header or contact information section of your résumé. It will help improve your chances of getting invited to an interview. It allows a recruiter or hiring manager to also look at your LinkedIn profile for additional information.
The Value of LinkedIn
LinkedIn hosts 600 million professional profiles, which is an excellent source for networking with fellow industry professionals and providing relevant job opportunities. LinkedIn also offers professional development, training, seminars, and workshops to improve your skills. LinkedIn allows you to research companies and their employees. This ability helps determine whether a company, its mission, location, and work environment are a good fit for you.