Personal reflection helps give students a realistic view of who they really are but requires a foundation. Educators can create this foundation and help students better explore educational and career pathways based on their unique values, interests, personalities, and workplace preferences by integrating Tallo's Purpose and Meaning Career Fit Assessment in their classroom. 
While traditional aptitude tests offered by Naviance, Xello, and YouScience are lengthier, Tallo's patented predictive science Assessment was created to bring quick, reliable, and accurate information to students to help them identify their sense of purpose, understand their personality and core values, and guide them to meaningful careers that fit their interests. Don't just take our word for it though, let's go through what Tallo's Assessment shows your students and how we differ from other resources out there.
Tallo's interactive Assessment measures students' interests, personality, core values, and workplace values. While Naviance, Xello, and YouScience also provide insight into students' interests and personality, research shows their methodology can have adverse impacts on students planning their future path. Take a look below: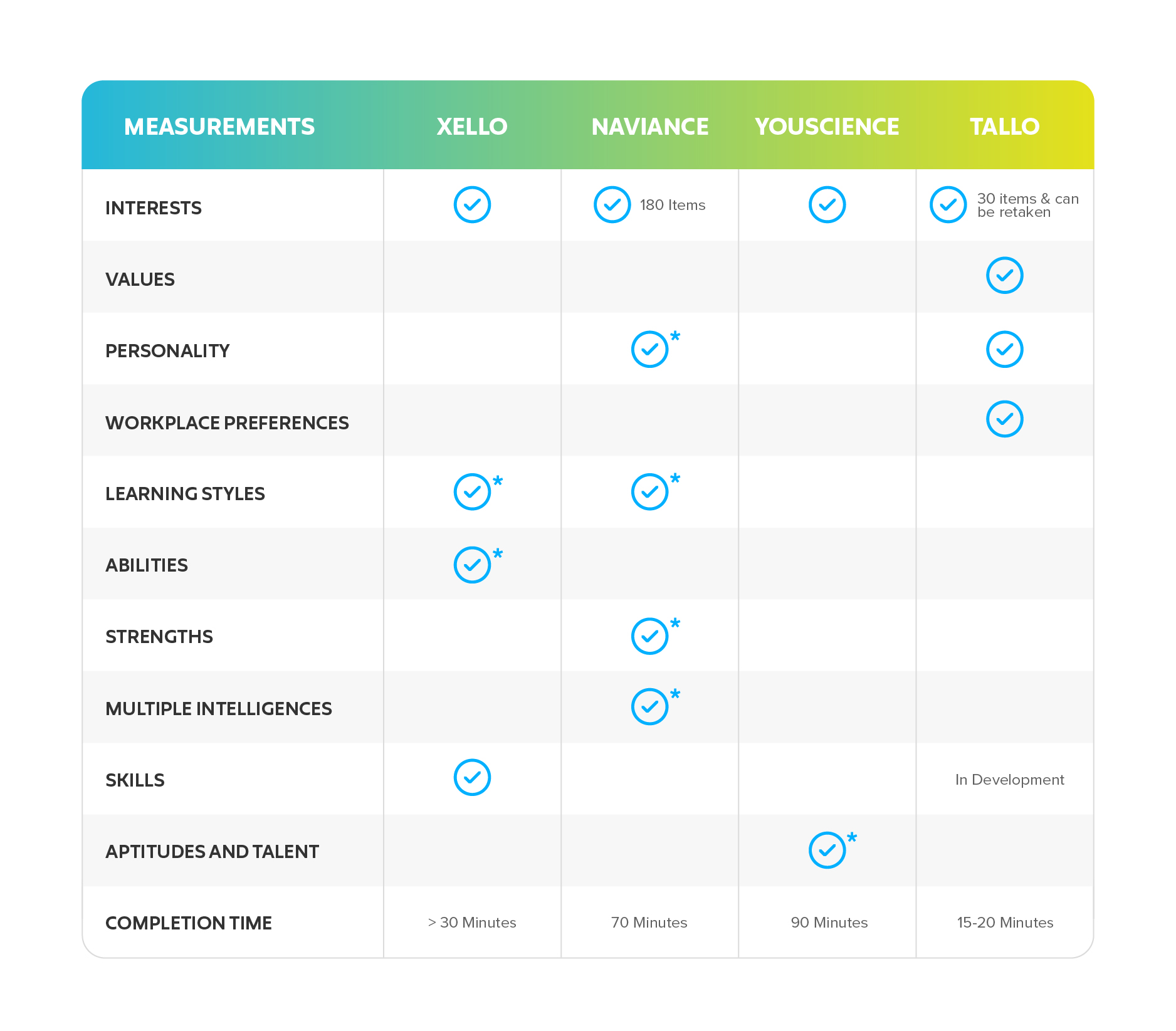 *Note that measuring this attribute is risky because either research indicates a high potential for adverse impact on women and/or students of color or there isn't enough evidence to support that this attribute aids career planning or success. (link)

Most assessments only measure strengths, aptitudes, or skills. These assessments group students together in broad categories, not taking their unique experiences, life changes, and needs into consideration. At Tallo, it's important for us to have an assessment that helps a student have confidence in communicating who they are to an educator, potential employer, or friends and family.
Adverse Impact of Aptitude Tests Offered by Naviance, Xello, and YouScience
Research suggests that traditional aptitude tests currently in the market may have negative impacts on marginalized communities of students. Assessments based off of aptitude tests create barriers for certain groups of students. For example, studies show that generally, female high school students tend to score higher on verbal aptitudes, while male students tend to score higher on scientific and quantitative aptitudes. But does this mean only males should be encouraged to pursue STEM careers? Hardly. There are many factors at play that influence differences between genders in aptitude scores that are not tied to how well those individuals will perform in a future career. So rather than building on that bias, Tallo's Assessment breaks down those barriers for all students by emphasizing their best career-fit based on interests. 
High school students—members of Generation Z—are a part of the most diverse generation yet. Recent Tallo data shows that issues of social and racial equity and justice are at the top of their mind, and the majority have both witnessed and personally experienced discrimination at school. High school is a critical time for students to be empowered and told what they can do, rather than broken into silos and told what they can't.   
Tallo's Assessment Creates a Lasting Positive Impact
At Tallo, we support the use of data to help adolescents and adults make better informed decisions about their career paths that fit their purpose and bring them meaning and joy. Through our assessment results, users discover occupations that they may have not previously considered and have the opportunity to richly explore those jobs and discover how to pursue them. Because we have always intended our assessments to help students choose careers and help schools and educators prepare their students for the right fit, we have ensured that we use assessments that have the best interests of women and people of color in mind.
Tallo's Assessment Takes Less Time to Complete
While Naviance, Xello, and YouScience all measure students' interests, Tallo's Purpose and Meaning Career Fit Assessment was designed to be shorter (30 vs. 180 items for Naviance) and with the option to be retaken as students navigate changes such as higher levels of education or new jobs. Assessment length matters. When you consider using an Assessment for high school students, length and completion time becomes a huge barrier due to attention span. Tallo's Assessment allows a student to balance the time needed for an assessment and ensures reliability and validity in the recommendations. 
Tallo's Purpose and Meaning Career Fit Assessment takes the following about a student into consideration: 
Interests: These interests are what keep a student motivated and energized. Understanding and following them will bring enjoyment and satisfaction to their life.

Personality: Students' personality traits are consistent over time and reflect how they typically think, feel, and act. Understanding them will help a student find a career path that values them for being who they are.

Values: Students' values are what they find deeply important. Their career must include them in order for it to be fulfilling and purposeful.

Workplace Preferences: Students' workplace preferences are values they'd like their ideal employer to emphasize. Understanding these preferences will help them find an organization that is a great fit and a great place to go to work.
Naviance, Xello, and YouScience's aptitude tests don't take a student's core values and workplace preferences into account. By measuring work (core) values, we help students find careers that provide them a sense of purpose and meaning. Tallo's Assessment provides educators with the insight they need to prepare their students for the next steps after graduation. 
Xello and YouScience do not take a student's personality measurement into account. While Naviance does, they use the Myers-Briggs test, which is based on an outdated personality typology that has not been found credible for guiding career choice. Tallo knows that personality is a key component of an individual finding their "right fit," so Tallo's Assessment utilizes the HEXACO framework: a modern scientifically valid personality model.
Different Ways to Use Tallo's Assessment in the Classroom 
Tallo's Assessment reveals where individuals find purpose. When individuals pursue their purpose, they persist. Persistence means students are motivated to learn, to apply themselves more, and continue even if the content is difficult or they experience temporary challenges. The best way a school or training program can help students, improve retention, and increase graduation rates is to help them understand whether and how they fit specific career paths, as well as to direct them to career paths and training programs they will enjoy and that are meaningful to them.
Give your high school students a competitive advantage by incorporating Tallo's quick and interactive Assessment in your classroom and by creating space to openly discuss results and students' progress. Use the data to help explore career matches and filter by fit score, education and training, skills needed, and industry outlook to discover meaningful opportunities and local jobs based on unique career fit and personality.
What's the deal with SEL? 
In our blog titled, "What is Social and Emotional Learning, and How Can Educators Promote it?", we covered the necessity of incorporating Social and Emotional Learning in the classroom. As employers place a higher emphasis on soft skills, SEL is becoming increasingly important.
What Else Can Students Do with Tallo? 
Beyond the Assessment, over 1.5 million students use Tallo's digital platform to showcase and keep track of their interests, skills, extracurriculars, and academic accomplishments to connect to career and educational opportunities. There are over $20 billion in scholarships available, as well as the opportunity to connect to employers, post-secondary institutes, training opportunities, and/or attend virtual college and career fairs. 
Ready to check it out for yourself and guide your students to success? See the Assessment for yourself! 
Just fill out this form and we'll be in touch with access to your own Assessment.