Sometimes it's good to be a little extra, especially when you're on the quest for that dream acceptance letter or internship. And by extra, we mean extracurricular! Though extracurricular activities sound like something involving aliens from outer space, they're actually way more within reach than you might think. Here's some info on extracurriculars and why you probably need to add a few to your schedule.
The Definition of Extracurricular Activities
In a nutshell, extracurricular activities are simply activities you participate in outside of schoolwork. If you zoom in on the phrase itself, you can find some clues that tell you exactly what it means. Extra = in addition to. Curricular = anything having to do with school. Activities = stuff that keeps you busy. So, basically, extracurricular activities are the things that keep you busy in addition to schoolwork. Easy-peasy.
What Are Some Examples of Extracurricular Activities?
So, then, does that include your part-time job, playing video games, volunteering at the soup kitchen, or being involved with local politics? Actually, yes, it does! But here's the thing: when people talk about extracurricular activities, they're usually talking about the sports, clubs, hobbies, and community service activities that you'd want to add to a college admission application or resumé to show how well-rounded you are and how engaged you are with your community.
Some common examples of extracurricular activities include:
Sports — Sports are huge Not only do they take up a ton of your free time, but they also help you stay fit and learn how to be a good team player. Always include them on your digital portfolio, application, and resumé.
Clubs — It literally doesn't matter if you're the captain of the Astrology Club, the Speech and Debate Club, or the Future Zombie Survivors Club! Clubs may also include club sports, such as bowling, eSports, dance team, or golf team.
Jobs — Getting a job before graduation is an awesome way to signal to potential employers and universities that you're mature, independent, and reliable. Starting your own small business or interning can also demonstrate initiative and drive.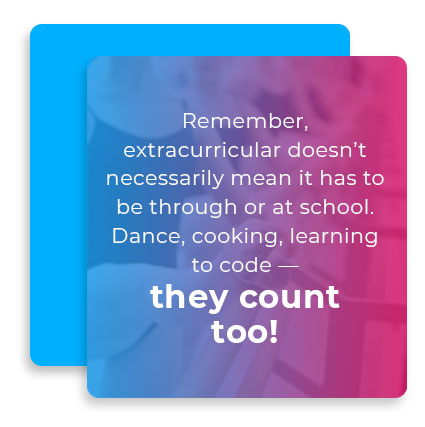 Hobbies — Remember, extracurricular doesn't necessarily mean it has to be through or at school. Dance, cooking, learning to code — they count, too!
Volunteering — Whether through your school, church, Boy Scouts, Girl Scouts, ethnic club, or political group, volunteering within your community is a wholesome and worthwhile extracurricular activity to consider.
Activism — Colleges and potential employers want to see that you aren't afraid to stand up for what's right and participate in tough conversations. Getting active in the community and fighting for the things you believe in should always be rewarded.
Art — It doesn't matter if your passion is for painting, drawing, videography, dance, music, or singing, if it's an enriching way to spend your free time, it should be considered an extracurricular. Include it even if you consider it to be only a hobby.
Academic Activities — Think of your academic extracurriculars as the non-club, non-sports activities you do outside of regular school hours. Some examples include writing for the school newspaper or literary magazine as well as participating in youth government, mock trial, honor societies, speech and debate, and robotics.
Do Extracurricular Activities Really Matter?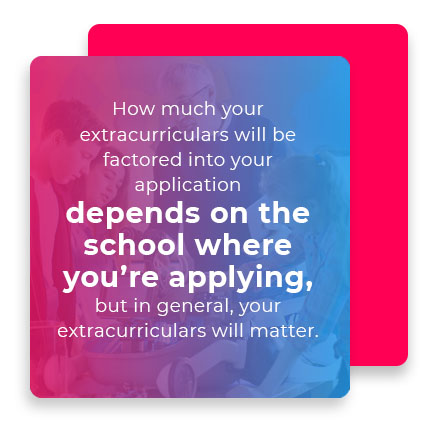 And now for the million-dollar question: Do you really need extracurricular activities? If your goals center around nabbing a big college acceptance, internship, or job, then the answer is definitely yes! In addition to your grades, test scores, and academic achievements, highly selective colleges and programs look to extracurriculars to find applicants who stand out from the rest, and you certainly want to do that!
On top of that, having a long list of activities on your application or resumé can help you win scholarships, which can make affording college just a little bit easier on you and your family. They may also help open the door to special activities, such as study abroad programs, work-study programs, and student jobs on campus.
How much your extracurriculars will be factored into your application depends on the school where you're applying, but in general, the more competitive and selective the school, the more your extracurriculars will matter.
Go Out and Get Active
So there you have it, overachievers! Not only should you go out and fill your spare time with lots of fun and challenging activities, but you should also make sure to brag about it! Add all your extra activities to your Tallo profile. Our digital portfolio for students can help connect you with the right internships, jobs, scholarships, and more to get your career started on the right foot.