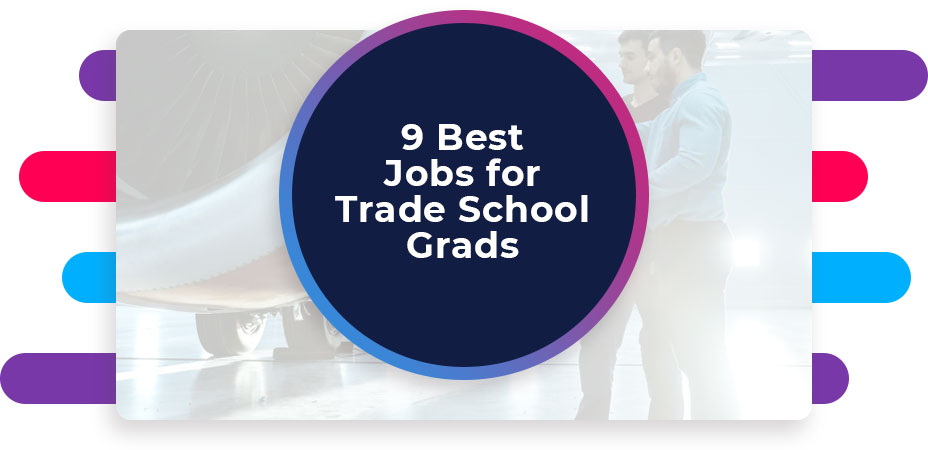 It may surprise you to learn that "blue collar" jobs — including those in utilities, natural resources, construction, and transportation — are one of the largest occupational sectors in the United States, with an incredible projected job growth of 30.7 million total jobs and 10.2 million new job vacancies in 2020.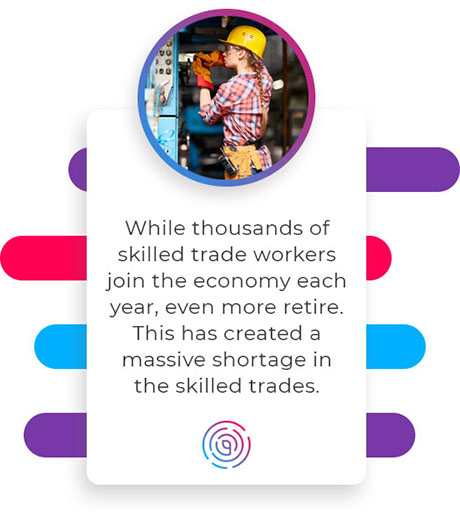 While thousands of new skilled trade workers join the economy each year, even more retire. This, coupled with the lack of vocational schooling, has created a massive shortage in the skilled trades, and employers are struggling to fill much-needed positions across America.
As a result, young people who are interested in learning a trade are in a fantastic position to swoop in and grab some of these jobs themselves, potentially earning a higher and more stable income than many "white collar" positions that require a significantly larger and longer educational investment.
Wanna trade up for a skilled trade? Here are a few of the best careers for trade school grads (listed with their annual median pay) that you should consider.
Aircraft Technician: $63,060 — Aircraft technicians are the professionals who repair and maintain aircraft, including private, military, and commercial planes, ensuring that they're safe to fly. In order to become an aircraft technician, you must either get 18 months of practical experience or graduate from an aviation maintenance technician program that's approved by the Federal Aviation Administration (FAA).
Boilermaker: $62,150 — Boilermakers are professionals who install, maintain, and repair boilers as well as other vessels that contain large volumes of liquids and gases. Because of the physical demand and highly specialized skill set required by these pros, they are among the highest-paid trade workers. Boilermakers generally learn their trade through accredited trade school programs and apprenticeships.
Electrician: $55,190 — Due to the specialized skill set and the fact that there is a shortage of electricians in the U.S., the demand for electrical pros is — like the pole-climbers themselves — sky-high. To become an electrician, you must start by attending a technical school and learn the ins and outs of the field. After that, you will complete a paid apprenticeship that lasts several years before you can get licensed or certified and work independently.
Plumber: $53,910 — Plumbers, pipefitters and steamfitters earn a median pay of nearly $26 per hour, with many pulling in even more than that. This profession focuses on repairing, installing, and maintaining pipes in homes and businesses. Plumbers learn their trade at technical schools, through on-the-job trainings, and apprenticeships.
HVAC Technician: $47,610 — Heating, ventilation, and air conditioning (HVAC) techs are the pros who keep heating and cooling systems in great shape every day. HVAC training is available through a variety of vocational schools and programs that usually take between six months and two years to complete. Many techs also complete paid apprenticeships before they work independently in the field.
Surgical Technologist: $47,300 — Surgical techs assist surgeons and nurses during operations, generally working in hospitals. You can obtain your surgical tech certificate and get licensed through an accredited surgical technology program, most of which take between a few months and two years to complete.
Licensed Practical Nurse (LPN): $46,240 — Licensed practical nurses (LPNs) and licensed vocational nurses (LVNs) are medical professionals who administer nursing care in a wide range of healthcare environments, including nursing homes and hospitals. These nurses generally complete a one-year training program and then get licensed through the state. According to the United States Bureau of Labor Statistics (BLS), the need for LPNs is growing much faster than the average (11 percent by 2028).
Broadcast and Sound Engineering Technician: $43,660 — One of the best careers for people who want to work in media without a lengthy education commitment is broadcast and sound engineering. Technicians who specialize in this field set up, operate, and maintain the complicated electrical equipment needed for media productions. This career path could lead you into radio, film, music recording, and more.
Solar Photovoltaic Installers: $42,680 — With a 63 percent job growth projection by 2028, solar panel installers are poised to make bank in the next few years. These jobs offer a median pay of over $40,000 per year and rising, but what's cool about this field is that many workers start out with a high school diploma or equivalent. Depending on your state, you may need to earn a certificate or licensure before you can begin, though.
Get Ready to Get Started
It literally doesn't matter if you're a sophomore in college or are a post-graduate looking for a fresh new start, any one of these skilled trade paths is likely to lead you to good paying jobs well into the future. The great thing is that most of these careers can be found in any part of the country, so there's no reason why you shouldn't add them to your list of jobs worth considering!