TALLO FOR
Secondary Education
Add Tallo to your Classroom. Tallo helps students, grades 8-12, build a professional digital portfolio, discover meaningful career pathways, and make career and educational connections earlier.
Schools and organizations use our platform to mentor students as they develop their career interests, and stay connected to them once they move on to their next step. Tallo helps educators guide students to connections with local and national colleges, companies, scholarships, and more.
There's an opportunity for everyone on Tallo. 
Finally, a place where your students can share their accomplishments...
Tallo connects students with up to $20B in scholarships and posts new scholarships every month.
With Tallo, students can create an online, digital portfolio that highlights their accomplishments, test scores, projects and more.

Students can discover themselves and set goals for the future—whether it's a 2- or 4-year college or technical program.
Tallo connects students with companies, colleges and organizations to help them take the next step toward their dream job.
And educators and schools can see it.
Meet college and career readiness requirements with Tallo

Schools and educators can access analytical data that helps you understand your students' interests and more.
Through Tallo, educators and schools can see longitudinal data—letting you follow your students' progress long after they've left the classroom.

Tallo provides classroom resources for educators and access to their career exploration and assessment platform. 
Are you ready to learn more about Tallo?
Let's talk.
Schedule a demo.
Meet with our Education team to learn more about Tallo. Our team will show you the ins and outs of Tallo
Check out our video resource library.
Use Tallo's short and engaging videos to help students join Tallo, connect with Tallo's resources, and enhance their portfolios.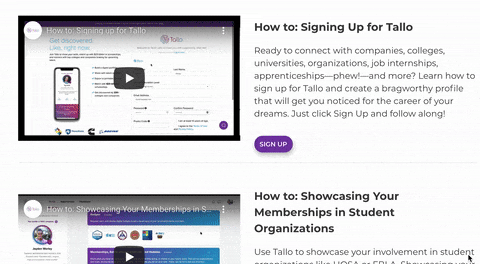 There are two ways to join Tallo:
As a school
or educator
Access to Tallo allows teachers to mentor current students and schools to access longitudinal alumni tracking, population data and analytics, and school opportunities and scholarship postings. For upgraded access, schedule a demo today.
As a student
or adult learner
Signing up is quick and easy. Use Tallo to showcase your interests, experiences, and goals. We'll connect you with meaningful educational and career-related opportunities. Pro tip: use a personal email address to ensures you can access Tallo after graduation.