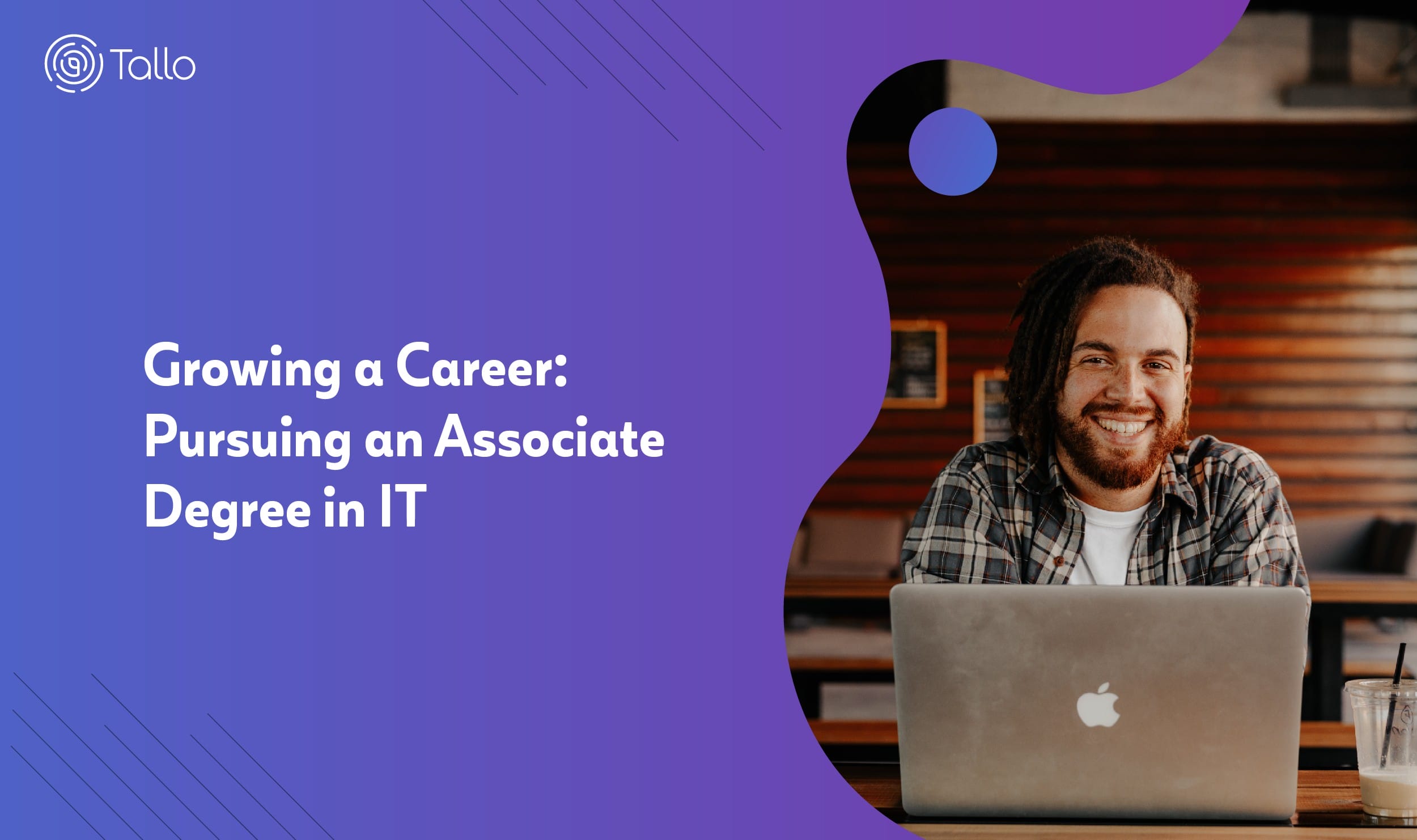 Growing a Career: Pursuing an Associate Degree in IT
Notifications to your phone, making in-app purchases, chatting with AI, and checking the web from your tablet—all of these possibilities and more are thanks to experts in different technology fields. Information technology (IT) is a booming industry with growing careers, and IT jobs are increasing faster than any other occupation. The Bureau of Labor Statistics (BLS) projects that because of high demand in all sectors, about 418,500 job openings will be available this year alone.    

An IT Career Path
As early as middle school and throughout high school, students can take IT-related classes like computer basics, coding, data systems, and web design. These classes, and others like them, are designed to spark an interest in IT careers and provide a foundational understanding. If a future in IT is a possible career path for you, there are multiple ways to gain experience and expertise after high school.
One education route to consider is an associate degree in information technology. This degree requires approximately two years of online or in-person college-level classes. For employers, job seekers with an IT associate degree stand a much better chance of employment or a higher salary offer than others with less education or training. 
An associate degree offers an added bonus: If you wish to obtain a bachelor's degree at some point in the near future, you are halfway there! Although time periods may vary, most colleges and universities will allow previous credits from an associate degree to transfer toward a bachelor's degree. 
IT Careers with Associate Degrees
The term "information technology" addresses a range of jobs across almost all industries. Colleges and universities offer many types of IT careers through their degree programs. Your interests and skills will probably drive which type of IT degree you wish to pursue. Here are just a few IT jobs to pursue with an associate degree—highlighting how diverse interests, skills, and abilities can help set you apart and narrow down your options.
Computer Systems Analyst
Do you like to solve puzzles and mysteries? If you have skills in problem-solving and organization, a computer systems analyst may be the right degree for you. A computer systems analyst examines and evaluates a company's computer system and IT procedures to help companies run more efficiently. They offer their expertise in finding new technologies to overcome any barriers a company may face with their computer systems. Courses for a computer systems analyst degree include programming, networking, web development, computer maintenance, and database management.  
Digital Marketer
You might be interested in becoming a digital marketer if you have excellent communication skills and enjoy flexing your creativity. Digital marketers use social media, platforms, search engines, websites, and other digital media channels to attract and retain customers. They might also research trends to improve the company's standing or profits. Courses for an associate degree can include digital marketing analysis, mass communication, English, psychology, and digital campaigning.
Network Security Engineer
Are you interested in stopping cyber-attacks? A network security engineer manages a company's network security against cyber threats, malware, viruses, hackers, and any other security breaches. Network security engineers also create processes for restoring computer systems should a breach occur and keep a company's digital assets safe. Courses for an associate degree can include ethics in information technology, cryptography, network administration, and digital forensics.
Choosing Your Path
These examples demonstrate that IT careers support a wide variety of skills and interests across almost all companies and industries. The high demand for quality IT workers also ensures employment for those with mastery of the job requirements. A college degree meets that standard of readiness. Some companies even prefer an associate degree as a minimum requirement for a job applicant. 
Completing an IT associate degree can also give you other advantages. According to the BLS, employees with an associate degree have higher median weekly earnings than those with lesser education or training. If you wish to pursue a bachelor's degree in the future, college credits from an associate degree can be applied for that purpose.