If there is one thing that virtually all college hopefuls have in common, it's their mutual disgust of college application fees. It just seems so unfair, doesn't it? As if getting your degree wasn't gonna be expensive enough already, you also have to figure out how to apply for college without going broke before you even set foot on campus. Sigh.
Fortunately, there are a couple of ways to get around that pesky application fee. One way is by requesting an application fee waiver, which may be granted based on your financial situation. (We'll talk more about this option below). 
Another way is by applying for schools that have free college applications. Yup, we said F-R-E-E. We know that you're probably busy applying for college scholarships and crushing your last year of high school, so we've done the heavy lifting for you by rounding up 30 colleges with NO application fee.
Top-Ranked Schools with Free College Applications
Paying a one-time fee of $90 to apply for Stanford wouldn't be so terrible if students were only applying to Stanford. But let's be real – no one is doing that for one obvious reason: the possibility of getting rejected.
In fact, 36 percent of first-time freshmen students applied for seven or more colleges in the fall of 2015, according to the National Association for College Admission Counseling (NACAC). Throw in the additional fee to send in your college entrance exams, and the price tag for college can quickly add up before your tuition bill is even due.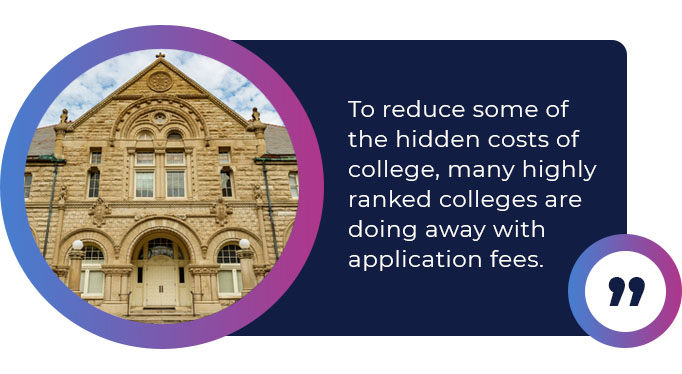 To reduce some of the hidden costs of college and remove financial barriers to low-income students, many highly ranked colleges are doing away with application fees. Which schools have kissed the application fee goodbye? Here are a few colleges with no application fee that all rank within the top 100 of Forbes' America's Top Colleges 2019 list. 
United States Naval Academy (#24)

United States Military Academy (#32)

United States Air Force Academy (#43)

Wellesley College (#44)

Carleton College (#52)

United States Coast Guard Academy (#66)

Kenyon College (#71)

Colby College (#75)

Grinnell College (#80)

Smith College (#81)

Oberlin College (#85)

Macalester College (#86)

Colorado College (#92)

Case Western Reserve University (#100)
Additional Schools with No Application Fee
Some people care about college rankings, while others say they don't matter. If you fall into the latter camp, here are a few more schools that have no college application fees. 
Union College (#104)

Reed College (#105)

Tulane University (#106)

St. Olaf (#116)

Trinity University (#143)

Rhodes College (#150)

Denison University (#153)

Sewanee—University of the South (#154)

Saint Louis (#161)

Kalamazoo College (#164)

University of Dayton (#165)

Gustavus Adolphus College (#214)

College of Wooster (#250)
Best STEM Colleges with No Application Fee
Earning your bachelor's degree in a STEM (science, technology, engineering and math) field can be pretty dang expensive. If you're trying to save money, consider applying to these STEM colleges that don't have an application fee:
Illinois Institute of Technology (#208)

Michigan Technological University (#276)

Milwaukee School of Engineering (#326)
It's also worth noting that some of the schools we've already mentioned have highly rated STEM programs, such as the United States Military Academy, Union College, and Smith College.
How to Request a College Application Fee Waiver
If you still want to apply to schools that charge an application fee, don't stress! You can potentially avoid paying the fee by obtaining a college application fee waiver.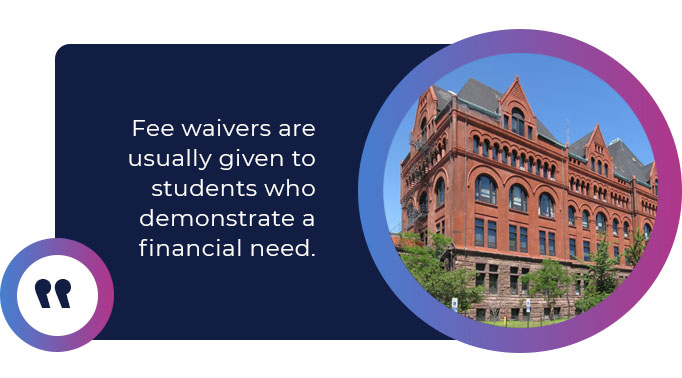 Fee waivers are usually given to students who demonstrate a financial need. Some are also granted if you meet other requirements, such as being part of a volunteer organization or by making an official campus visit. 
Here are a few ways to get an application fee waived:
The ACT/SAT Waiver –

Both the SAT and the ACT have separate application fee waivers. If you're eligible for either, you can potentially get tons of benefits, one of which is being automatically eligible to receive college application fee waivers. Ask your school counselor about ACT/SAT fee waivers to see if you qualify.

NACAC Fee Waiver –

The NACAC fee waiver allows students with a financial need to apply for up to four colleges without paying the application fee.

Just Ask –

Seriously, it can't hurt anything. If you have awesome test scores and a high GPA, they might be inclined to waive the fee.
Finding Ways to Save on Higher Education
College application fees, college campus visits, test preparation — there are a lot of hidden costs that can drive up the total cost of higher education. Why wouldn't you want to knock off as much as you possibly can from the sticker price? 
In addition to side-stepping the college application fee, don't forget to apply for college scholarships that can help you pay for school. Tallo (hi, that's us ) offers two easy scholarships every month, so take advantage and apply, apply, apply! 
Image Credits
Source: Joe Ravi/Shutterstock.com
Source: Rawpixel.com/Shutterstock.com
Source: Fotoluminate LLC/Shutterstock.com