If you're mega obsessed with all things Disney, it's safe to say that you'd leap at the chance to intern at the happiest place on earth. Well, lucky for you, Disney makes it possible for you to do just that! The Disney College Program (DCP) provides a slew of internship opportunities for Disney fanatics, regardless of their major. 
What is the Disney College Program, exactly? How do you apply? Make a cup of tea in your favorite Disney mug (we know you have one) and get comfortable. We're gonna tell you how to get an internship at the most magical place in existence. 
So, What Is the Disney College Program?
The Disney College Program is one of Disney's career development programs that offers co-op and internship opportunities. The program, which lasts anywhere from five to seven months, gives interns the chance to gain valuable, on-the-job experience working on the front lines of Disney's parks and resorts.
Related: What Is the Difference Between a Co-op and an Internship?
While working for Disney, you'll get an inside look at how Disney World operates and have the opportunity to meet with people from all over the country — maybe even the world. You'll also be provided with housing located near the property and transportation, if necessary.
What Are the Requirements for Applying?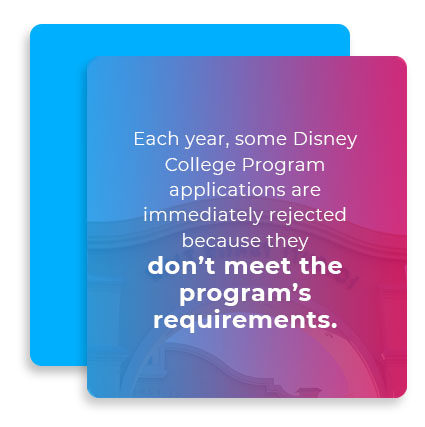 Each year, some Disney College Program applications are immediately rejected because they don't meet the program's requirements. So, before you get too excited, make sure that you meet the following requirements for the Disney College Program:
Be at least 18 years old

by the time of the program's start date.

Have unrestricted work authorization

, meaning, you'll be OK with taking a semester off from college to participate in the program.

Be enrolled in college OR be a recent graduate (within 12 months.)
One more thing: Be sure to meet with your academic advisor before applying for the program. Some colleges and universities have additional requirements that need to be met in order for you to receive academic credit for the program.
What Is the Application Process Like? 
They ask you what your favorite Disney movie is, you give the correct answer (Aladdin, duh), and that's it! Kidding, obviously. There's a little more to it than that.
To apply for the Disney College Program, you first need to register on their website. You'll then fill out an application that is pretty generic. It's no different than filling out an application for any other internship or externship, really. 
Related: Externship vs. Internship  
In the application, they will ask you things like where you want to work, what you want to do, your availability, etc. While they can't promise to place you at a certain location or park, they will try their best.
If you make it past the initial screening, you may be invited to take a web-based interview, which involves answering a bunch of multiple choice questions. Be consistent with your answers. 
If you pass the web-based interview, you'll be asked to schedule a phone interview. Try to find a quiet place to have your phone call. Disney recruiters aren't going to be impressed if your roommate's metal music is blasting in the background.
What Does Disney Look for in an Applicant?
We recommend watching this Q&A video with a Disney College Program recruiter, which dishes out some helpful tips for DCP-hopefuls. But basically, they want to know more about your prior experience. What organizations did you belong to? What classes have you taken? What is your work experience like? That sort of thing.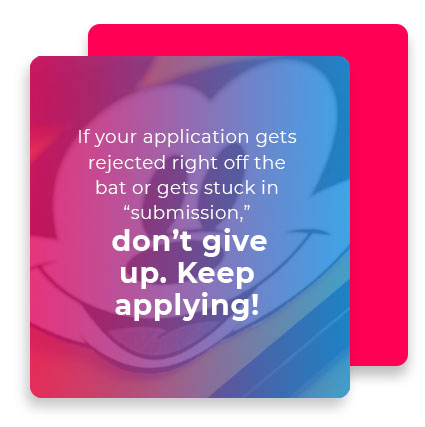 Keep in mind that the Disney College Program receives thousands of applications each semester. If you want to make yourself stand out as a candidate, consider joining a few organizations and enrolling in a work-study program at your school. 
Related: What Is a Work-Study Program?
Got Any More Tips?
Yes! If your application gets rejected right off the bat or gets stuck in "submission," don't give up. Keep applying! Many DCP alum weren't accepted their first, second, or even their third time. 
And if you make it to the phone interview, remember to SMILE. Though it may sound silly, they really can "hear" a smile over the phone.
Above all, be enthusiastic. They want to know that you're pumped to keep the magic alive at Disney. Good luck on earning your ears! 
Image Credits
Source: ilikeyellow/Shutterstock
Source: aureliefrance/Shutterstock
Source: Jerome LABOUYRIE/Shutterstock