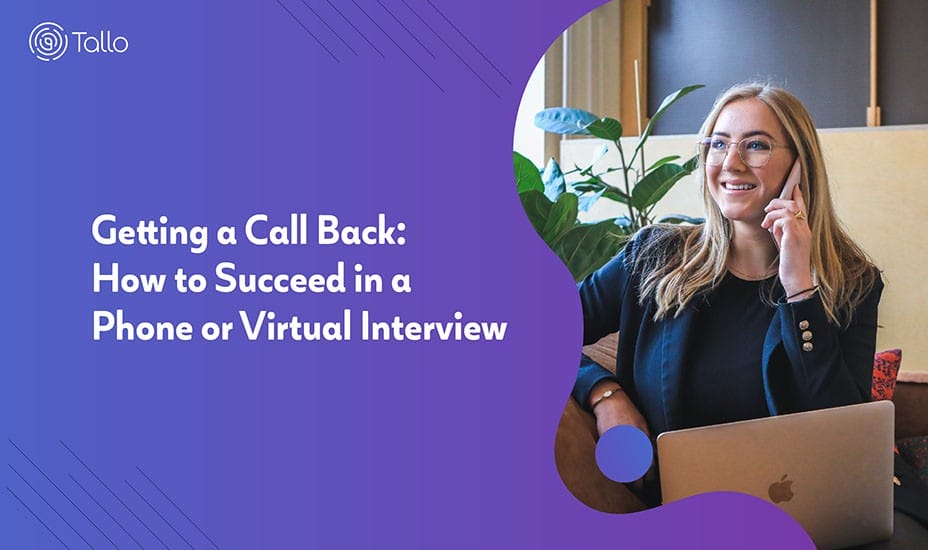 Summary: There are some tried and true techniques for acing a phone or virtual interview. Use these tips for how to interview when a new job is on the line.
Interview Tips for Success
Don't be worried if an employer calls you for only a phone or video interview rather than an in-person one. Each company differs in how they fill job openings. In most instances, employers have an abundance of applicants for one job opening. Phone or video interviews are often an initial screening technique to narrow the pool of candidates for a later second round of interviews. Whether you participate in a phone interview, video interview, or both, it is essential that you understand how to interview and communicate and professionally present yourself.

Before the Phone or Video Interview
Prep Your Talking Points
Like any other interview, preparing yourself for questions about your work experiences and how those experiences fit with the company is essential. Here are some things to research before the interview for information about the company's mission and goals, policies, and culture:
Company website
Job application details
Social media accounts
Common interview questions for the company's particular industry
Think about how your prior experiences complement and align with the job's roles and contribute to the growth or operation of the company.
Check Your Technology

If you receive an invitation for a video interview (e.g., Zoom or Microsoft Teams), double-check your internet connection, microphone, volume, and camera to ensure everything works well. Find a private space for the video interview without outside distractions. If the company is using Zoom, Microsoft Teams, or another application for the video chat, it is possible to download them in advance. If there is a registration for the application, use the same email the company used to send you the video link.
Applications also provide wallpaper backgrounds to hide any clutter behind you. Some applications let you hide or turn off your video image during the video. This may be helpful if it would be a distraction to you. Keep things simple if you are concerned about the complications of adding wallpaper or navigating an unfamiliar application for your video chat, and make sure your background area for your interview is clean and neat.
During the Interview
Deliver Confidence
Be prepared and ready to go at least 15 minutes before the video or phone interview occurs—this gives you a sense of calm and of not being rushed. Dress professionally as you would for any face-to-face interview. Remember to smile, speak clearly, and make eye contact with the interviewer or interview team.
Take your time with the interview questions. Often when people are nervous, they tend to rush in their speech. In a phone interview, speak clearly and slowly while responding to questions thoughtfully. It's okay to pause and think, slow down, or ask the interviewer to repeat a question; this gives the interviewer the impression that you are sincere and serious about the interview. If you have prepared for the discussion and as you answer more questions, responses will become easier and more natural.
Follow Up Promptly
At the end of the interview, you might want to ask what the next steps are in the interview process. Often video or phone interviews are preliminary to a face-to-face interview. Each company has its own procedures for filling job openings. As a job candidate, make sure you understand the process. End on a positive note by thanking the interviewer for their time. This leaves a positive impression.
After the Interview

After an interview, follow-up is important. Within 48 hours, contact the interviewer via email and express your thanks again for the opportunity given to you. You should emphasize your interest in the job and how your particular skills align well with the job. If the company is narrowing down many candidates for the job, there may even be a second phone or video interview.
Knowing what to expect in a phone or video interview can help you succeed and stand out. Engagement is key in a phone or video interview since it is more difficult to get across your personality than in a face-to-face. Smile, look interested and engaged, and be prepared—chances are the company will be calling you again!