Rohming Robots runs on passion. And now this motivated group of home-schooled students is taking that passion to the world stage.
Established in 2014 by Head Coach Linda Stewart, Rohming Robots – a Charleston, South Carolina-based robotics team – will be heading to Houston, Texas in April to compete against thousands of like-minded students in the FIRST Tech Challenge World Championship.
FIRST Tech Challenge (FTC for short) is a competitive robotics league which pits grade 7-12 students against each other in a head-to-head format. Teams are responsible for designing, building, and programming their robots. Assisted by coaches and mentors, the teams build their mechanical "athletes" with pieces made of various materials, and use sensors and programs to execute their gameplans. Teams are also required to keep an engineering notebook; a log of the team's construction process from the first blueprint sketches to the last screw.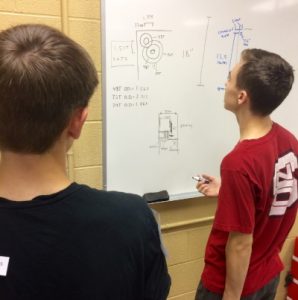 What makes Roaming Robots unique is who they are. The team is comprised entirely of homeschooled and virtual students ranging from 8th to 12th grade. The team divides responsibilities based on their interests and skills; a strategy they say keeps the process fun for everyone involved. It's not just nuts, bolts, and programming which are involved in the process. The team also has roles for important non-technical duties such as community outreach and fundraising.
"Every year, they want to do a little more," says Stewart, "go a little farther."
And go farther they did.
A 4-H project club primarily sponsored by Tallo partner SME, Rohming Robots received FTC's Think Award, honoring the best engineering notebook from among 72 teams. That achievement earned them their spot in the World Championship next month. Their competitive robot – named Tod – was custom-built using machined and 3-D printed parts.
Rohming Robots recently became one of Tallo's newest organizations to join our online community. This will allow its team members to gain access to the same types of opportunities which tend to benefit students from more traditional K-12 backgrounds. We're excited to know that these students will be able to let their passion and talent shine forth, and find opportunities they may have not otherwise realized.
Stewart is excited for her young team. "I reviewed all the ways that club members can use Tallo to help them connect with local businesses to better explore their interests, with colleges they are interested in, and with potential internships and employers for their future careers," she says.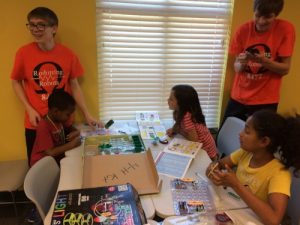 "Team members are excited about showcasing their specific talents and interests using their Tallo profiles and adding the SME badge to their profiles because of the long history of support our local chapter has given us."
After all, it's not just about the mechatronics. The talents of Rohming Robot's members extend far beyond the robotics wrestling ring, ranging from collaborative teamwork to project management to public speaking. It takes all sorts of skill sets to run a successful team. And these students are making it happen!
Tallo wishes the entire Rohming Robots team good luck in Houston!