"Without Warren Buffett being a learning machine, a continuous learning machine, [Berkshire Hathaway's] record would have been absolutely impossible." – Charlie Munger, Vice Chairman of Berkshire Hathaway
Continuous learning, also known as lifelong learning, is a concept that encourages a never-ending expansion of skills and knowledge. Some people choose to learn new things for the sake of their own personal development, while others wish to expand their knowledge base and skill set to advance their careers. While both pursuits are vital to a person's well-being and happiness, the importance of continuous learning in the workplace can't be stated enough.
Why Is Continuous Learning in the Workplace Important?
Continuous learning is more than just a buzzword. It's a necessity for companies of all shapes and sizes. As technological advances continue to change the nature of work at an astonishing pace, companies across all industries must now rely on their ability to learn and adapt quickly.
Here are a few reasons why continuous learning is a win-win for employees and employers:
Reduces Employee Attrition –

Struggling to retain your most valuable employees? Help them build the skills and knowledge they need to advance their careers. According to Gartner, lack of career development opportunities is a leading cause of employee attrition, with

40 percent

of departing employees citing it as a key factor in their decision to leave. Put simply, nobody wants to work for a company that doesn't invest in their employees. 

Enhances Employee Performance and Productivity –

Acquiring new skills and knowledge doesn't just benefit the worker — it also benefits the company by improving workforce productivity. When an employee doesn't know how to do a certain task or use a specific tool, it can result in frustration and poor work performance. In contrast, employees who know how to do their job effectively often report increased satisfaction at work, which boosts employee happiness and productivity.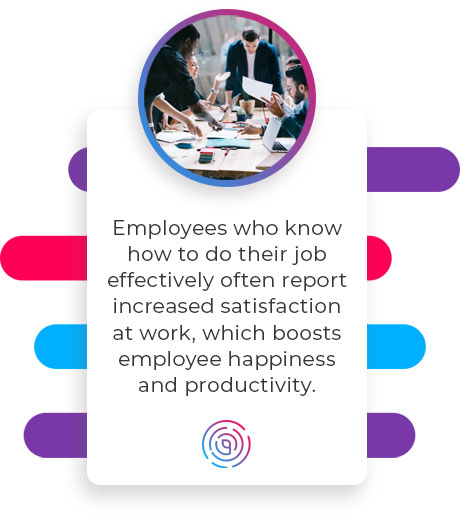 Related: How to Measure Productivity
Encourages Innovation –

Many big-name companies have become obsolete due to a failure to innovate (Blockbuster immediately comes to mind). If you don't want your company to succumb to this fate, place an emphasis on continuous learning. Acquiring new skills and knowledge can help broaden perspectives and spark new ideas in the workplace. Even just the culture of continuous learning alone can help encourage creativity, which can then lead to new products, bigger markets, and increased profits.

Greater Customer Loyalty –

Forget about social media influencers — well-trained and motivated employees are your biggest brand ambassadors.

According to research by Gallup

, customers form strong opinions about your company based on the interactions they have with your employees. One way to boost employee engagement at work? That's right: nurturing your talent. By investing in training, employees can become more confident, leading to improved performance and greater customer loyalty.

Attract Top Talent –

If you're using

workforce development software

to understand your current talent pool, then you probably know that innovation and continuous learning are key to attracting and retaining top talent. Young people, especially Generation Z, crave purpose in their work and want a company that caters to their career growth.

Demonstrate that your company is willing to invest in their talents and interest, and you can better position yourself to win the ongoing talent war.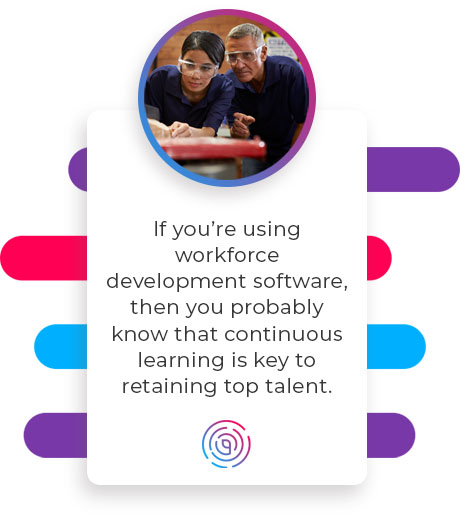 LET TALLO POWER YOUR WORKFORCE INITIATIVE
How to Create a Culture of Continuous Learning 
We've established the importance of continuous learning in the workplace. But how do you foster a culture of continuous learning? Here are a few ways to get started:
Hold regular "lunch and learns."

Lunch and learns are training opportunities that take place during — you guessed it — lunch. This is a less formal way to learn something new as a team and promote a culture that encourages collaboration and learning together.

Share knowledge

. Did you know that teaching can increase the

teacher's

motivation to learn? In science, this is known as the "

protégé effect.

" One way to capitalize on this effect is by offering

internships

, mentorships, and cooperative education experiences, which give managers the opportunity to pass down their knowledge to young talent.

Start a company book club.

Reading professional development books can help employees learn new things while strengthening their relationships with coworkers. To get your book club running, offer some kind of incentive — like a free Audible subscription — and create a space for discussion on Slack. 

Provide meaningful feedback

. Constructive feedback is essential to employees' ongoing development. Every employee should know how to give simple, informative, and constructive feedback, especially employees in leadership positions. 

Attend workshops and events.

Take your employees to industry-specific workshops and events. If traveling isn't feasible, look for local workshops and virtual events.
Building an Agile Workforce
In our technology-driven society, continuous learning is no longer optional. Employers and executives who fail to grasp the importance of continuous learning in the workplace will inevitably find themselves struggling to keep their business afloat. By successfully implementing a continuous learning program in the workplace, your company can survive — and even thrive — in our digital economy.  
Image Credits
Source: Monkey Business Images/Shutterstock
Source: GaudiLab/Shutterstock
Source: SergeBertasiusPhotography/Shutterstock