Let's get one thing straight: Studying art in college isn't useless. As an art major, you're surrounded by like-minded artists who share your passion for art and design. Plus, you have the opportunity to hone many practical skills: critical thinking, creativity, teamwork, communication, and a diverse array of design skills, to name just a few. These skills, along with an eye-grabbing portfolio, can set you up for a wide range of fulfilling careers after college.
So, forget all about the overused "starving artist" trope. Scoring a high-paying career with an art degree is more than doable, especially now that art and technology are becoming more intertwined. If you still can't decide on a career after college, check out these seven jobs for art majors that will allow you to put your degree to good use.
Related: How to Choose a Career
1. Art Curator – Do you ever fantasize about working in a museum or an art gallery? Did you absolutely LOVE your art history class? If so, becoming an art curator may be right up your alley. Art curators are involved in the selection, preservation, and display of art at museums and exhibitions. They may research how to show artworks in an entertaining way while also keeping in mind the artwork's historical context. If you can break into the field, you'll be paid a good wage. According to the Bureau of Labor Statistics (BLS), curators had a mean wage of $59,130 per year in 2019.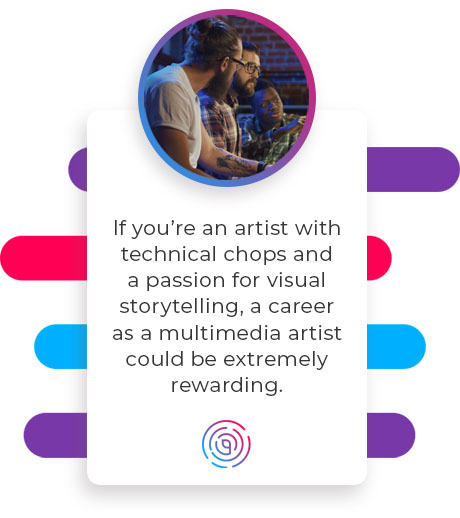 2. Multimedia Artist or Animator – If you're an artist with technical chops and a passion for visual storytelling, a career as a multimedia artist could be extremely rewarding. Multimedia artists and animators use software programs and digital tools to create visual effects that excite, explain, or entertain (or, sometimes, all three). They may work in television and movies, creating special effects that bring your favorite heroes and villains to life. Or, they may create engaging visuals that explain complex information. To succeed in this field, you'll need to have a strong foundation in art, excellent teamwork skills, and the ability to meet deadlines.
3. Art Director – One of the more lucrative jobs for art majors, art directors have two major responsibilities: brainstorming and execution. As an art director, you'll be responsible for interpreting your client's vision and determining how to best represent the concept visually in both print and digital publications. They're also skilled communicators who manage their staff of artists and keep everyone on budget and on schedule. To become an art director, try to find internships that allow you to hone your leadership skills, creativity, and resourcefulness.
4. Art Teacher – Growing up, art class was probably your favorite part of the day. Why not become an art teacher and inspire young minds with your artistic knowledge? Being an art teacher comes with a lot of perks. First and foremost, you get to make art with kids, which is fun AF. You also get the summer off to take a much-needed vacay or to work on your personal art. Of course, teaching art has its fair share of downsides, too. Consider job shadowing an art educator to get the inside scoop on this career field.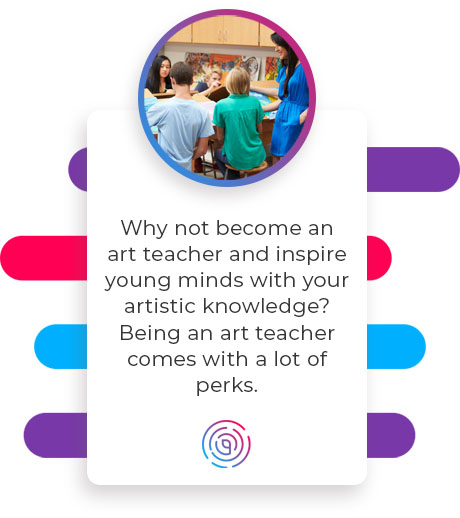 5. Commercial Artist – Even the most brilliant advertising campaigns can be ruined by terrible art — hence, why talented commercial artists are highly sought-after in the corporate world. Commercial artists are individuals who create visual art for advertising campaigns, print and digital magazines, and product packaging. They may work closely with clients, supervisors, and other staff to determine the best design based on the client's product and target audience. Others work in private freelance studios, setting their own schedule and handling all aspects of the project themselves.
6. Graphic Designer – Graphic design is often described as "art with a purpose." Like many commercial artists, graphic designers use computer software programs to create visual concepts that inform, motivate, or entertain their client's target audience. Graphic designers use their technical skills and artistic knowledge to create illustrations, texts, animations, and promotional materials for clients. They often work closely with other creative teams (think: marketers and public relations professionals).  
7. Interior Designer – When you walk into your friend's dorm room or apartment, do you immediately start thinking about how to make the space better? If the answer is yes, interior design could be a career option worth exploring. As an interior designer, you'll use your endless creativity and artist's eye to create spaces that are both visually appealing and practical. According to BLS, interior designers had a median wage of $56,040 per year.
A Portfolio Is a Must 
An art degree doesn't limit your career opportunities after college. As you can see, there are plenty of jobs for art majors that offer a good wage and high career satisfaction. To set yourself up for post-college success, be sure to find internships and build up a strong portfolio. That way, you can show your value to employers and launch a successful career. 
Image Credits
Source: Monkey Business Images/Shutterstock
Source: FrameStockFootages/Shutterstock
Source: Rawpixel.com/Shutterstock