Planning to study economics in college? As far as career options go, you've made a pretty great choice! Due to the flexibility of this degree, economics majors can pursue a variety of careers in a vast number of fields, from investment banking and insurance to business analytics and consulting. Employers in virtually every sector need employees who can think critically, solve problems, crunch numbers, interpret complex data, and communicate effectively — all traits which econ majors often possess in abundance. 
Basically, there are tons of things you can do with an economics degree. The real question is:  What do you want to do? To help you answer that question and chart a career path for yourself, here are some of the best jobs for economics majors that you can land after graduation.
1. Market Research Analyst ($63,790) – Are you an equal mix of creative and analytical? You may enjoy being a market research analyst. This job involves researching market conditions and gathering information to determine the potential profitability of a product, service, or campaign. To excel as a market research analyst, you need to be good at breaking down complex information into reports — lots and lots of reports with graphs. Having expertise in Excel is also a big plus!
2. Management Consulting ($85,260) – You've probably heard of management consultants before, but what exactly do they do? Management consultants (also known as management analysts) offer advice and assistance to other businesses. They typically gather information about the business before talking with C-Suite level executives about how to improve the overall business performance and operations. According to the Bureau of Labor Statistics (BLS), employment of market analysts is expected to grow 14 percent through 2028, which is much faster than average.
3. Actuary ($108,350) – Actuaries use a combination of mathematics, statistics, and financial theory to study uncertain future events and evaluate the financial implications of the risk involved with those events. Many actuaries work in the insurance industry, helping companies to evaluate insurance products and calculate emerging risks. With an average yearly salary of $108,350 and a good job outlook, actuaries are one of the best bachelor's degree jobs for economics majors.
4. Financial Analyst – Love reading about financial news and market movements? If so, a job as a financial analyst might be for you. Financial analysts gather information, analyze financial data, and write reports for their clients while keeping tabs on the economy. In short, they help clients make the best financial decisions based on economic trends, business news, and the company's overall strategy. Since competition for financial analyst jobs can be pretty fierce, you'll want to get an internship to jazz up your resume.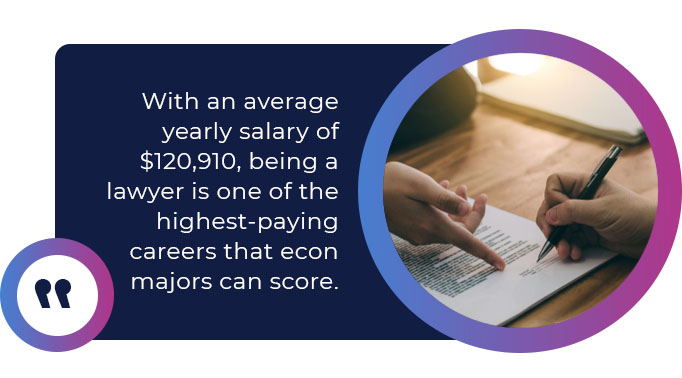 5. Lawyer ($120,910) – With an average yearly salary of $120,910, being a lawyer is one of the highest-paying careers that econ majors can score. In fact, an economics major is one of the best degrees for getting into law school, especially if you decide to practice corporate law. However, be aware that the road to becoming a lawyer is time-consuming and costly. You'll need to complete your undergraduate degree, get into law school, and pass the state bar exam before you can start practicing.
6. Credit Analyst ($73,650) – Credit analysts are responsible for determining the creditworthiness of individuals and firms. They do this by analyzing the financial data of loan applicants to determine the degree of risk involved with lending them money or extending their credit. Credit analysts commonly work for banks, investment companies, and credit card companies. 
7. Business Reporter ($43,490) – Love telling a good story? Become a business reporter. Business reporters inform the public about news and events related to businesses, financial markets, and the economy. They research topics, pitch story ideas to editors, interview relevant people, and write articles for magazines and newspapers. In addition to good research skills, business reporters should have the ability to write engaging and clear prose. 
8. Economics Teacher ($61,660 per year) – Can you remember that one teacher or professor who first sparked your interest in economics? Why not be that same person for someone else? Teaching can be an extremely rewarding career that allows you to give kids the skills they need for the future. This career is ideal for economics majors who don't want to do the same thing every day — because as a teacher, no two days are the same! 
Don't Be 'Laissez-Faire' with Your Career
As you can see, earning your degree in economics can lead to a diverse range of interesting careers. However, don't assume that your economics degree will guarantee you a job. Put in the work now by getting internships and relevant work experience. By making the most of your time in college, you can set yourself up for success after graduation.