Finding a good job can be mega difficult. Especially when you're a teenager. Chances are, you don't have much experience under your belt, which automatically limits some of the jobs you can apply for. But don't sweat it! There are still plenty of fun jobs for teens that don't require you to have a long list of skills or years of experience. We've gone ahead and rounded up some of the best jobs for teens that will help you build your resume, explore careers, and, oh, yeah—make money!
1. Lifeguard: Lifeguarding is a pretty common job for teens, especially during the summertime when everyone wants to swim. This job typically involves watching people in the water, ensuring that they're following the rules, and that no one is in need of assistance. To become a lifeguard, you need to be at least 15 years old. Be prepared to complete some water safety training as well—you never know when you might need to dive into the water to save someone!
2. Golf Caddie: While you probably won't be carrying around golf clubs for Rory McIlroy or anyone else of PGA fame, getting a job as a golf caddie can be a pretty sweet gig for a teen. You can caddy on the weekends, so that it works around your school schedule, or you can caddy full-time in the summer. Plus, you'll no doubt get plenty of exercise with this job. Why not call up your golf course and see if they have openings? But first, brush up on your golf caddie etiquette.
3. Movie Theater Concessions: Thinking about pursuing a career path in the film industry? Find a job at your local movie theater. Working concession stands for a movie theater comes with a bunch of cool perks, like getting to watch free movies and scoring lots of free swag. Stick with the job for long enough, and you could potentially work your way up to concessions manager.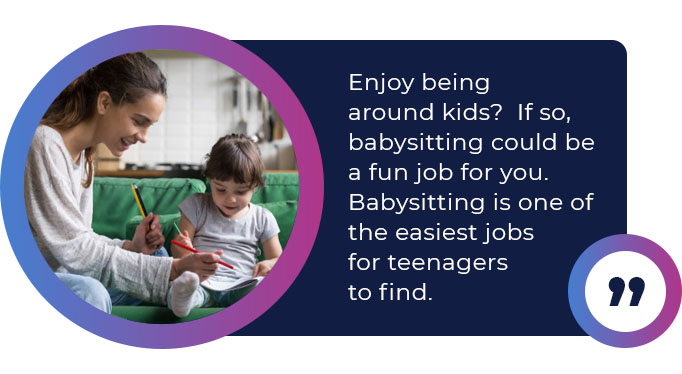 4. Babysitter: Enjoy being around kids? Don't mind watching the same Disney movie over and over and over? If so, babysitting could be a fun job for you. Babysitting is one of the easiest jobs for teenagers to find, especially during the summertime when school is out and parents need responsible teenagers to watch their kiddos. You'll have tons of fun playing games with the kids, eating their delicious snacks, and having random dance parties in the kitchen. Drawbacks of babysitting may include (but aren't limited to) dealing with tantrums, cleaning up messes, and having Frozen 2 songs stuck in your head on repeat.
5. Pet Sitter: If being responsible for a tiny human low-key freaks you out, consider taking care of someone's pets instead. Since pet-sitting is a pretty flexible gig, you can easily make it work with your school schedule. And given America's deep obsession with dogs (it's not weird—it's science), you should have no shortage of dog walking opportunities in your area. Need some pet-sitting experience? Volunteer at a local animal shelter. Not only will it look good on your resume, it will help you get more pet-sitting gigs! 
Looking for fun places to volunteer? Discover more volunteer opportunities for teens on the Tallo blog.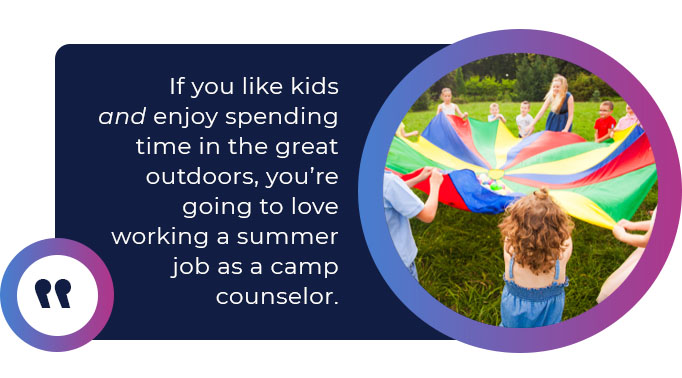 6. Camp Counselor: If you like kids and enjoy spending time in the great outdoors, you're going to love working a summer job as a camp counselor. As a camp counselor, you'll spend time with young campers who look up to you and work closely with your fellow camp counselors. Depending on the age of your campers, you may spend your days crafting, going on hikes, and soaking up some vitamin D. Another benefit of being a camp counselor? Getting to showcase your impressive leadership skills on your resume.
7. Online Work: Unlike your parents, you haven't known a life without the Internet. Why not use your digital skills to your advantage? These days, there are plenty of ways for teens to make money online, from taking simple online surveys to watching advertising videos. And don't forget about remote internships! With more companies moving to offering virtual internships these days, finding a remote opportunity could be easier than you might think.  
Interested in internship opportunities? Learn more about summer internships for high school students on the Tallo blog.
8. Family Business: Honestly, getting a job at a family member's business might just be one of the easiest jobs you ever get. If it's your parents' business, you won't even need to interview for it — you'll just be asked questions over the dinner table. And who knows? You might end up loving the work so much that you decide to inherit the family business one day.
The Takeaway
Jobs for teens can be slim pickings, we know. But don't get too discouraged if you don't get a call back after a job interview. Keep practicing your interview skills, jazz up your resume with volunteer opportunities, and you'll score a job in the end!
Is there a job missing from our list? Are you working a job this summer or after school? Share with us on the Tallo Community!