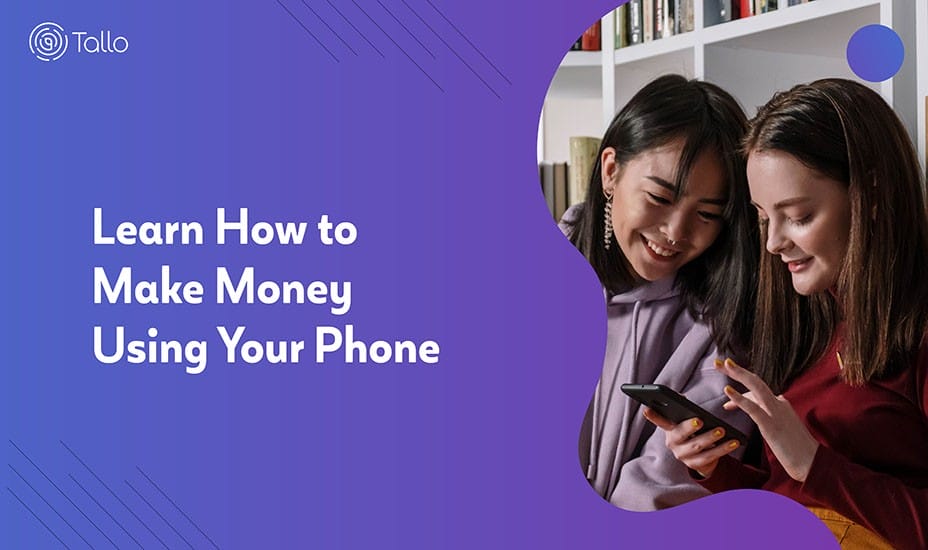 Your mobile phone has much more to offer than just a source of communication and scrolling social media feeds. With the right approach and consistent use, you can use your phone as a source of income by earning cash, participating in online surveys, selling items online, tutoring, investing, playing online games, or becoming a social media influencer. 

How to make money using your phone
Do you want to earn extra cash using your cell phone? If your answer is a resounding yes, you may be surprised to know there are countless ways to earn money using your smartphone from the comfort of your home in your spare time.
If you want to earn a few greenbacks while already staring and scrolling, you can leverage your favorite gadget to add to your college fund or make some pizza money. 
Are you ready to learn some easy ways to make money from your phone?   
Online Surveys
Online surveys are a great way to earn extra money on the side. Several survey apps and websites pay users for their opinions when conducting market research. These surveys can range from quick polls to longer, more in-depth surveys and typically pay in cash or other rewards like Amazon gift cards. Online surveys are a quick way to make a few bucks using your knowledge and experience to answer polls. But remember to always protect your personal information and never share your social security number or financial information with strangers.   
Some of the top online survey apps to try include:
Selling Items Online
Using an app to sell products through your phone can be a lucrative side hustle. This approach helps you make money by selling unused items or goods you've made. Popular platforms like eBay, Amazon, and Facebook Marketplace offer mobile apps that make it easy to list and sell items directly from your phone. 
To start selling products, create an account on the platform of your choice, take high-quality photos of the items you want to sell, and write detailed descriptions of each product. Set a fair price and accurately describe the condition of the item. Once your products are listed, you can manage sales and shipments from your phone. 
You can build a positive reputation as a seller by consistently offering quality products and providing excellent customer service, leading to more sales and increased income.
Online Tutoring
Online tutoring is an excellent way to make money using your phone and share your knowledge with others. With the widespread use of video conferencing platforms like Zoom, it is now possible to offer tutoring services from anywhere, as long as you have a reliable internet connection. 
To start tutoring online, identify your area of expertise, create a profile on a tutoring platform, and set your hourly rate. Tutoring platforms like TutorMe and VIPKid match students with tutors based on their subject needs and your availability. During the tutoring session, you can use your phone to access learning materials, share screens, and communicate with the student. 
In addition to being flexible and convenient, online tutoring can be a rewarding experience as you help students achieve their goals and improve their grades. To be successful as an online tutor, it's vital to have excellent communication skills, be patient and understanding, and be able to adapt to different learning styles.

Online Investing
Future Wall Streeters who are already 18 can begin building their portfolios with online investing. With the rise of mobile-friendly investment apps, it's now easy to invest your money to grow your capital and earn profits. 
Mobile applications allow you to view the progress of your investment, making you a committed investor. For example, you can download the app from Fidelity to trade shares, transfer money, or add to your retirement accounts. Investment apps help you track and save money for a more stable financial future. 
Cash Back Apps
Downloading cash back or rewards apps from your favorite stores is a worthwhile approach to making extra money. For example, RetailMeNot's app lets you earn rewards, cash back, and coupons for major retailers like Kohl's, Macy's, or Amazon. Cash-back gas apps like Upside let you get rewards when you fill up at participating gas stations, which you can redeem for gift cards or as cash. 
Online Games
Playing games on your phone is not only for recreation; they may be a fun option you can use to make money while having fun at the same time. The best ways to earn money from video games are by participating in online tournaments for money and helping with user testing by giving feedback on video games. 
Social Media Influencer
If you have a sizable following on social media, you can share your interests and passion for growing into your social community, where you can monetize your account by partnering with brands and promoting their products. 
For example, if you do makeup tutorials, you can try different products and recommend certain brands to people watching videos on your site. You can get paid by the sponsor itself or get paid a portion of the profits on products sold through special links or codes from your channel. 

These are just a few ways to make money using your phone. Earning money online requires effort and time, but with innovative ideas, persistence, and dedication, you can turn your phone into a profitable and steady source of income.
Browse Tallo.com for more inspiration and tips on how, with the help of technology, you can be your own boss!