Meet the winner of our $500 Young Entrepreneur Grant, Carisa Lolmaugh! Carisa is a senior Graphic Design student at Portland State University and the co-founder of AudioCipher Technologies.
AudioCipher app's algorithm is inspired by ancient codes of music, designed to help producers overcome creative blocks by translating typed text into musical cryptography. Simply put, AudioCiper turns your words into music notes. 
Check out a video of how it works here.
Carisa serves as the Creative Director of AudioCipher, overseeing the brand and product aesthetic. We reached out to Carisa to learn more about her experience as a young entrepreneur and how Tallo has helped with her career goals.   
Carisa "discovered Tallo through searching for scholarship platforms, and primarily use[s] it to submit entries for scholarships and keep an eye out for what companies are seeking in potential employees." She says the $500 Grant will help efforts of "increasing advertising outreach and having more influencers promoting the use of the app." 
Carisa stayed connected with now co-founder, Ezra Sandzer-Bell, through PDX Project Connect in Portland. Carisa describes PDX Project Connect as "a local meetup of creatives in tech building immersive art experiences and VR." Their story shows the power of networking. Carisa and Ezra met other members of their team by connecting with them online, through @Pyramind_official (check out their website) in San Francisco, and even at a sushi cart! Working with the founder of SoundSponge radio, they collaborate with Cipher Circle for a music channel on Discord (Pictured below).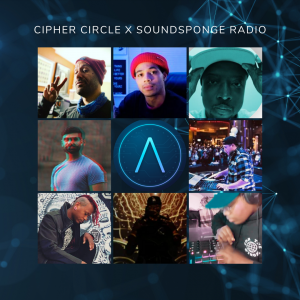 After Carisa graduates next year, she plans to work "for a Brand Design Studio specializing in innovative 3D and Graphic Design" and hopes to continue building her companies. While her personal career goals are to continue growing Audiocipher, Carisa is working on launching two additional companies this year! She's looking to start "a personal design company that manufactures stationery and gift supplies and [another] featuring designs from artificial intelligence generative adversarial network patterns." 
We're glad that Tallo will continue being a platform for Carisa to showcase her accomplishments and build her network. We're looking forward to seeing what she does next! Thanks for sharing your story with us, Carisa, and congratulations on winning our $500 Young Entrepreneur Grant!