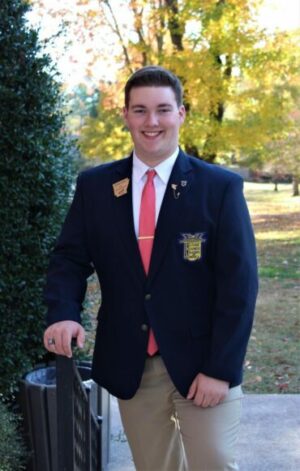 Hayden Wood, a high school senior in Pleasant Plains, Arkansas, knows how to make Tallo work for him. Hayden initially created a Tallo profile to connect with FBLA opportunities, and now uses Tallo to apply for college, connect with career opportunities, get scholarship money, and keep himself organized.
College
Hayden used his Tallo profile to apply to his first choice school, the University of Central Arkansas (UCA). "UCA, when you apply there, they want you to create a leadership profile. So all I had to do was take my URL link from Tallo and paste it into the box [to apply], and they really enjoyed it." Hayden plans on studying chemistry in college and wants to become a pharmacist.
Career Connections
A few weeks after Hayden created his Tallo profile, he was contacted by a neighboring city hospital complex asking if he's interested in gaining hands-on experience. What was the result of that connection? "Today I am currently a full-time apprentice at the White River Medical Center in Batesville, Arkansas. I check stock and maintain inventory using the National Drug Code (NDC) and Morrison-Dickson numbers, while ensuring all hazardous drugs remain in a constant, stable condition."

Scholarships
Hayden uses Tallo to consistently apply for scholarships. So far, he has been awarded a $2,000 future pharmacist scholarship that will help him pay for college. He's keeping his fingers crossed that positive results keep rolling in! 
Stay Organized 
Hayden has been involved for over four years with both FBLA and EAST, an Arkansas-based nonprofit that gives students an opportunity to solve problems in their community using technology. He's a student administrator for EAST, and is the National FBLA Legislative Director for the Southern Region Executive Council and Arkansas FBLA State Parliamentarian. So how does he handle the stress and pressure of keeping track of his accomplishments, activities, and goals? Well, Tallo helps. In fact, Hayden shared that when a classmate recently expressed how challenging it is to recall information and accomplishments to add to her resume, Hayden suggested, "Hey buddy, you should try out Tallo!" 
We're glad that Tallo has been a part of this future pharmacist's journey, and we're looking forward to the connections that are still to come!