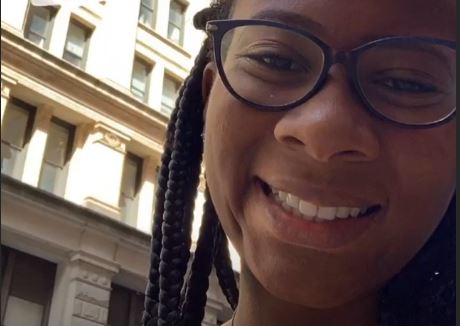 With different backgrounds, interests, experiences, and professional aspirations, -our users are unique. And their stories are what truly make up the Tallo story. That's why we want them to tell it. 
So we're giving Tallo students free reign for a day-long AMA takeover of @apptallo on Instagram! For 24 hours, they'll take whatever questions come their way. Whether it's about applying to college or applying yourself, they're sharing their experiences and wisdom with anyone following along. 
Nadia Cowan (@nadia_elise), a first-year student at NYU, is our first Tallo user in the spotlight. A long-time member of HOSA – Future Health Professionals, Nadia is learning to love life in the Big Apple as she works toward her dream to be an oral surgeon. Check out what she had to say below! 
Why did you join HOSA?
I joined HOSA because I love the healthcare field! And the community made while competing is so empowering. 
Any advice for someone thinking about joining HOSA?
Jump in and get involved! Make the most of your time in the organization and take advantage of any opportunities. 
What made you want to go to school at NYU? Congrats BTW! 
I chose NYU because of the joint dental degree program that they have here — I want to be an oral surgeon when I get older — and they have a lot of opportunities in the city.
Any tips for college applications? 
As far as applications go, I definitely say start as early as possible and make sure you're taking time to do your essays, because they actually read them. Make sure you put your best foot forward and show your application to people before you submit it. 
(Nadia's friend, Lola, chimed in as well)
Can I add something? Don't be fake in your essay. #Beauthentic 
They can smell the bull when they read it, so be authentic to yourself because they are trying to get to know you through your essay.
What one thing are you looking forward to in college?
I am really looking forward to doing study abroad programs. This winter I am going to Italy with one of the programs that I joined, and I'm excited to experience different cultures and trying new things. 
What is HOSA?
HOSA stands for Health Occupation Students of America. It's sort of like a health UIL (University Interscholastic League) competition. They have all these different events featuring job-seeking skills and extemporaneous writing. They have HOSA Bowl; skill competitions where you show off CPR or EMT skills. They have all sorts of different things, and you can compete at the area, state, national, or even international level. 
Did you tour NYU before committing? Is it worth doing? 
Yes, I did tour before committing, and I definitely recommend doing so. It's really nice to just get a feel of the place and make sure that you like the place that you're going. And you have a lot of fun when you tour!
Anything else?
I had an awesome time answering your questions. If you have any other questions or would like to know more about my experiences with HOSA or at NYU, feel free to DM me @nadia_elise.