Thinking about majoring in political science? You're not alone. According to a survey from the American Political Science Association, more than 40 percent of political science departments reported an increase in political science enrollment due to greater political interest, the 2016 election, and Trump.
More young people are energized by politics than ever before — and, honestly, it's fantastic! But you may be wondering, "What can I do with a political science degree?" 
The answer is: more than you probably think. Read on to learn more about the many possible careers you can pursue with a political science degree.
Why Study Political Science?
Studying political science will give you a deeper understanding of how governments work. Not to mention, you'll build a slew of valuable transferable skills, such as research and development skills, quantitative skills, and analytical skills.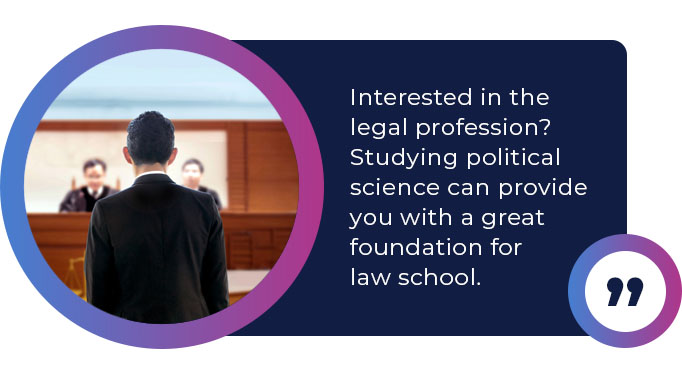 A political science major will also give you the chance to hone your communication and debate skills, which you can then use to destroy your relative's arguments at the dinner table. But more importantly, these skills can help you find a career in government, business, nonprofits, and other areas that place a high value on communication and the power of persuasion (so, basically everywhere).
Although everyone has their own reasons for wanting to study political science, most poli/sci majors have a strong desire to understand the complex problems facing our world and learn how to shape policy that matters. If that sounds like you, keep reading to learn more about the highest-paying careers for political science majors. 
Best Jobs for Political Science Majors 
So, what can you do with a political science degree, specifically? Here are some of the best careers for poli/sci majors.
Lobbyist –

Professional lobbyists spend their days meeting with politicians and trying to persuade them to vote in a way that benefits their organization, business, individual client, or the general public. To succeed in this role, you'll need to be particularly skilled in the art of persuasion. While you're still in college, get involved in your school's debate club. Also, try to

find internships

with a lobbying firm or a government agency to gain experience.

Legislative Assistant –

Legislative assistants put their strong verbal and written communication skills to good use by supporting the work of lawmakers.

In this role, you'll perform a variety of administrative duties for legislators, such as tracking legislation and conducting research on important policy issues. Excellent time management skills are a must!

Urban and Regional Planner –

Want to make your community a better place to live? A career as an urban planner could be a great fit for you. Urban and regional planners are responsible for creating land use plans and programs that help communities develop and thrive. Although you'll need to earn a master's degree to break into the field, this position offers excellent job security and great pay. The average annual salary of urban planners was $74,350 per year in 2019,

according to data

by the U.S. Bureau of Labor Statistics (BLS).

Policy Analyst –

With their impressive analytical, research, and problem-solving skills, poli/sci majors make excellent policy analysts. In this role, you'll collect and analyze data related to public policy, create reports of your findings, and come up with persuasive arguments for or against the adoption of a particular policy. Some policy analysts also write speeches and give oral briefings on their findings.  

Lawyer –

Interested in the legal profession? Studying political science can provide you with a great foundation for law school. There are many fields that lawyers can practice, from white-collar criminal defense to environmental law. And if the lawyer track sounds a bit too daunting, you could always undergo training to

become a certified mediator

.

Business/Political Consultant –

 With their unique ability to identify organizational problems and offer practical solutions, poli/sci majors tend to make excellent consultants. If you want to remain within the political arena, consider becoming a consultant for a political campaign. Otherwise, a career as a business consultant could be rewarding — not to mention, extremely lucrative.

Communications Director –

As a communications director, you'll be in charge of managing the internal and external communications of an organization. You may be tasked with developing and managing relationships with media members, supervising the public relations staff, and creating communication strategies. Although it's possible to become a communications director with a bachelor's degree, a graduate degree may be required.
Related: What Is a Graduate Degree?
Political Reporter –

Some poli/sci majors want to have a heavy hand in shaping policy and making decisions, while others prefer to observe the political arena from the sidelines and offer insightful opinions. If the latter sounds more appealing to you, consider becoming a political reporter. Political reporters gather information about current events, interview people in government, and write articles about the policies and people shaping daily life. There may be some danger involved in digging up the dirt on politicians for a living (we all saw what happened to

Zoe Barnes

in

House of Cards

). But hey, you can't say this career isn't exciting.
Build Your Skills Outside the Classroom
As a political science major, you'll develop strong writing, communication, research, and analytical skills that can help prepare you for success in almost any career. But the real secret to landing a job with a poli/sci degree is gaining skills and experience outside of the classroom.
While you're in college, be sure to get involved with campus clubs and organizations. Look for internships to enhance your undergraduate education. When it's time to find your first job after college, you'll be glad you did!
Image Credits
Source: wellphoto/Shutterstock
Source: MR.Yanukit/Shutterstock
Source: RozenskiP/Shutterstock