Go to college. Earn a degree. Get a job — preferably, in your field of study. That's the career path that has been drilled into most of us from a young age. And to be clear, there's nothing wrong with this path. But wouldn't it be great if there were a way to skip the four-year degree and the mind-boggling debt that comes along with it?
There is! It's called an apprenticeship, and it's one of the best ways to learn in-demand skills and launch a successful career, all while getting paid. Sounds pretty amazing, right? If you want to learn more about apprenticeships, just sit tight. We're going to tell you everything you need to know.
So, What Is an Apprenticeship?
You've probably heard of apprenticeships before. They've been around since at least the Middle Ages and have launched the careers of many famous faces, including Benjamin Franklin and Leonardo de Vinci. Even Elvis Presley — the King of Rock himself — was an electrician apprentice at one point!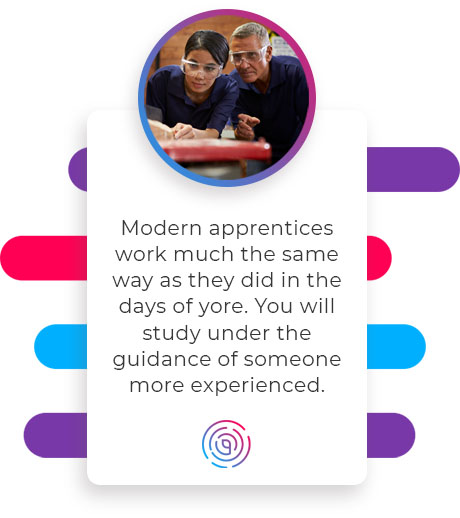 Modern apprentices work much the same way as they did in the days of yore. You, the apprentice, will study under the guidance and tutelage of someone more experienced. You'll get paid to learn highly technical skills that will boost your career prospects while your employer gets to make use of your ever-growing skillset. Think of it as a quid pro quo situation.
Wait, a minute. This sounds an awful lot like an internship, doesn't it? You're right! While both internships and apprenticeships involve on-the-job training, they have a few key differences:
Internships

are often unpaid and/or part-time. They last for a semester or so and are considered more valuable for networking opportunities rather than learning industry-specific skills. 

Apprenticeships

are full-time positions with decent starting salaries, depending on the industry and position. The duration of an apprenticeship can be

anywhere from one to six years.

You can expect a greater focus on teaching you specific skills and less emphasis on getting coffee for the higher-ups.
Got it? Good. Now, let's talk about why you'd want to consider an apprenticeship in the first place (in case that's not already obvious ?).
The Benefits of Apprenticeship
There are tons of reasons why people seek out apprenticeships, but we'll keep this list short and sweet. Here's a few reasons why you should consider jumpstarting your career through an apprenticeship:
Get That Bread –

Dollar, dollar bills, y'all. Money plays a huge role in the decision to become an apprentice. Apprenticeships give you the opportunity to

earn a competitive wage

from day one. Plus, you can increase your wages as you gain more experience. 

Secure a Stable Job –

Apprenticeships can be pretty competitive to get. But once you score an apprenticeship, you're all but guaranteed a job upon completion of your program.

Sidestep Student Debt

– With rising cost of tuition and mounting student debt, it's hardly surprising that

apprenticeships are on the rise.

Apprenticeships allow you to skip college — and student debt — in favor of a paycheck and a stable career.

Learn from Industry Experts –

If you've always wanted a mentor, you'll enjoy being an apprentice. In an apprenticeship program, you'll receive on-the-job guidance and training from an industry expert who will support you and your career.

Earn College Credit –

Still want to earn a college degree? Many apprenticeship programs allow you to receive college credits that you can put towards an associate's or bachelor's degree. 
How Much Does an Apprenticeship Pay?
Honestly, it depends on the industry and the position!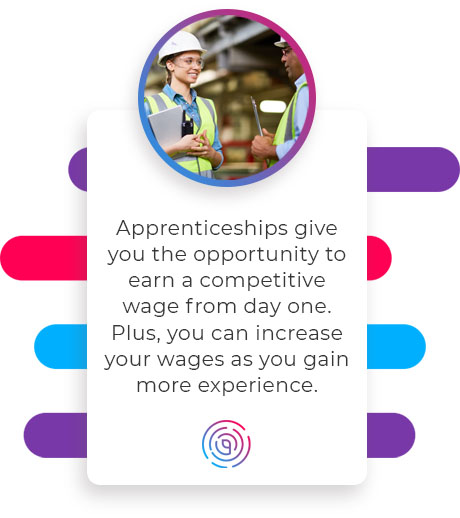 Historically, apprenticeships have been limited to blue collar jobs (think: plumbing apprenticeships and electrician apprenticeships). However, modern apprenticeship opportunities have extended beyond the skilled trades and can now be found in a variety of industries and sectors, ranging from tech and healthcare to education and art. 
While the pay range may vary based on industry, the Department of Labor says that apprenticed workers earn roughly $300,000 more over the course of their career compared to non-apprenticed workers. 
How Do I Become an Apprentice? 
That's where Tallo can help! Start by creating a Tallo profile, which will help get you noticed by businesses, schools, and organizations that are looking for young talent. We'll connect you with apprenticeship opportunities and provide personalized career advice along the way.
Then, it's simply a matter of securing an apprenticeship and putting in the hard work. After you complete the program, you can enjoy a stable career while earning a great wage, start a business with your technical skills, or further your education. The choice is up to you!