Choosing a college or university is a huge decision that will likely affect numerous aspects of your life. Needless to say, you want to weigh all of your options carefully and make a decision that best suits your career goals.
One high-ed option that you shouldn't overlook is going to a liberal arts college. Compared to traditional universities, liberal arts colleges have some key advantages that could benefit your future career.
What is a liberal arts college and how do you know if it's right for you? Let's take a closer look.
What Is a Liberal Arts College?
First, a quick history lesson — the liberal in liberal arts has nothing to do with political affiliation. It actually comes from the Latin word liber, meaning "free."
Liberal arts education has its origins in ancient Greece. In classical antiquity, liberal arts described a type of education that focused primarily on teaching rhetoric, logic, and grammar — all things that ancient Greeks needed to participate in civic life as a free citizen.
Flash-forward to today, and liberal arts colleges are rooted in the same concept: to teach students a broad knowledge of transferrable skills aimed at helping them function successfully in civic life.
Key Characteristics of a Liberal Arts College
So, how does a liberal arts college differ from your traditional, four-year university? Let's take a closer look at some of the key characteristics of a liberal arts college:
Undergraduate focus.

Traditional universities offer both undergraduate and graduate programs, whereas most liberal arts colleges emphasize their undergraduate programs. Liberal arts colleges are also less research-intensive and provide a more well-rounded education.

Smaller class sizes.

You're not likely to find any big lecture halls at a liberal arts college. Class sizes tend to be on the smaller side, which is a huge benefit if you enjoy learning in a more intimate setting.

Focus on liberal arts fields of study

. Liberal arts colleges are known for offering a breadth of courses in the natural sciences, social sciences, arts, and humanities. You're also more likely to find unique areas of study that may better suit your career path.

Accessible Faculty.

Due to their smaller size, liberal arts colleges can give you a better opportunity to build strong personal relationships with your professors. As a result, your profs may be more likely to write you letters of recommendation or point you towards

college scholarships

and other forms of financial aid you may not have otherwise known about.
Who Should Attend a Liberal Arts College?
Earning a bachelor's degree or an associate of arts degree from a liberal arts college can give you the knowledge and flexible skills you need to launch a successful career. And in case you're wondering — yes, there are plenty of associate of arts degree jobs out there for liberal arts grads!
However, liberal arts colleges aren't the right fit for everyone. To help you decide if it's right for you, here are a few reasons why you might choose a liberal arts education:
You want the freedom to explore your interests and curiosities.

You enjoy a tight-knit community that emphasizes social responsibility and civic engagement.

You want to develop practical skills such as problem-solving and communication in addition to hard skills.

You're open to discussion-based classes and unique teaching formats that may challenge your way of thinking.
Cost and Selectivity of Liberal Arts Colleges 
Depending on the institution, liberal arts colleges can be on the expensive side. At Williams College, for instance, the cost of tuition is $59,350 for the 2020-2021 school year.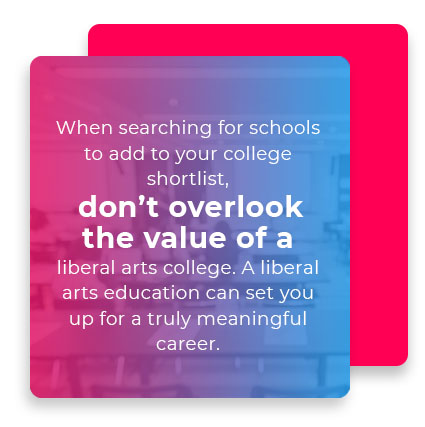 Still, don't let the sticker price turn you off from applying to your dream school. Private liberal arts colleges in particular are known for having generous financial aid packages which can help you fund your education.
Since liberal arts colleges can also be extremely selective, you'll need to do well on your college entrance exams and have good grades to get accepted. Getting a good score on your SAT or ACT can also help you land more scholarship money — so be sure to study hard!
Pursuing a Well-Rounded Education
When searching for schools to add to your college shortlist, don't overlook the value of a liberal arts college. With their low student-to-faculty ratios, flexible curriculums, and community engagement, a liberal arts education can set you up for a truly meaningful career. Along with gaining valuable soft and hard skills that employers want, you'll also build a wealth of knowledge that will serve you well in nearly every aspect of your life.