As far as college funding goes, scholarships are the holy grail. They're the awards that reward you for your engagement and hard work and the ones that celebrate your unique background and achievements. Oh yeah, and we almost forgot the best part: unlike student loans, you don't have to pay them back! 
There are many different kinds of scholarships out there, and figuring out the ones for which you qualify can help you get more dollar signs in your tuition bank. One kind of scholarship you may want to consider is the need-based scholarship. We're covering this option in-depth below to help you determine whether you should apply for one.
What Is a Need-Based Scholarship?
Need-based scholarships are defined as financial aid given to students on the basis of financial need.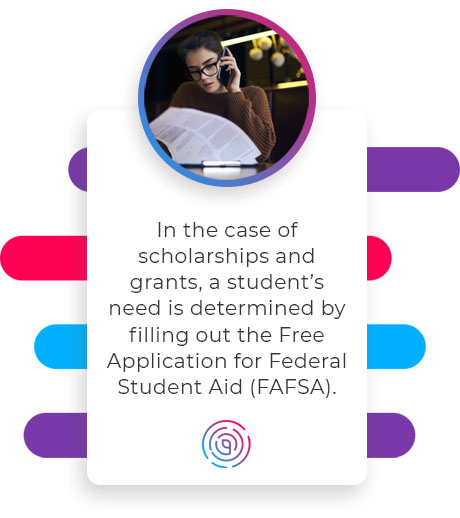 Students may qualify for need-based scholarship funds if they come from low-income backgrounds, and qualification is usually determined based on family income. Need-based college scholarships contrast with merit-based college scholarships, which are awarded based on academic, sports, or extracurricular achievement — like getting a 4.0 or being a high-scorer on the soccer team — and typically do not take finances into account.
But just because these kinds of scholarships take economics into consideration doesn't mean that's the only thing that matters. In fact, many of the organizations and programs handing out scholarship funds require students to both demonstrate financial need and show academic, artistic, or athletic achievement. On the other hand, need-based federal grants may be awarded based solely on financial need and not merit. Check out our blog post on grant vs. scholarship money to learn more about how grants differ.
GET STARTED USING TALLO
Do You Qualify?
The short answer is: it depends on which scholarship you're applying for. To be more specific, all scholarships have their own set of criteria students must meet to qualify, and there is no specific income threshold for all opportunities. However, many schools use a similar formula to determine need:
Cost of attendance (tuition plus room, board, textbooks, supplies, etc.) – the expected family contribution = student need.
In the case of scholarships given by your school, grants given by the federal government, and some private scholarships, a student's need is determined by filling out the Free Application for Federal Student Aid (FAFSA). Often, financial need scholarships are given to students who qualify for a federal Pell Grant. Though it varies, the majority of Pell Grants are given to students whose families make less than $20,000 per year in total, but students whose families make less than $50,000 per year also qualify.
Examples of Need-Based Scholarships
Here are a few examples of typical need-based scholarships to help you understand the scope of this kind of financial aid. There are need-based scholarships for all kinds of educational endeavors, from highly selective options for vocation-track students to less competitive ones for those working towards a liberal arts degree.
The Gates Scholarship

— Funded by the Bill & Melinda Gates Foundation,

The Gates Scholarship

gives 300 eligible students each year a "last-dollar scholarship" meaning that it pays for the cost of schooling after federal grants are awarded, ensuring that students of all incomes can pay for college. To qualify, students must be eligible for a federal Pell Grant.

The Young Scholars Program

— Funded by the Jack Kent Cooke Foundation, this pre-college scholarship is awarded

exclusively to high-performing seventh-grade students

who demonstrate financial need. It may pay for high school tuition, school supplies, summer programs, and extracurricular activities.
The Greenhouse Scholars Program

— This program awards graduating high school seniors with

need-based funds

for attending four-year colleges. In addition to achieving a GPA of 3.5 or above, Greenhouse scholars must demonstrate a financial need and must not have an annual household income greater than $70,000.
Where to Find Need-Based Scholarships
Think you might qualify for some need-based scholarship dough? Good for you! The best place to find scholarship money for college or a trade program is through Tallo. Sign up for a profile on our platform now and get matched with the best scholarships for you.