No clue what to do after high school? NBD, you're in good company. Even though it may seem like most of your classmates have their careers mapped out from start to finish, these career paths are hardly set in stone. The truth is, the best-laid plans can and do change, especially after you put more thought into your future.
Of course, that doesn't mean you shouldn't at least have a tentative game plan for what to do after high school. Now is the perfect time to explore different career options and begin mapping out your next steps. Not sure where to start or how to choose a career that's right for you? Here are a few post-high school options worth looking into before you graduate.
Attend a Traditional Four-Year College –

OK, let's start with one of the most popular post-high school plans: going to college. According to the Bureau of Labor Statistics,

66.2 percent

of high school graduates from the class of 2019 were enrolled in colleges or universities. Although college can lead to some

ah

-mazing careers, it's definitely not a good fit for everyone. Before applying to college, you'll want to think about college majors, campus size, and the big one — financial aid packages. Pro tip for future college peeps: Tallo offers two easy college scholarships every month, so take advantage and get that free money!

 

Attend Community College –

Thinking about getting your degree, but still kinda on the fence about it? Consider attending a two-year community college. Community colleges are a great way to save literally thousands of dollars on college tuition while getting an opportunity to explore majors. You can get your associate's degree and enter the workforce or transfer your credits to a four-year university if you decide to go for a bachelor's degree. (Many states have articulation agreements -otherwise known as transfer agreements – between community college and state college systems.

Look up your state here

to find more information.)

Work a Skilled Trade –

When thinking about what to do after high school, don't count out trade work! Learning a skilled trade such as welding, construction work, or wind turbine installation can lead to a fulfilling and high-paying career. One of the best ways to kickstart your trade career is by

finding an apprenticeship

that allows you to earn while you learn.

You could also attend vocational school to learn a specific skillset in a certain field, such as nursing. (Yes, nursing counts as a trade!)
Interested in vocational school? Read our blog – What Is Vocational School? – to learn more.
Take a Gap Year –

Who says that you need to go to college or vocational school immediately after you graduate from high school? Not us. In fact, taking a year-long break can be a smart move, as long as you put that time off to good use. A gap year gives you the unique opportunity to explore your passions further, allowing you to come back to school with a better sense of what you actually want to do in life.

Join the Military –

You've probably seen military recruiters on your high school campus before. While joining the military definitely isn't the right career path for everyone, there are a few perks of enlisting in the armed forces. These include signing bonuses, access to jobs, and tuition assistance, among others. Of course, the military is also a big commitment. You're looking at serving a minimum of eight years, depending on the service and the job. Think it over carefully before you sign up.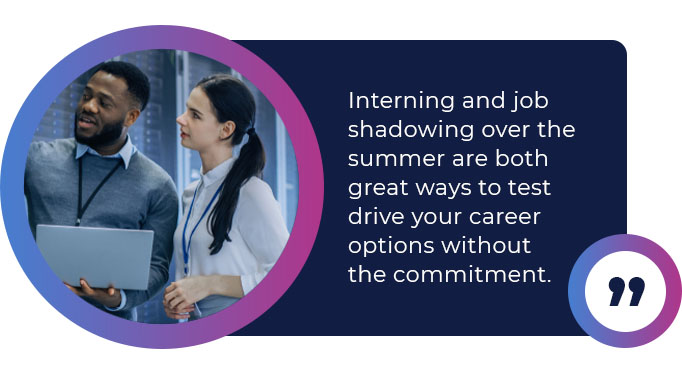 Intern and Shadow –

Have a potential career in mind? Interning and

job shadowing

over the summer are both great ways to test drive your career options without the commitment. As an intern, you'll be exposed to hands-on learning opportunities that you can use to jazz up your resume. Job shadowing is often much shorter and involves a lot more observation on your part, so you can see what a normal day looks like for someone in that profession.

Become a Freelancer –

Do you make beautiful websites on the side? Can you write engaging and lively prose? Consider using your special talents to make money through freelance work. With freelancing, you can set your own schedule and work as much or as little as you please. You could even do it on the side while you intern or work a day job. 
Crafting a Post-High School Game Plan
If you don't know what to do after high school, that's perfectly OK. There are many paths you can take after you graduate — and you don't need to rush into any of them. Take your time, explore career options, and don't be afraid to consider the unconventional. 
Ready to open yourself up to a world of brand-new opportunities? Sign up for Tallo and we'll match you with scholarships, jobs, internships, and other exciting opportunities that help you take the next step in your career.