Getting into your top-choice school can be a daunting prospect. Even more stressful? Figuring out how you're going to pay for your education in the first place. Fortunately, there are literally millions of college scholarships awarded each year that can help ease the financial burden of higher education. But when do you start applying for them? And what are the important deadlines you need to know about? 
Honestly, trying to make sense of the financial aid process can be a huge headache. If you're totally lost, take a deep breath! Here's everything you need to know about when to apply for scholarships to maximize your chances of winning.
When Should You Apply for Scholarships?
One of the biggest misconceptions about college scholarships is that only high school seniors can apply for them. Not true! As a matter of fact, you can begin applying for scholarships in your freshman year of high school all the way up until your senior year of college. Yep, that's right — it's never too late to get free money.
Of course, there will be some scholarships that you don't qualify for based on your grade level. That's why reading the specific requirements for each scholarship is super important. After all, you don't want to waste your precious time on a scholarship that you don't stand a chance of winning.
When Do Most Scholarship Deadlines Occur?
Although scholarships are offered year-round, the vast majority of scholarship application deadlines occur from September through May. What does this mean for you? It means you have most of the summer to research college scholarships and get a head start on the application process.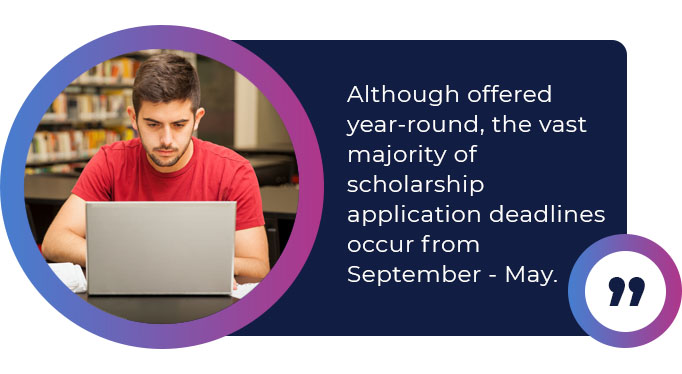 While it may not be the most exciting way to spend your summer vacay, it's well worth the effort. Many of the biggest scholarships also have the earliest deadlines. Plus, you'll be swamped during the school year with homework and preparing for college entrance exams. Create a scholarship application schedule now and you'll thank yourself a million times over in the future.
Recommended Timeline
The amount and the variety of scholarships out there can be overwhelming. Since many of them are open year-round, you'll probably feel like you're constantly applying for new scholarships. To help you stay on track, here is a recommended timeline to follow:
August and September –

Now is a good time to start researching scholarships because you don't have schoolwork to juggle on top of scholarship hunting. Take advantage by creating a list of potential scholarships that you qualify for and making note of their specific deadlines and requirements. Late summer is also the time when many big ticket scholarships open their applications.

October and November –

On Oct. 1, the Free Application for Federal Student Aid (

FAFSA

) will become available. Be sure to fill this out! You need to complete your FAFSA form in order to qualify for certain grants and scholarships (you can read more about

grants vs. scholarships

on the Tallo blog). Merit scholarship applications may also be due around this time.

December and January –

At this point, you're probably getting sick of applying for scholarships. Keep it up, though — it will pay off! If you've been slacking on your FAFSA, remember to fill it out so that it's ready to turn in by January.

Otherwise, consider using your winter break to research and complete more scholarships to maximize your opportunities.

February and March –

Around this time, you should be starting to hear back from schools about scholarship offers.

It's exciting! Hopefully, the fruits of your labor have paid off. If you filled out FAFSA, you should also receive financial aid offers from schools. If they aren't enough to meet your needs, check in with the financial aid office. They may be able to adjust the financial aid package for you.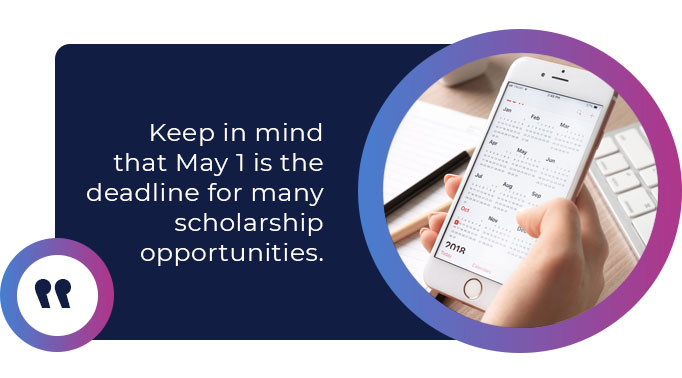 April and May –

At the end of spring, you'll see a decline in scholarship opportunities. Continue applying for as many as you can, particularly local scholarships. Also, keep in mind that May 1 is the deadline for many scholarship opportunities.

 
It's a Numbers Game
Remember: You can never apply for too many scholarships. If you start early and apply often, you can maximize your chances of winning. And for even more scholarship opportunities, be sure to create a Tallo profile. We post two new scholarships each month!