Guide your learners to their purpose
Tallo's Purpose and Meaning Career Fit Assessment helps your students better explore educational and career opportunities based on their unique values, personalities, interests, and workplace preferences
NSF Award Winning Career Fit Assessment

NSF Award Winning Career Fit Assessment
Tallo's Purpose and Meaning Career Fit Assessment uses patented predictive science to help students find a sense of purpose, understand their personality and core values, and guide them to meaningful careers that fit their interests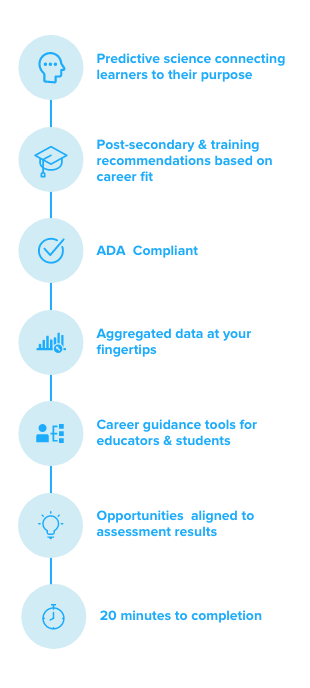 ESSER AND PERKINS FUNDING APPROVED
Tallo for Schools
and Districts
Tallo's interactive assessment and career exploration tools use students' core values and purpose to guide students to explore and plan their careers with purpose and meaning.
Scientifically validated and suited for learners 13+

Interactive assessment which measures students' interests, personality, core values, and workplace values

Career exploration based on students' purpose and meaning

Location-based industry outlook and post-secondary information to help students make steps towards their future

Promote student self-discovery, meet college and career readiness requirements, and engage in more meaningful conversations

User-friendly student and educator dashboard with downloadable reporting and resources for self-reflection and goal-setting

Two-way communication for educators to help mentor students
GIVE YOUR STUDENTS A COMPETITIVE ADVANTAGE 
1
Take the quick and interactive assessment
2
Explore career matches and filter by fit score, education and training, skills needed, and industry outlook
3
Discover meaningful opportunities and local jobs based on unique career fit and personality
Make Meaningful Connections
Beyond the assessment, students use Tallo's digital portfolio platform to showcases their interests, skills, extracurricular, and academic accomplishments and connect to career and educational opportunities like scholarships, internships, apprenticeships, and post-secondary educational opportunities.

Earn digital badges and showcase membership in student organizations like, FBLA, HOSA, PLTW, and AVID

Organize goals and keep track of accomplishments and extracurricular activities

Match with over $20 billion in scholarships

Connect to employers, post-secondary institutions, and training opportunities

Attend virtual college and career fairs











Try the Assessment Today!
Just provide your information and we'll set up your own personal Assessment.