Five years ago, would any of us have imagined that trucking would be in the news as much as it is now? The pandemic, supply chain crisis, and, now, even the freedom convoys, have put trucking center stage. No matter how you slice it, trucking plays a vital and very tangible role in our economy and society, and we must make every possible effort to address its long-standing labor shortage issues. Much of this relates to how we find a new crop of talent to take the positions being vacated by retiring workers. 
According to a 2021 study from Coyote Logistics:
Younger workers are not entering the industry fast enough to replace retiring workers. 

A staggering 80% of truckers are older than 45, and another 23% are above 55.

Short-haul freight is by far the most preferred option for truckers, which means that much of the tension exists around long-haul driving.  

The top barrier to entry, besides perception, tends to be the licensing and experience requirements. 
The question that seems to stump everyone, is how to get more people to take these jobs. What is the key to getting more younger workers interested in these careers, and what can employers do to help create a shift? 
Early talent's perspective on trucking
When we ran a general survey of students' thoughts and perceptions of trucking we found that 41% are not interested in being truckers. Another 42% are undecided / not sure. And only 18% are actually interested in the work.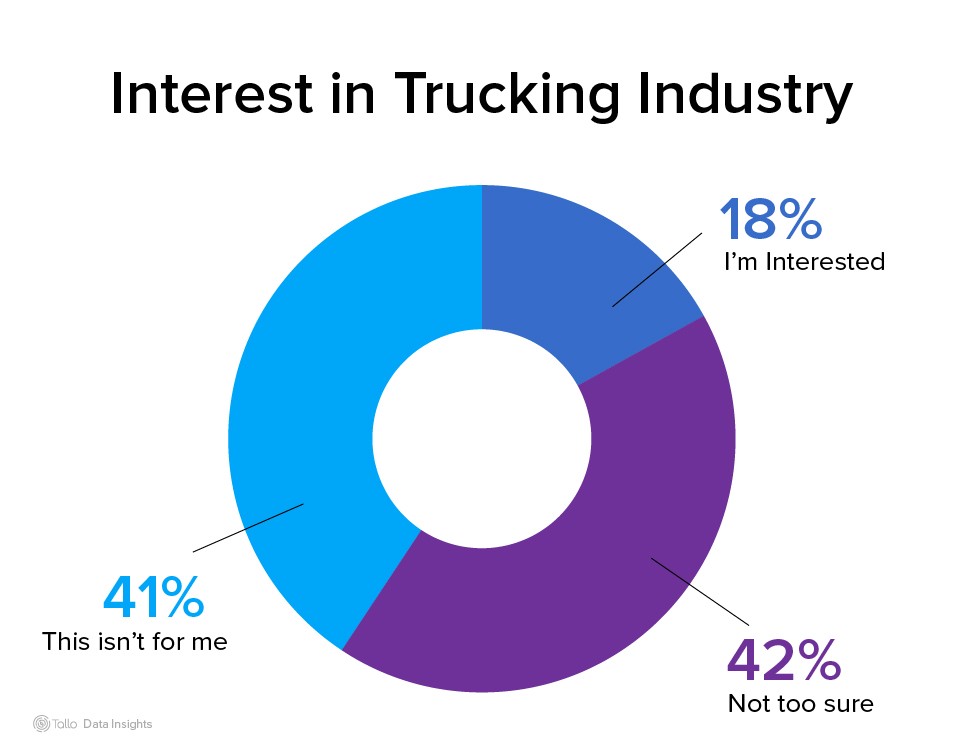 This tracks with what we've seen nationally. There's no getting around it: It is just hard to find people to work in trucking. However, the really important number to focus on here is the 60% that are either undecided or interested. Companies must lock-in that 18% that are interested and help to influence the other 42% that are undecided. 
On a positive note, here at Tallo, over 21,000 high school and college-age students have expressed interest in working in transportation, distribution, and logistics. Yes, the nation's supply chains need talent in much higher numbers, but these 21,000 are a great starting point – especially for firms struggling to find a steady supply of talent. And these students are a great place to start branding, engagement, and recruiting efforts. 
Key obstacles trucking companies must overcome to attract young talent
According to our research, the top reasons early talent would stay away from trucking jobs are:
Being away from home 

Dealing with the rigors of the road (traffic, accidents, and other safety issues, etc)

Long work hours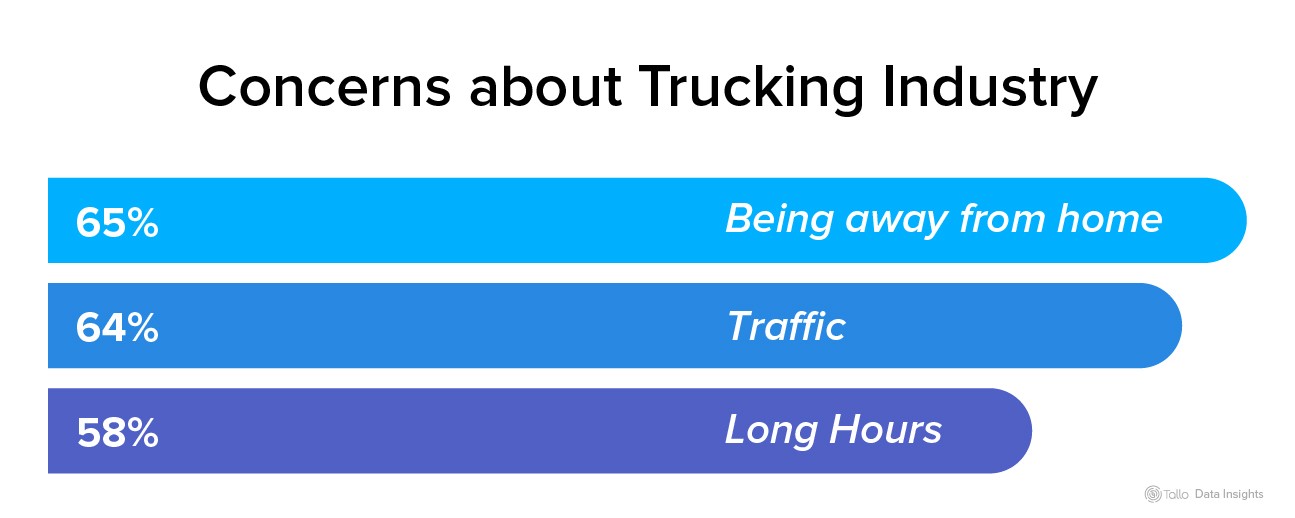 But perhaps more importantly, most of the students surveyed say they are just unfamiliar with the work. Nearly 63% say they are unfamiliar with the jobs nationwide (and thus the demand and opportunity involved and nearly 94% say they have no or little knowledge of trucking jobs. That means there's an obvious place to start. 
If employers really want young people to fill their talent gaps, they must first address awareness gaps. Keep in mind, over 79% of high school and college-age students interested in trucking believe that it is important to connect with a future employer before they begin their job search. And 78% would be more inclined to apply to a job if they already had a relationship with the company. Further, 61% of early talent said that an employer's brand is important to them, and 71% said that they would be more inclined to work for a company whose brand is familiar to them. This is something we've stressed in the past – companies that work to build relationships early and often and establish a strong employment brand, win.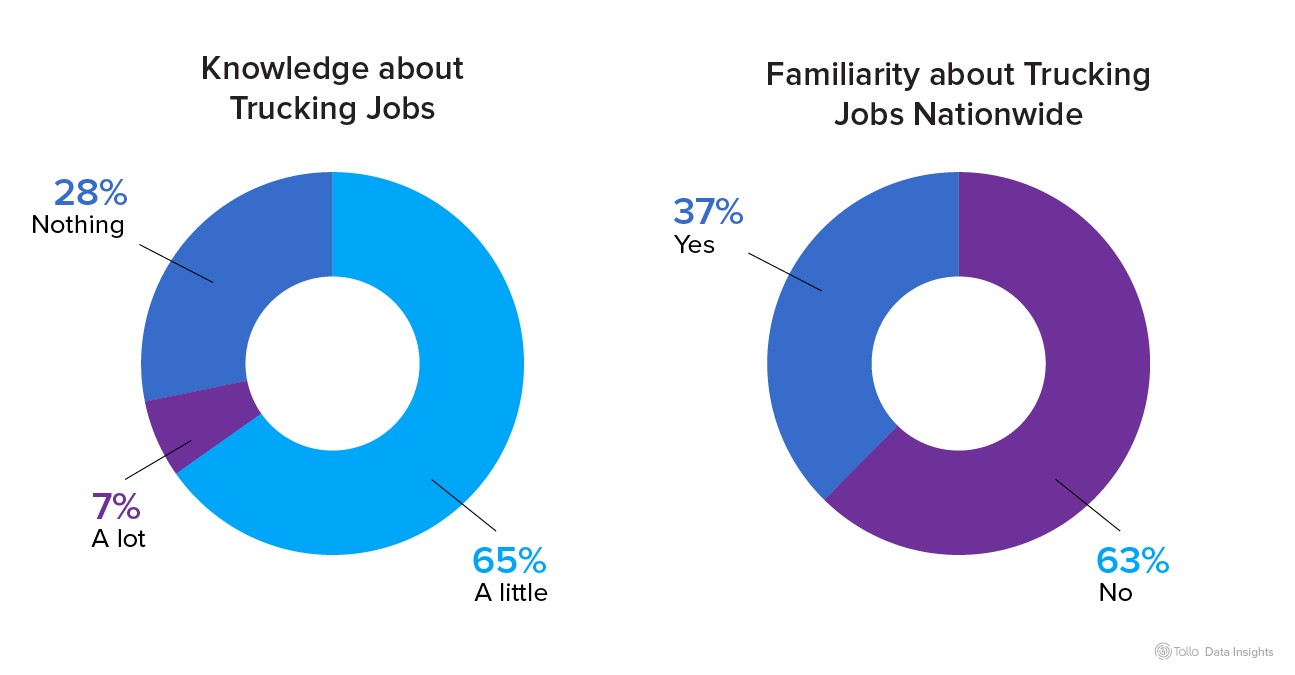 How can trucking companies educate and recruit early talent?
Serious outreach efforts need to kick in while students are still in high school. Why? Because that's when students start contemplating big decisions about their futures. Thirty-seven percent of early talent report that they are making their work and education decisions while still high school juniors, and another 43% when they are seniors. Essentially, if you start reaching out after students turn 21, it's probably far too late to significantly influence their paths. 
This might be a hard message to hear because you need talent now, and those high school students won't be ready to work for years. But keep this in mind – how long have trucking companies been struggling with labor shortages? For many years. And how long will they continue to struggle? For many more years. The best time to start developing a long-term talent pipeline was ten years ago. The second best time is today. The steps you take today will start to bear fruit over time until you have a radically different, and much less desperate, relationship to talent acquisition.
Teach them about the industry
Reaching out to high schoolers might sound daunting, but it doesn't have to be. Trucking companies do not need to flock to social media or start trying outlandish gimmicks to make themselves look young and relevant. 
Why?
86% of students say that they would prefer to receive emails about future opportunities. 

58% say they would like to engage in Q&A sessions to learn more. 

54% would try a day-in-the-life program to learn about trucking companies. 
These are all simple, no-frills steps that any company could take. Also notice, much of this relates to how trucking companies teach early talent about the jobs. Employers do not need to start acting like well-known retail or consumer brands. Just start with the basics.
But whatever particular approach you take, the most important thing is getting an informative, educational message out there. For instance, Amazon has developed campaigns specifically to get people interested in the many logistics jobs they have open. These campaigns are very much geared toward helping people learn about what they would do in the job, what the work environment is like, and what problems they would solve. This information is exactly what high school students want to know before they express interest in a specific employer. Trucking companies would be doing themselves a huge favor if they started developing similar educational content. 
And again, without outreach and education efforts, those 21,000 students who have expressed interest in trucking will likely flow to the industries and firms that developed a compelling message first. 
As logistics and trucking companies work to build their brand and connect with a new generation, it is going to be very important to address the following sticking points. In order for early talent to get over the obstacles keeping them from the industry, they want to hear more about:
Safety and insurance.

How do you help them stay safe on the road, and support them in the event of an accident?

Base compensation.

Do you offer better base pay vs other industries (that are also talent starved, and therefore competing with you)? 

Perks.

What is your paid time off and bonuses like? What does having a life and a family look like in your industry?

Licensing and getting started.

Can you help them get started? Trucking companies should talk openly about training and certification. A major barrier to becoming a trucker is undertaking all the licensing and training, which can be quite time-costly. The more companies advertise their willingness to pay for training, the more of an edge they'll gain in the competition for talent.

Growth

. We also found that students would be more prone to change their minds about trucking if companies offered more information about

career opportunities and pathways

. The long hours and solitary lifestyle of long-haul trucking may look increasingly attractive to a young people if they know that putting in some time in the industry will further their goals.
Trucking companies will see good results if they invest in early talent
The road ahead might seem frustratingly long and challenging. But investing in the employees of the future pays off. When surveyed, 55% of early talent plan to stay at their first employer for more than three years. In an age when people seem to be resigning more and more frequently, this is a powerful incentive to make trucking a young worker's first job. And if companies work to retain their employees, those three years could become much longer. When asked what was most important to them about a future employer, 31% said work-life balance, while another 23% said job fit. If logistics and trucking companies can help employees create that balance and ensure that they get the right skills, both hiring and retention will become easier.
So, if your logistics or trucking company would like to connect to the 21,000 students interested in your industry, please get in touch. We would love to help you locate your awareness gaps, clarify your goals, and craft the right strategy for reaching early talent. Perhaps most importantly, we can do the heavy lifting and reach out to these students for you.
Subscribe to receive Tallo Data Insights
straight to your inbox!