With our biggest college fair event ever on the horizon, the College Fair of the Year on August 3, 2022, we're getting an influx of questions from colleges interested in connecting with and recruiting future students around the country. Because of this, we put together a guide to outline what Ping is, what you can expect at our college fair, and how you can sign up to be a part of the biggest college fair of the year.
What is Ping by Tallo?
Ping is a fast, easy mobile experience that instantly matches talent (future students or future employees) with talent seekers (colleges, universities, technical schools, and businesses). 
Why Ping for College Fairs and Career Fairs?
With the shift from in-person events to virtual events due to the pandemic, Tallo recognized the need for a new virtual experience. Why? Well, the reasoning is twofold:
Obstacles for Talent:

College fairs and career fairs can be wildly stressful and overwhelming. Sometimes, the future students or employees don't know who the companies and schools are, they don't know where to start, and they only have a certain amount of time to reach every recruitment team. Additionally, there's not enough time to really dig into the important things that students and employees look for, including whether the company aligns with their interests and preferences such as culture, soft skills, class sizes, etc. Moreover, every student is unique, and that means that some students may experience anxiety about connecting with so many organizations in a sea of other prospects. Finally, in-person events can be expensive, and worse, they can be canceled. In some cases, this means money spent (and perhaps lost) on hotels, airplane tickets, and more.

Obstacles for Talent Seekers:

We don't need to tell you that college and career fairs are expensive, overwhelming, and challenging. Your job is to find the right candidate, be it a student or employee, in a sea of prospects without really having time to discuss their qualifications, interests, and more. How can you possibly produce an effective ROI that way? Plus, following up afterward can be difficult in the best of circumstances. After all, you're one of many recruiters the prospect spoke to, and now they need to remember you, the conversation that was had, and why they liked you. Add to that the possibility of an event being canceled and money being wasted, and you've got a recipe for disappointing results and unnecessary stress.
Enter Ping. Ping saves time and increases chances of quality hires by matching talent seekers with talent who most align with them before, during and after the event. With Ping, everyone has a clear starting point: we suggest companies and schools that match what talent is looking for, and we suggest prospects for talent seekers. It's a win-win situation for everyone involved. Prospects are able to see your profile on Ping, learn what you're about, and reach out to you directly. This helps you create brand awareness without lifting a finger, and it empowers prospects to do their research over the course of the event. This also allows talent to match with businesses and schools that might not have even been on their radar. Best of all? No stressful flights, hotel arrangements, or risk of cancelation. 
What Can You Expect the Day of a Ping Event?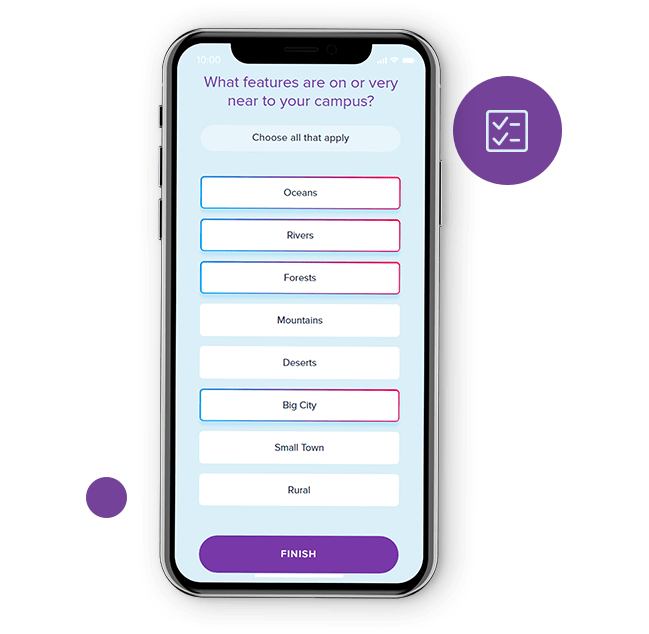 Each side, talent and talent seeker, do a minimal amount of work to get set up for the event—far less than you'd do for an in-person event. Let's break it down:
Upload their resume and answer a few questions prior to the event.

Connect with talent seekers instantly on the day of the event based on lifestyle needs and qualifications

View match ratings with talent seekers and reasons for matches

Plan their time and conversations to get the most out of their event experience.
We show talent who they match with, help them make a great first impression, and connect them with recruiters for the companies and schools that are a good fit for them.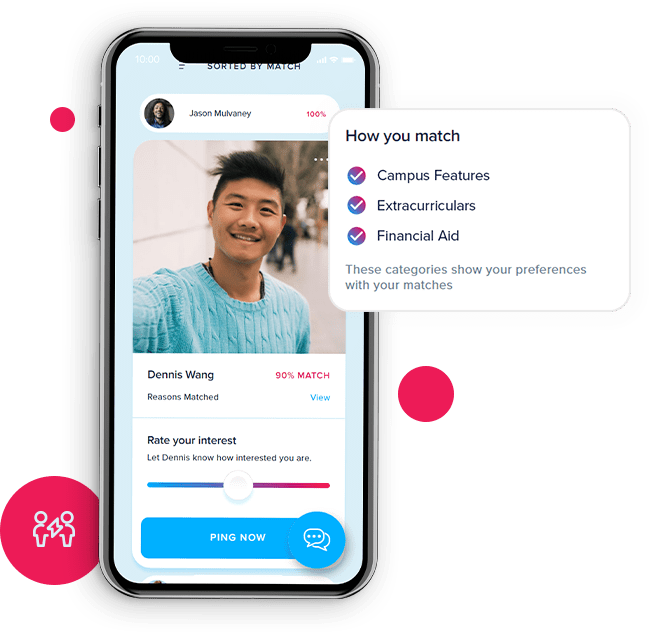 Talent Seekers on Ping Will:
Answer a few questions prior to the event about what you're looking for in an ideal candidate

Match with talent based on set criteria and essential skills

View match ratings, reasons for matches, and talent resumes

Start conversations with preferred candidates or send them to apply online

Leave with contact info for all participants and relevant match data
Ultimately, we show talent seekers the prospects who participated in the event and match them with the prospects who are the best fit for their organization—no matter where the prospect is located. 
Ping Helps You Make Meaningful Matches 
Every event is a unique matching environment designed to deliver the best possible experience for both talent and talent seekers. How do we do that? By using our custom-built algorithm that combines pre-set questions with custom questions for every event. In fact, our algorithm is designed in such a way that every event we power is improved based on both talent and talent seeker requirements. We match you with prospects who have the right credentials, essential skills, education levels, and more, and we match talent with the right culture, environment, and more.
Interested in joining a Ping event? You can learn more about both the
College Fair of the Year
and
other events
we're hosting throughout the year.
Prefer to host your own Ping event? We can do that too! Just fill out the form below and we'll get back to you.