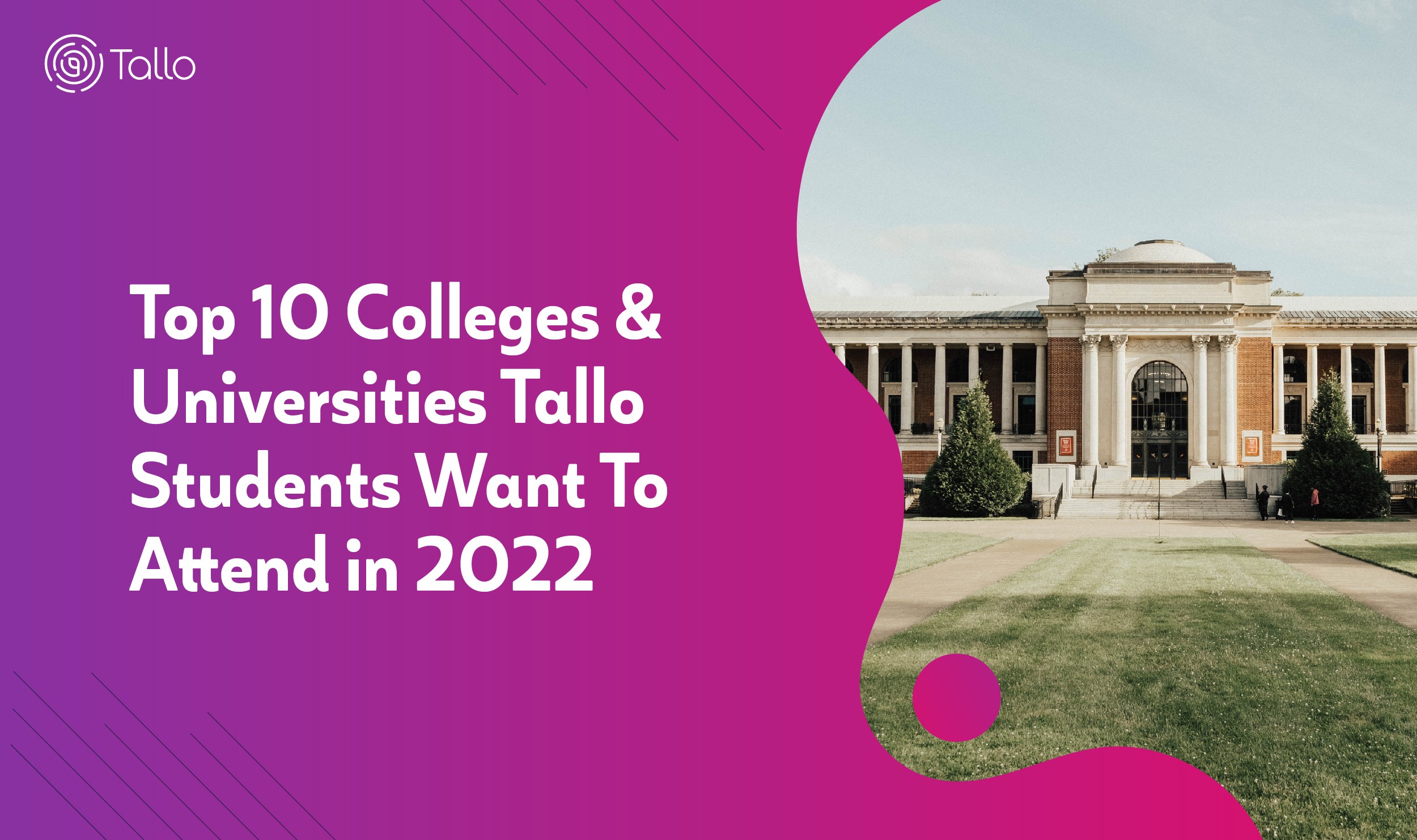 At Tallo, our passion is connecting talented students with admissions counselors around the country, ensuring the student's dreams meet the school's recruitment goals. To do this, we use data that both the student and the school provide and create recommendations based on this information. Because of this intensive process, we collect millions of data points (all of them shared willingly by both parties) about everything from whether a student is first generation to how many students the higher education school plans to admit over the course of a multi-year span. These data points constantly shift based on trends, world events, and even politics, but this year, we decided to take a look at the top 10 colleges and universities our students are most interested in attending. While some schools that made our list aren't surprising, there are more than a few that got us excited. 
Texas A&M University | College Station, Texas
Founded in 1871 as the Agricultural and Mechanical College of Texas, Texas A&M University became the flagship school for the Texas A&M University System in the late 1940s. Since then, it has only grown, and in fact, in Fall of 2021, they were recognized for having the largest student body in the country.

While Texas A&M has a robust athletics program, it's known for a number of other things as well, including the only university in Texas to hold designations as a sea, land, and space grant institution. Texas A& M is also classified as an R1 Doctoral University. This university boasts over 1000 student organizations and offers degrees in over 130 fields. 
University of Florida | Gainesville, Florida
Founded in 1905 as the University of the State of Florida, this university was ranked as the 5th best pubic university and 28th best university in the U.S. by U.S. News & World Report. University of Florida has over 16 academic colleges and 150 research centers and also hosts the Florida Gators, NCAA Division I intercollegiate sports teams.

Interestingly enough, in 2005, University of Florida also became a Certified Audubon Cooperative Sanctuary. This program helps organizations and businesses protect the environment and boost their bottom line by promoting conservation efforts and implementing environmental management plans.
University of California – LA (UCLA) | Los Angeles, California


Though founded in 1882 as a teachers college and southern branch of the California State Normal School,

UCLA

is now the host of 337 undergraduate and graduate programs in the fields of letters and science. UCLA boasts 27 Nobel laureates, two Chief Scientists of the U.S. Air Force, five Turing Award winners and one Fields Medalist.





Fun fact: USLA had over 168,000 applicants in the Fall of 2021, making it the most applied-to university in the entire United States. 
University of South Carolina – Columbia | Columbia, South Carolina
Originally known as the South Carolina College when founded in 1801. University of South Carolina – Columbia is now a flagship institution in the USC system, with over 350 programs of bachelors, masters, and doctorate studies. USC also supports various feeder programs hosted at technical colleges in the area, ensuring scholastic careers for thousands of additional future students.

USC-Columbia also offers a variety of varsity sports. Collectively known as the Gamecocks, these varsity sports teams have one ten national championships, one of which was in women's equestrian. 
University of California – Berkeley
Founded in 1868 as the University of California, UC-Berkeley is now one of the founding members of the Association of American Universities. The university hosts a number of fine research institutes, including the Mathematical Sciences Research Institute and Space Sciences Laboratory.

Berkeley's California Golden Bears have one 107 national championships, and its alumni have won 223 Olympic medals, 25 Turing Awards, 20 Pulitzer Prizes and 19 Academy Awards. They also claim 55 Nobel laureates, six chief justices, and the founders of Apple, Texl, eBay, and Intel. 
University of Texas at Austin | Austin, Texas
This public research university was founded in 1883 and joined the Association of American Universities in 1929. As a center of academic research, it spends hundreds of millions of dollars each year in research ($679M in 2018). Interestingly, University of Texas at Austin also hosts seven museums and seventeen libraries.

While research is its primary focus scholastically, UT Austin is known for their NCAA Division I teams called the Texas Longhorns. Collectively, they've one national football, baseball, and men's swimming and diving championships. The Texas Longhorns have won more titles in men's and women's sports than any other member of the Big 12. 
Harvard | Cambridge, Massachusetts
Harvard has all of the universities in the country beat for being the oldest—it was founded in 1636. While the original intention for Harvard University was as a congregational clergy college, it was eventually secularized and became a cultural center for the Boston elite. After the Civil War, it was further transformed into a modern research university, and it joined Berkeley as a founding member of the Association of AMerican Universities.

While the alumni list is far too long for a single article, Harvard has produced Nobel laureates, Field Medal recipients, Fulbright scholars, Marshall scholars, and Rhodes scholars. Its alumni also include eight presidents of the United States. 
New York University | New York City, New York


While NYU was founded in 1831 as a non-denominational, all-male school, it now welcomes applications from all students around the world.

New York University

has 10 undergraduate schools and 16 graduate schools, including business, engineering arts, law, medicine, public service, nursing, and social work. It also has degree-granting campuses around the world, including Abu Dhabi, Shanghai, Berlin, Florence, London, Paris, and Tel Aviv among others.





NYU has an incredible list of alumni, including 28 Nobel laureates, 8 Turing Award winners, 5 Field medalists, 26 Pulitzer Prize winners, 31 MacArthur Fellows, a US Supreme Court justice, 4 governors, 12 US Senators, 38 Academy Award winners, and honestly, so many more we don't have room to list them all. 
Stanford University | Stanford, California
While most people are familiar with the name "Stanford" when it comes to prestigious private universities, the school is officially named Leland Stanford Junior University in memory of founders Leland and Jane Stanford's son who passed away when he was just 15. The school was established in 1885.

The university offers seven schools, including 40 undergraduate departments and four graduate programs on the same campus. Stanford's robust varsity sports programs are only overshadowed by the incredible achievements of their alumni, including 85 Nobel laureates, 29 Turing Award winners, and eight Field Medalists. Stanford is also considered unmatched in its entrepreneurship and ability to attract funding for start-ups. Companies founded by Stanford alumni produce over $2.7 trillion—yes, trillion with a T—in revenue yearly. 
Clemson University | Clemson, South Carolina
The second largest university in South Carolina, Clemson University was founded in 1889 on a 1,400 acre campus at the foothills of the Blue Ridge Mountains. It also manages a 17,500 acre forest called the Clemson Experimental Forest which is used for research, recreation, and education. Clemson boasts seven colleges, ranging from life sciences, arts and humanities, business, education, engineering, and science, making it a STEM student's dream school. Clemson is also classified as an R1 Doctoral University. 
In addition to its robust scholastic programming, Clemson also hosts the Tigers, NCAA Division I teams. Clemson has won national championships in football, soccer, and men's golf. 
Recruit students for your higher education institutions
These universities and colleges are only a taste of the many institutions our Tallo members are considering for their scholastic future. To learn where your school ranks on the list and how you can better recruit Tallo students for your programs, contact us today by filling out the form below.