We know so much has changed in the world since 2020. As 2021 wrapped up, we asked our Tallo community how the world we are living in now has impacted their educational and career plans for the future, inviting Tallo users to submit works of art representing the theme "The Future of Work!" We received many incredible submissions representing how they envision individuals around the world adapting to the change we have been met with in the past year or so, and were able to award a $500 art scholarship to one artist: Celeste. Scroll through to learn more about the winner and other talented finalists!
Winner! "Reconnecting the Old and the New" by Celeste W. from Texas. "My art is centered around humans and their interaction with daily objects. I want to capture those fleeting small moments that seem mundane, and yet are so special. We can all empathize when faced with these small pockets of happiness. I use charcoal to capture movement and life. By using this black and white monochromatic spectrum, I hope the main emphasis on my pieces is the subject matter and not the colors surrounding them. My goal is to tell others to look more closely at the world around them, reminding us all to slow down and reconnect with each other.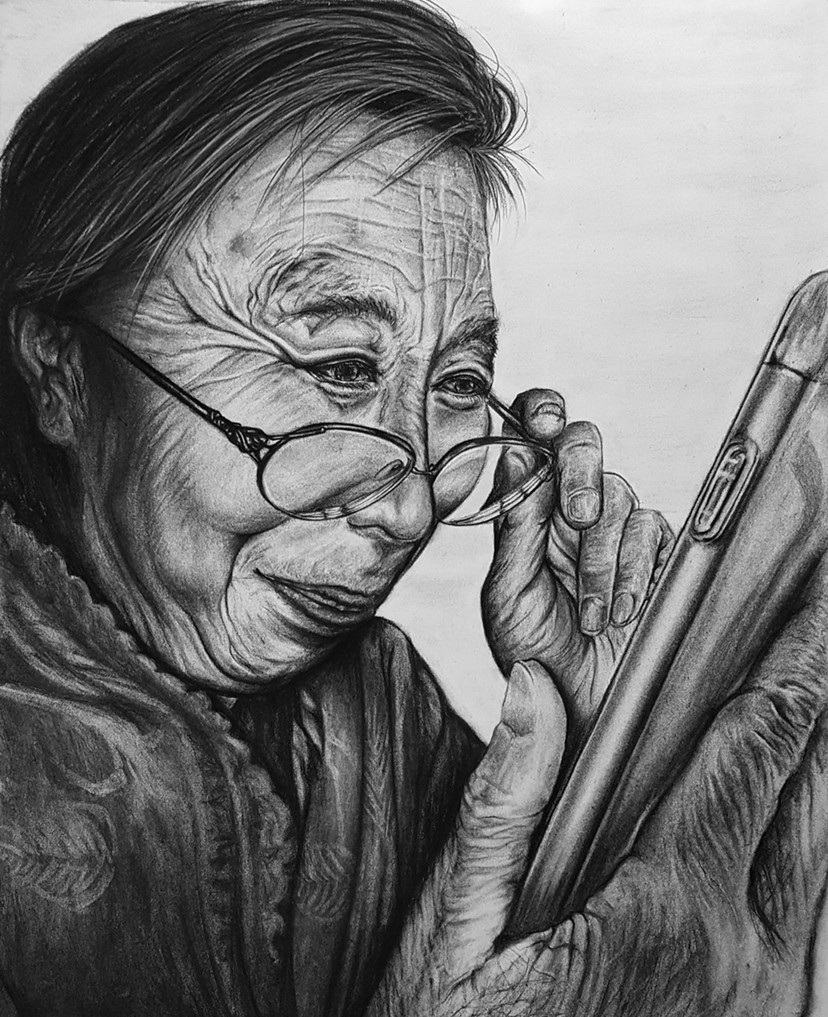 Ever since the pandemic has struck us, everyone has started to heavily rely on technology to connect with others. Even though we do complain about having remote classes or being unable to interact with others in person, I wanted to show the beauty of increased reliance on technology. It has taught many of the older generations, including my grandmother, how to use a phone. This is very beneficial because it has placed an emphasis on telehealth and how we can use technology to better connect with those who are physically far away from us.
As an aspiring physician, I hope to incorporate art into the medical field. I want to work in a field that addresses mental health and I would definitely love to use art as a medium of expression for those who sometimes feel like words are not enough.
My skills in art are used in everything that I do. More than just the act of making art is the ability that it gives me to think of ideas visually and spatially. For example, when I am learning about anatomy and physiology, these spatial skills help me in seeing where an injury might be. Furthermore, creating art has allowed me to be more in touch with my emotions and has taught me to be more empathetic to others, which is a very important characteristic to have as a physician."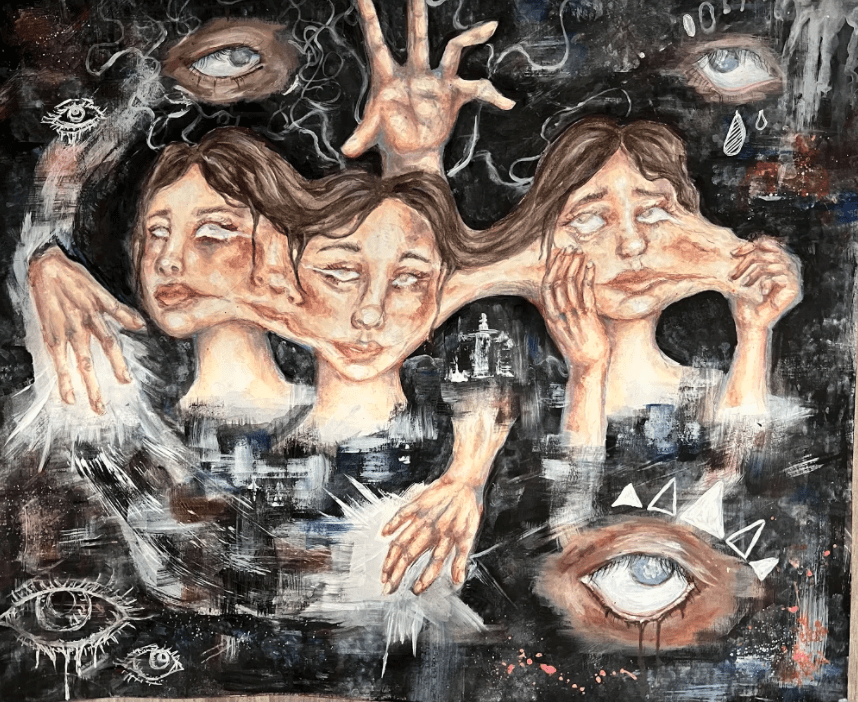 "Chocking on Time" by Katie L. from Iowa. "In this piece, I wanted to convey my interpretation to the given theme, "The Future of Work!" I approached this by including three faces from a single identity, to depict how one transitions throughout unexpected change to adapt to the world. The hands symbolize how change is inevitable, forcing individuals to accept and overcome any struggles. The eyes symbolize the awareness of us acknowledging this change, which causes us to adjust and adapt."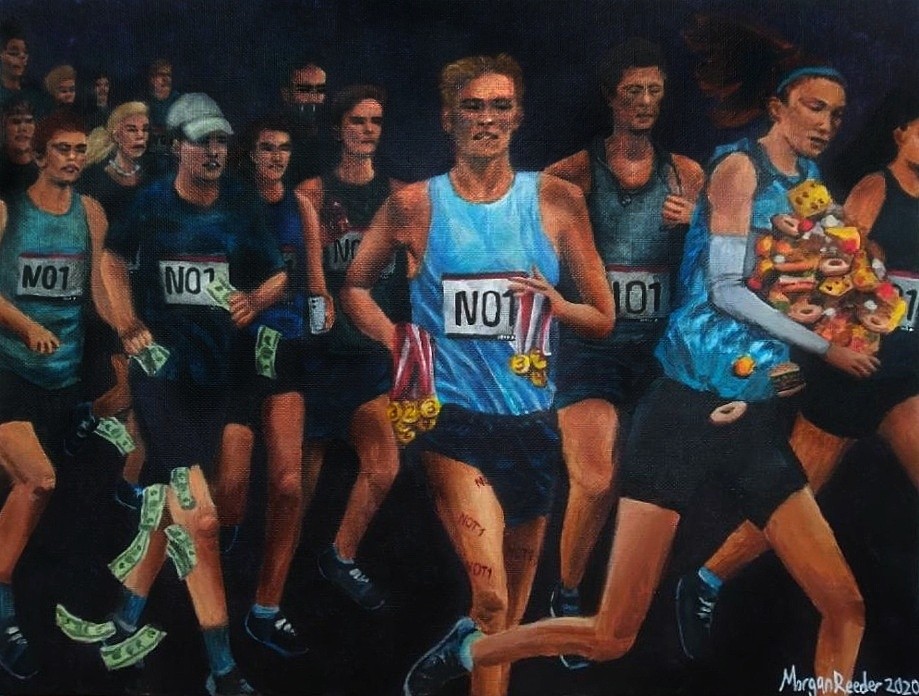 "Burdens" by Morgan R. from North Dakota. "This piece represents the physical, emotional, social, and mental struggles we go through as people. These burdens weigh us down, but we still have to finish our race. Specifically to me, this piece's portrayal of the struggle to overcome hardships granted me to reveal the burdens I face as an artist. Without that recognition and self-awareness, I will not be able to further advance my art."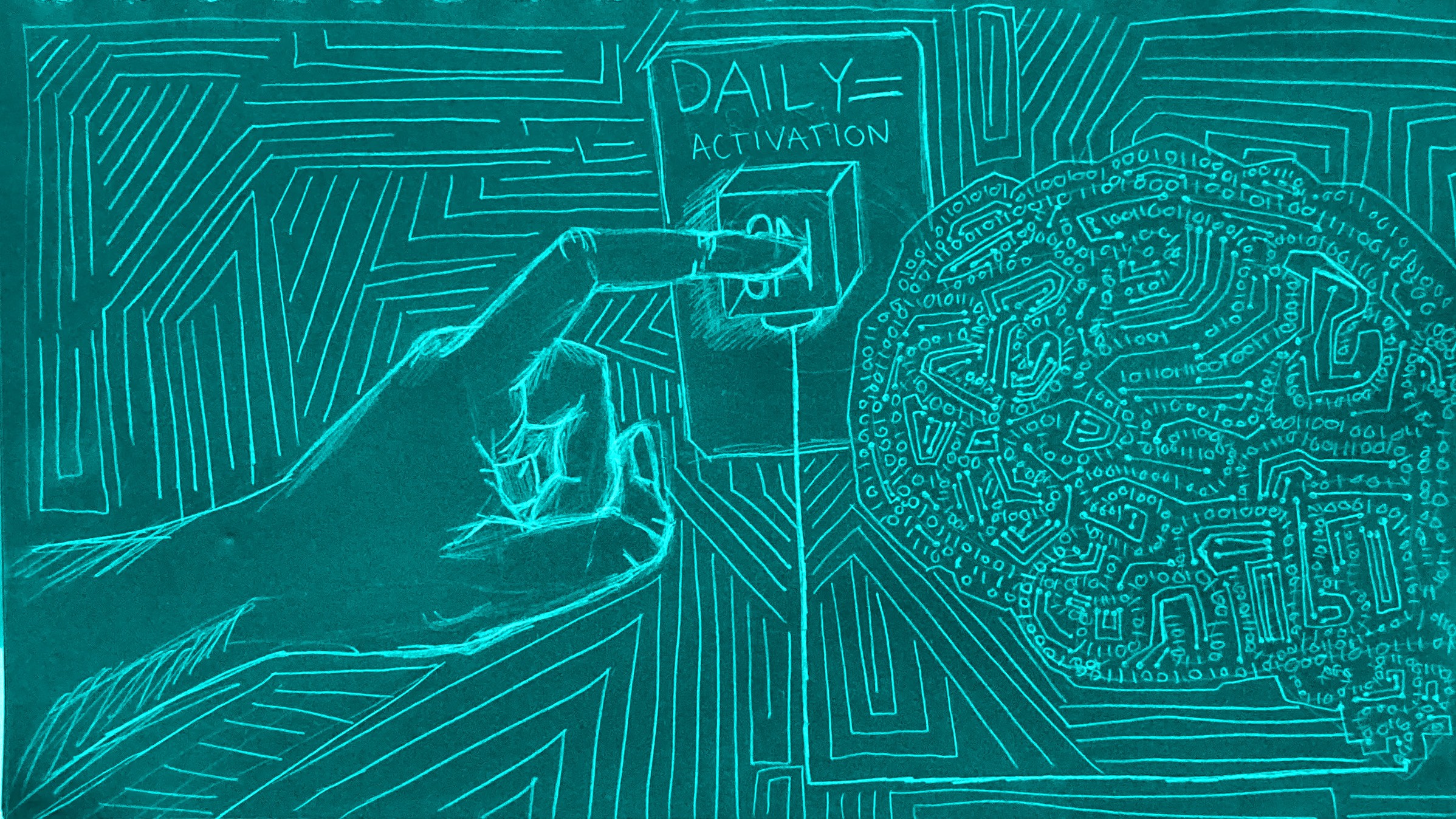 "One Touch" by Joanna H. from California. "In the past year, the world of technology has evolved and society is seeing new pieces of tech that we thought were not possible. I believe that a big part of the future of work is going to rely on artificial intelligence and further help from computers as expressed in the art piece. With interest in computer science, I looked at the theme as an opportunity to show others how simplistic, yet complex the unseen mechanics of technology can be for future workers." 
"The Growth of Solitude" by Keating J. from South Carolina. "My interpretation of the theme was the growth of creativity and also open-mindedness gained from going through the pandemic. I believe many people found a creative outlet they may not have known before from the isolation of quarantine. This isolation left us with lots of time to think. These outlets and changes of thinking not only helped people grow but in some ways changed perspectives of daily lives. It allowed them to take a break from busy life to simply exist and grow their beautiful flowers of thought." 
"In the Digital Age" by Kim P. from Texas. "I interpreted the theme of "The Future of Work" to suggest a more digitized society where the workforce would come to rely more heavily on the different forms of technology. Considering how a lot of jobs and schools adopted a work-from-home method that was supported by the means of video calling and digital tasks that could be accessed through one's laptop, phone, and tablet, I believe that my art piece depicting an individual outlined by the light emitting from his phone is relevant to this very possible future."
Are you a student and ready to share your skills and interests on Tallo?
Are you a college, company or school looking to connect with talented students on Tallo?
Here's your next step: