As a digital native, you love the world of tech. You understand the importance of progressing technological advances that lead to world-changing innovations. You want to study computer science (CS) because it's your passion. OK, and maybe because it's an in-demand career that promises a steady income.
We're not judging! With the insane cost of tuition these days, it would be silly not to at least consider that stuff before you take out a monster-sized loan for it.
Of course, a college degree isn't the only way to pursue a career in computer science. There are also coding bootcamps, a relatively new training method that can potentially lead to well-paying IT jobs without degrees. But are coding bootcamps really worth pursuing? Or is a four-year degree still the way to go? Read on for an unbiased comparison of coding bootcamp vs. degrees.
Coding Bootcamps
Coding bootcamps are short and intensive programs that teach students programming skills that today's employers are looking for. The first coding bootcamp appeared in 2011, and they've exploded in popularity ever since.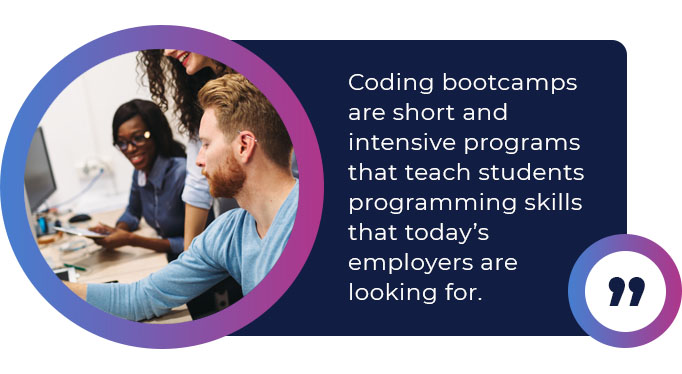 At a Glance
Duration:

The average coding bootcamp is around 15 weeks. However, there are now "long coding bootcamps" that can last anywhere from six months to two years. 

Cost:

The average cost of coding bootcamp in 2019 was

$13.6K per student

, according to Course Report's 2019 Coding Bootcamp Market Size Study.

Curriculum:

While no two bootcamps offer the same curriculum, you can expect your training to focus mainly on web development, like how to use Ruby, Python, JavaScript, and other coding languages.

ROI:

In a recent study by Course Report, coding bootcamp graduates earn an

average post-bootcamp salary of $66,964

. Not bad for graduating in less time for less money than a CS degree.
Pros of Coding Bootcamps
You'll learn job-ready skills thanks to an up-to-date curriculum. 

You'll learn marketable skills in less time than a degree and at a fraction of the cost.

It's a great option to consider if you're changing careers and/or already have a bachelor's degree.
Cons of Coding Bootcamps
You don't have as many options for financial aid to help pay for school. 

You'll have a more limited scope of computer science knowledge.

Coding bootcamps have been criticized in the past for

deceitful marketing

that paints an unrealistic picture of Silicon Valley success.
College Degree
Thinking about getting a computer science degree? Honestly, it's a pretty sound investment. According to the U.S. Bureau of Labor Statistics, the demand for computer and information technology (IT) occupations is expected to grow by 12 percent from 2018 to 2028. That's faster than the average growth for all other occupations.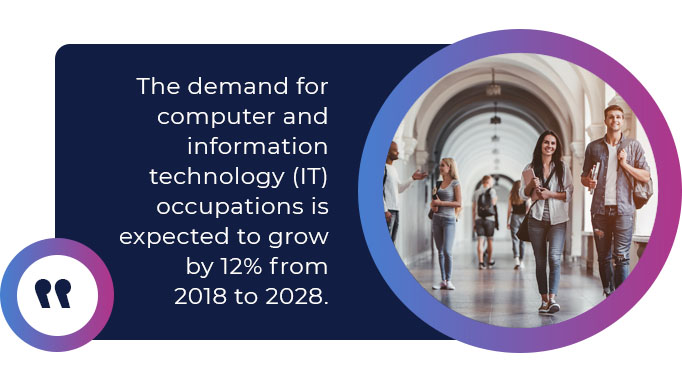 At a Glance
Duration:

Three to five years.

Cost:

The cost of a CS degree will vary depending on the university and whether you're paying in-state or out-of-state tuition. But on average, you're looking at forking over $35K to $40K for a bachelor's degree in computer science.

Curriculum:

Compared to a coding bootcamp, computer science degrees have a more in-depth curriculum. You'll dive deeper into algorithms, underlying principles, and problem-solving skills that can be used across a wide range of industries.

 
ROI:

The average salary for a computer science major can range anywhere from $50K to $106K, depending on their occupation. For instance, computer programmers with a bachelor's degree

earn a median salary of $86,550 per year

, according to the U.S. Bureau of Labor Statistics.
Pros of CS Degree
You can

apply for scholarships

to help you offset the steep cost of tuition.

You'll get a more in-depth computer science education that makes you more marketable.

You'll get the traditional college experience that can teach you valuable life skills.
Cons of CS Degree
High cost of tuition.

Greater time commitment.

Rigid curriculum that can't adapt as quickly to today's fast-changing needs.
Coding Bootcamp vs. Degree – What Are Employers Looking for?
Ah, now for the all-important question: Do employers want someone with a four-year degree or coding bootcamp training?
While there will always be some employers who prefer to hire those with a four-year degree, the job outlook for coding bootcamp grads is positive. According to an Indeed survey, 72 percent of employers considered bootcamp graduates to be equally as prepared and just as likely to do well on the job compared to comp sci graduates. 
Weighing All of Your Options
Who says that you need to choose between coding bootcamp vs. degree at all? You can attend a coding bootcamp that is affiliated with a university and get the best of both worlds. You could also use a coding bootcamp to gauge your interest in programming before you decide to pursue a computer science degree. 
Another option worth considering are tech trade schools, which can potentially give you a shot at a high-paying tech job. Feel free to check out our blog to learn more about the difference between trade school vs. college.
The point is that there are plenty of career paths to become a programmer. Explore them all and find the career path that makes the most sense for your situation.