Who says you have to get a degree to land one of the good-paying jobs in information technology (IT)? Not us! In fact, getting into IT without a degree is a smart path that's surprisingly attainable. If you fancy yourself a bit techy and want to start earning a real, living wage relatively soon, then you might want to consider pursuing some of these rewarding tech careers that don't require a college degree.
Weighing your options? Check out our post on 6-month certificate programs that pay well to get some more great career advice from Tallo.
Computer Support Specialist 
At a Glance
Median Annual Pay: $53,470 or $25.70 per hour
Job Growth: 10% by 2028
Skills Needed: Strong knowledge of common operating systems, skills in customer service, communication, problem-solving, writing, and knowledge of computer hardware and software.
Are you the person everyone turns to when their computer breaks or their internet goes down? Your calling may be a computer support specialist! These essential professionals help people in offices, schools, and other workplaces set up and fix their computers and gadgets all day long. According to the U.S. Bureau of Labor Statistics (BLS), computer support specialists earn a median pay of about $53,470 per year and most of these jobs require no formal college education.
So how do you become a support specialist? Some education, on-the-job training, and software certifications can help you land a job in this field. Taking a few computer-related classes or independently seeking out certifications indicating that you are well-versed in certain operating systems and software platforms will help. Many of the highest-paid computer support specialists have certifications such as the Cisco Certified Network Associate (CCNA) and the Microsoft Certified Systems Engineer (MCSE).
Web or App Developer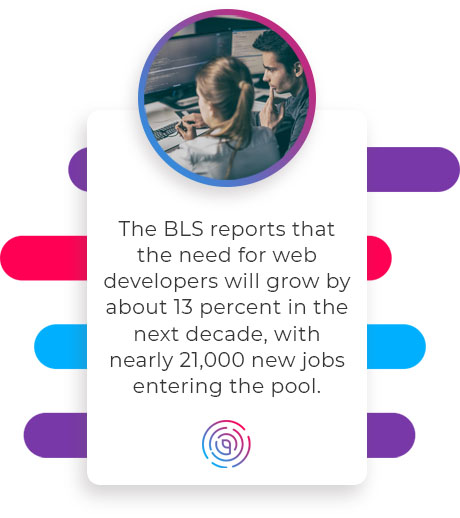 At a Glance
Median Annual Pay: $69,430 or $33.38 per hour
Job Growth: 13% by 2028
Skills Needed: Customer service, communication, coding and programming fluency, knowledge of publishing tools, design, search engine optimization (SEO).
Web developers are the professionals we can thank for designing and building the websites we use every day. As one of the fastest-growing tech fields, web development has a very solid job outlook. In fact, the BLS reports that the need for web developers will grow by about 13 percent in the next decade, with nearly 21,000 new jobs entering the pool. Though some specialized types of developers do need a college degree (such as back-end developers), it is possible to land a job if you've mastered technical skills like coding. Web developers make around $70,000 per year, so it's a great option!
Another option in this field is app development. Just like web developers, mobile app developers design and build the technology we use on the daily, except for they focus on building mobile apps for phones rather than websites or apps for computers. Being fluent in the most commonly used programming languages — SQL, Java, C#, Python, Ruby on Rails, etc. — is the key to getting yourself a job in mobile and web development, so focus on this if you want to score a dev job. Many people start with coding boot camps to hone their programming skills.
Graphic Designer
At a Glance
Median Annual Pay: $52,110 or $25.05 per hour
Job Growth: 5% by 2026
Skills Needed: Design, photo-editing software, creativity & innovation, search engine optimization (SEO), time management & organization, and attention to detail.
Graphic designers are still in high demand as the online world keeps expanding with websites, apps, games, and other elements in need of a visual interface. And, according to the U.S. Bureau of Labor Statistics, as long as you are creative and have entry-level education (Bachelor's degree), you can reach the job position you want in this field.
Still, this doesn't mean you don't need any education! Luckily, there are plenty of high-quality online courses you can take and lots of resources available online. There is no rigid curriculum to follow, and as long as you master several photo-editing platforms, you can learn on the job.
However, it's important to understand that you need the soul and eye of an artist. Graphic designers are first and foremost visual creators, which means you can't become one without a passion for beautiful and elegant templates.
Computer Systems Analyst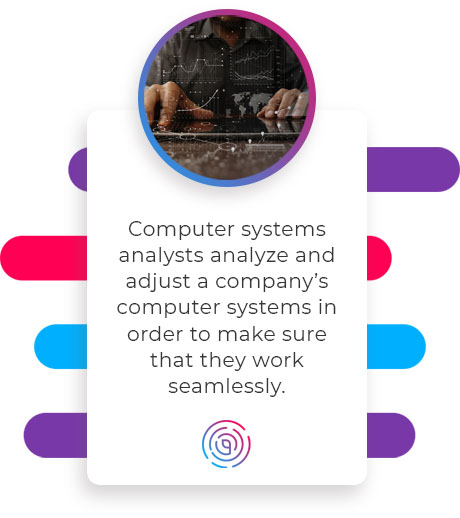 At a Glance
Median Annual Pay: $88,740 or $42.66 per hour
Job Growth: 9% by 2028
Skills Needed: Strong understanding of applications and systems, programming, analytics, business, and knowledge of hardware and software.
Computer systems analysts are professionals who analyze and adjust a company's computer systems in order to make sure that they work as seamlessly and efficiently as possible. This often means working in the systems themselves, interviewing employees, and working alongside support specialists to make changes and get new systems implemented. Contrary to popular belief, a bachelor's degree isn't always a requirement to work as a systems analyst.
If you don't have a college degree and want to break into this field, you need to be able to demonstrate your computer systems and networking knowledge while also showing that you have analytics skills, communication skills, and a strong attention to detail. With a relatively fast-growing job outlook (around nine percent by 2028) and a high income potential, this is one of the very best IT jobs you can work towards, with or without a college degree. 
Stepping Stone or Final Destination
Whether you're looking for a way to earn cash while you work towards your computer science degree or want to build a long-term career with skills you already possess, the world of IT is an amazing place to start. These are some of the best, most rewarding, and most in-demand careers in the job market, so there's no reason not to pursue them if they align with your goals and interests.