Online degrees have come a long way since their inception in the mid-1990s. Once limited to a handful of post-secondary institutions, online degree programs are now offered by many traditional brick-and-mortar schools – from Harvard University to local community colleges. 
Still, not everyone is convinced of their benefits. If you're a prospective online learner, you may be wondering: Are online degrees worth it? Will employers take your online degree seriously?
The answer ultimately depends on many things, including your career goals, the type of degree you get, and the online college you choose to attend. Read to learn more about online degrees and why they could be worth the investment.
Related: How Does Online College Work?
The Rise of Online Degrees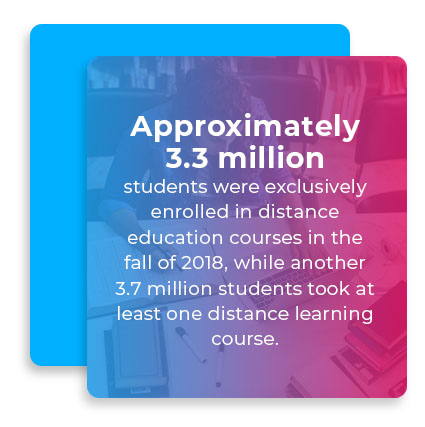 Online degree programs were booming long before the coronavirus pandemic. The most recent data from the National Center for Education Statistics show that approximately 3.3 million students were exclusively enrolled in distance education courses in the fall of 2018, while another 3.7 million students took at least one distance learning course.
It's not difficult to see the appeal of an online degree. Getting a degree online is convenient and flexible. It's also more affordable than a traditional degree, especially if online students apply for college scholarships and other forms of financial aid. Graduates of online degree programs may also have access to vast alumni networks, which can help them find internships and job opportunities in the future.
How Much Does an Online Degree Cost?
Although getting an online degree is usually less expensive than a traditional degree, that doesn't mean that online degrees come cheap. The true cost of enrolling in an online degree program can vary significantly depending on the institution, how much credit you're transferring with, and the duration of the degree program.
Before you enroll in an online college, it's important to do your research. In addition to tuition costs, online degree programs often have distance education fees and other surcharges. For instance, the University of Florida Online has several required fees, including a technology fee, a financial aid fee, and a capital improvement fee.
Will Employers Accept an Online Degree?
One of the biggest concerns with online degrees is whether or not future employers will take them seriously. After all, the last thing you want is to invest your hard-earned money and time into a degree that won't hold any weight.
But why would employers be skeptical of your online degree? The answer has a lot to do with the early reputation of online degrees. 
In the early aughts, diploma mills were rampant. These sham schools didn't have accreditation and were essentially granting "fake" degrees to online students.
Fortunately, diploma mills are not as common today due to many states passing bills that make it illegal for unaccredited schools to confer degrees. However, there is still a lingering misconception that online degrees are less credible than traditional degrees. 
If your online degree was conferred by an accredited institution, most employers will accept it. In fact, they probably won't even realize that you earned your degree online, since many traditional institutions now offer online degree programs.
What Are the Best Degrees to Get Online?
These days, you can get an online degree in a wide variety of subjects. That being said, not all online degrees are worth the time and investment. Before enrolling in a degree program, you should research the future marketability of your degree and make sure that it aligns with your career goals.
Not sure which degree program is right for you? Consider one of these highly-respected degree programs:
The University of Florida Online

Colorado State University Global

Indiana University, Bloomington

Trine University

Ohio State University, Columbus

University of Illinois, Chicago
How Do You Apply for Online College?
Figuring out how to apply for college can be daunting, and online college is no exception. The good news is that applying to an online college is more or less the same as applying to a traditional college. 
Start by visiting the school's website and looking up college GPA requirements. Make note of any important deadlines and application materials you'll need to apply. 
Although the application process varies by school, expect to provide the following:
Official high school transcript

High school diploma

SAT/ACT scores

Any college level work you've completed

Letters of recommendation
Take the Next Step in Your Career
So, are online degrees worth it? Similar to traditional degrees, the answer mostly depends on where you get your degree, what type of degree you get, and what you plan to do with it. In our humble opinion, an online degree can absolutely be worth the time and money for those who have a career path in mind and who are willing to put in the hard work. 
Related: How to Map Out Your Career Path
Image Credits
Source: BalanceFormCreative/Shutterstock
Source: Rido/Shutterstock
Source: Nsit/Shutterstock