Just think — within the next year or so, your big college dreams will finally be a reality. You'll be living your best student life, hanging out in your stylish dorm (shout out to your "Dorm Glow-Up" Pinterest board), and taking daily walks along a beautiful campus.
But before any of that can happen, there is one final hurdle to clear: applying for college.
Figuring out how to apply for college can be a daunting task, especially when you don't have anyone to help walk you through the process. Enter: this guide. We've created a step-by-step guide that will (hopefully) eliminate some of the stress of applying for your dream schools. 
Ready to ace your college applications? Let's get started!
Step 1. Create a Checklist 
Finding the motivation to start your college applications can be super difficult. You know what makes it even harder, though? Realizing that you're missing important materials when you're already halfway through filling out an application ( <<< you, waving goodbye to your motivation after this happens).
And that's why the first step in our "How to Apply for College" guide is to create a checklist of all the items you're gonna need to fill out your application. Here's a quick overview of what you need to apply:
Personal Information –

All college applications will require basic info like your name, high school, and phone number. They'll also ask for an email address, so make sure that your address isn't something like futurebeerpongchampion69@gmail.com.

High School Transcript –

Some colleges allow you to self-report your high school transcript information. But if not, you'll need to ask your school counselor to send your official high school transcript to the colleges you're applying for. 

Test Scores –

Many colleges want to see your test scores from your

college entrance exams

(ACT, SAT, and others). In addition to self-reporting them, you may also need to submit an official test report through the ACT or SAT website.

Extracurricular Activities –

So, were you team captain of your volleyball team? Undisputed chess champion? President of the anime club? Now is a good time to create a list of extracurriculars and think about which ones will best tell the story of you.

Honors and Academic Achievements –

Similar to your extracurriculars, it's important to make a list of all the honors and awards you've racked up throughout your high school career. These include things like AP Scholar, Honor Roll, National Merit Award, etc.

Letters of Recommendation –

Most prestigious colleges require a letter of recommendation, which basically endorses that you're a good student. We'll talk more about these below!
Portfolio –

If you're applying for a prestigious academic program in architecture or the performing arts, be aware that you may need to submit a portfolio showcasing your talents. Get going on your portfolio ASAP so you can show off your best work.
Step 2. Make Note of Important Deadlines
Spoiler alert: Not missing application deadlines is pretty crucial to getting into your first-choice school. But when should you apply for college?
The answer: it depends. There are actually several types of college deadlines that could influence your chances of getting accepted. Let's take a look at your options.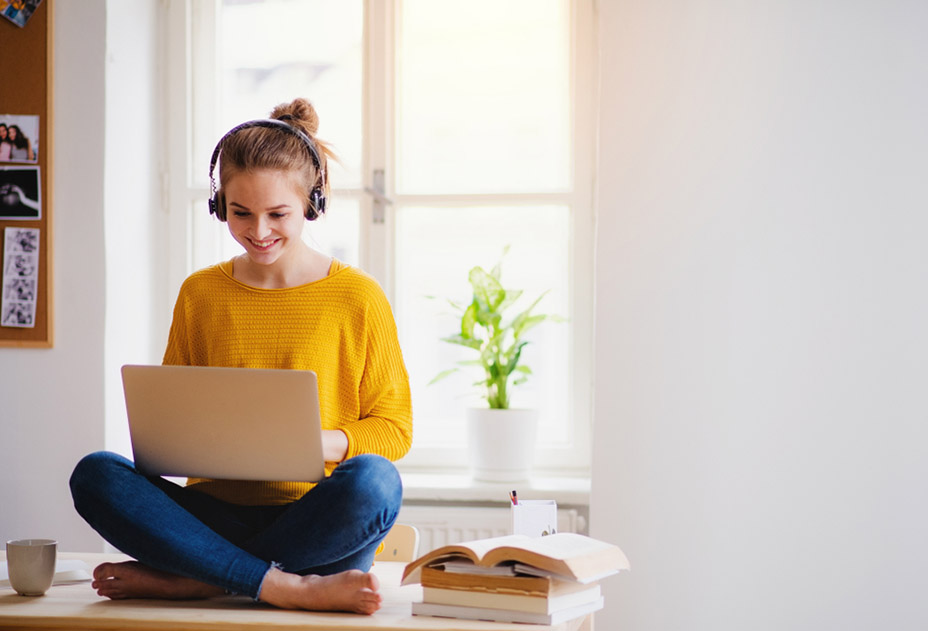 Early Decision –

Are you super serious about attending one school in particular? Like, you would do

anything

just to snag a spot at this school? If so, you might want to apply early decision (ED). Early decision deadlines are binding agreements. This means that if you get accepted through ED, you must attend that school. It probably goes without saying, but you should only apply to ONE school via early decision — and it better be your all-time fave. 
Early Action –

Want to apply to college early without being locked into a decision? Consider applying early action (EA). Unlike early decision plans, early action plans are nonbinding — students can apply to schools early without needing to commit to that particular school. The main benefit of applying early action vs. early decision is that you can compare other financial aid packages before accepting an offer of admission. 
Single-Choice Early Action –

Also known as restrictive early action, single-choice early action is kinda like a combination of EA and ED. With this plan, you may be restricted from applying to other schools via early action or early decision. You basically only get one shot, so choose wisely.
Regular Decision –

Maybe you're not sure

what to do after high school

or can't decide on a major. In that case, applying regular decision could give you more time to explore career paths and think about what you might want to study in college. The one downside to applying through regular decision is that it may reduce your chances of getting accepted into highly selective schools.
Rolling Admissions –

Schools with rolling admissions have a longer application window. The obvious benefit of this plan is that you can apply at the last minute. The drawback, however, is that your odds of getting into the school are not as good.
The bottom line? There really is no best time to apply for college. A deadline that is right for one student may not be a good option for another. Think about your situation carefully and come up with a strategy that works for you.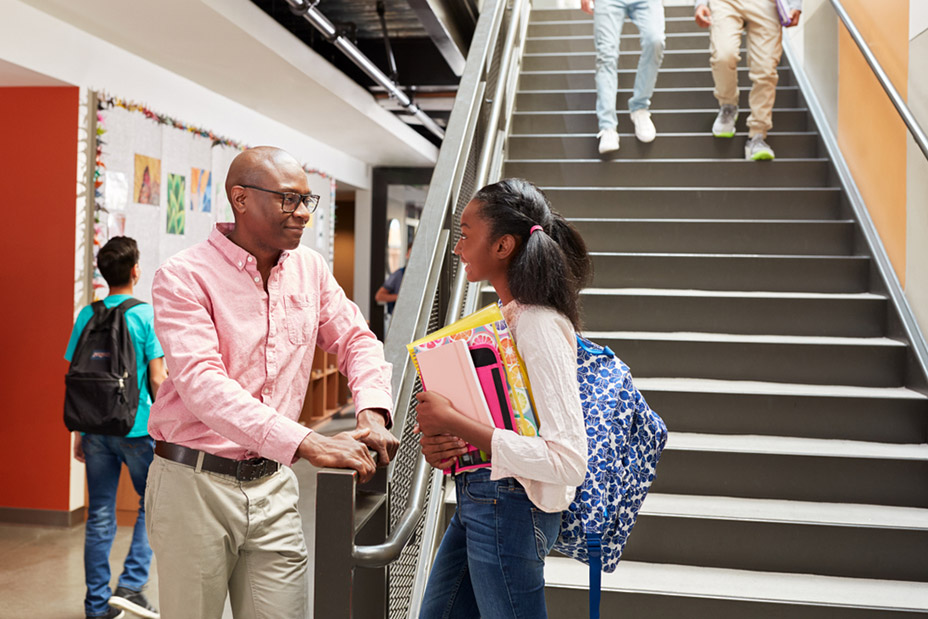 Step 3. Ask for Letters of Recommendation 
If you're applying for a selective college or university, chances are you're gonna need to submit a few letters of recommendation with your application. These letters should come from people who know you as a student, such as teachers, mentors, and your high school counselor. 
People you shouldn't ask for letters of recommendation? Dear old mom and dad. (Nothing against your parents — they're just biased AF.) Another person you can add to that list: that one teacher who, for whatever strange reason, just never seemed to like you. 
The best person to ask is someone who has worked with you on a personal level. Once you've found a strong candidate, don't wait until the last minute to ask for a letter of recommendation. Give them plenty of time to write a thoughtful response that paints you in the best light. 
Step 4. Complete the FAFSA
Let's face it — your bachelor's degree isn't going to pay for itself. So, mark this date on your calendar: October 1. This is the day that the Free Application for Federal Student Aid (FAFSA) becomes available for students. 
What is FAFSA, exactly? It's when the federal government makes it rain on college students by giving out more than $120 billion in financial aid in the form of grants, loans, and work-study.
ALL students should apply for FAFSA. It doesn't matter whether your fam is totally broke or if they make $200,000 per year. Fill. It. Out. Many families mistakenly assume that they won't qualify for financial aid when they actually could have received some assistance.
Besides, your eligibility for financial aid may not be based on your family's income at all. Some merit-based scholarships require students to fill out the FAFSA, so it's well worth your while to complete the form.
Filling out the FAFSA isn't as hard as you might think. Here are a few quick tips to make the process easier: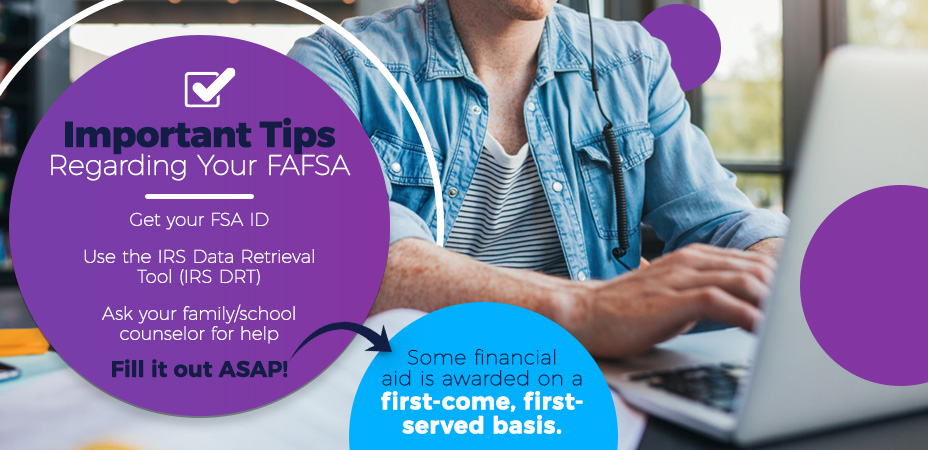 Fill out the form ASAP.

If you want to maximize your financial aid potential, complete the FAFSA early — as in, the day it becomes available. Some financial aid is awarded on a first-come, first-served basis. It's also just one less thing to worry about on your long list of to-dos.

Get your FSA ID.

You need an FSA ID to complete the FAFSA form. Be aware that it could take several days for your FSA ID to become available, so make sure that you register for your FSA ID well in advance of October 1.

Use the IRS Data Retrieval Tool (IRS DRT).

Entering in your tax return information is often the trickiest part of completing the FAFSA. The

IRS DRT

makes it much easier to transfer your tax return information into your FAFSA form.

Ask your family/school counselor for help.

Completing the FAFSA is

much

easier when you have your family to make sure that you're answering the questions correctly. If your family can't help you, reach out to your school counselor.
Step 5. Take Advantage of College Application Services
Now, it's time to figure out how to apply for college using college application services like the Coalition, Common and Universal College Applications. If you're applying to multiple schools (and we hope that you are), these college application platforms will take away a lot of headaches by allowing you to fill out one application to submit to each school.
The Coalition for College Application: More than 150 colleges and universities accept the Coalition for College Application. The platform has an online toolkit called MyCoalition which offers a digital storage locker and an easy-to-use application.
The Common Application: Accepted by more than 900 colleges and universities, the Common Application is by far the most widely-used college application platform in the United States. It has a slew of useful features, including a virtual counselor and system alerts that remind you of approaching deadlines.
The Universal College Application: The smallest of the three, the Universal College Application is accepted by 44 colleges. Like the other college application platforms, the UCA is free to use and is accepted by a number of Ivy League schools.  
Note: Not all colleges and universities accept these college application services, which means you'll need to use their own application.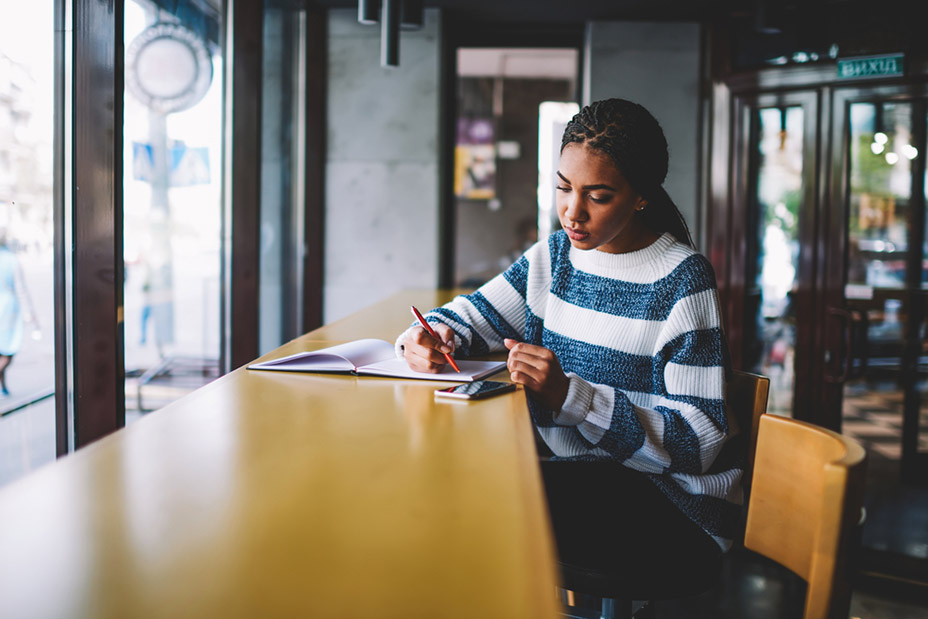 Step 6. Craft a Compelling Essay
Ugh, college essays — the bane of every college-bound student's existence. While they may seem like an unnecessary obstacle to your college dreams, a strong essay can potentially help set you apart from other college-hopefuls. 
When it comes time to write your college essay, do yourself a massive favor and write it in a separate Google doc first. College application platforms like the Common App can time out, causing you to lose all of your written words — and your sanity along with it.
To set yourself up for essay writing success, try to write and edit your essays over the summer. During the fall, ask a teacher or a school counselor to look it over before you submit your essay.
Step 7. Double-Check Everything 
Yay, you're almost finished! Now, all that's left to do is to double-check your application, paying extra attention to the essay portion. You're specifically checking for spelling and grammar mistakes. 
If you asked a teacher to read your essays, don't expect them to catch every little mistake. This is your application and it's your job to make sure everything looks good before you hit "submit."
Another thing to double-check on your college applications: instructions. It drives college admissions staffers crazy when applicants don't follow the directions. Make sure that you're answering all of the questions properly so you don't end up in the "no" pile!
Step 8. Apply for Scholarships 
You've submitted your college applications — woohoo! OK, so what do you do now that you have some free time? Watch videos on TikTok? Play Animal Crossing for days on end? 
First of all, yes — you should definitely treat yourself for finishing up your college applications. But also realize that the work isn't quite done yet. You can still apply for college scholarships and get some free money for school. 
In fact, college scholarship opportunities are available year-round. (You can read more about when to apply for scholarships on the Tallo blog.)
And if you're totally sick of writing essays, we totally get it. Skip the lengthy essays and apply for easy scholarships instead. Pro tip: Tallo offers two easy scholarships each month, so create a profile and get that bread.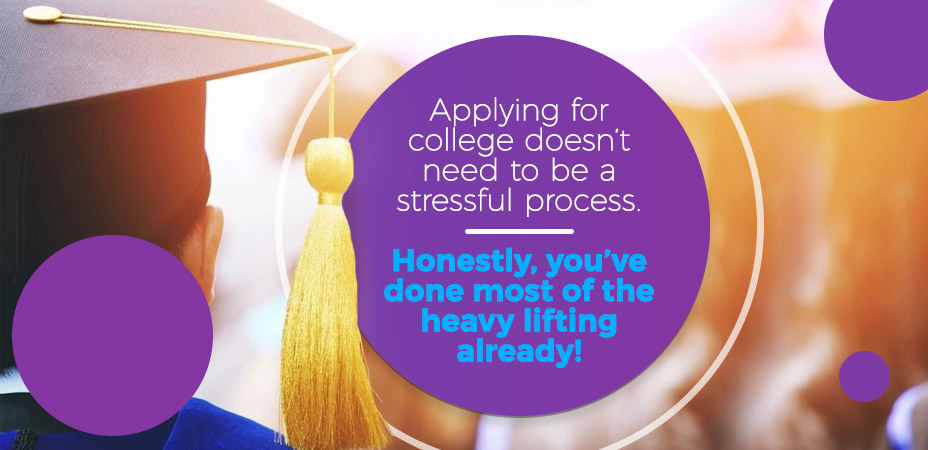 Reaching the Finish Line
Applying for college doesn't need to be a stressful process. Honestly, you've done most of the heavy lifting already! We mean, think about it: you've taken your college entrance exams, participated in extracurricular activities, and maybe even knocked out some pre reqs for college. You're practically at the finish line. All you need is one final push.
Image Credits
Source: Jacob Lund / Shutterstock.com
Source: SpicyTruffel / Shutterstock.com
Source: Kzenon / Shutterstock.com
Source: GaudiLab / Shutterstock.com
Source: fongbeerredhot / Shutterstock.com
Source: Monkey Business Images / Shutterstock.com
Source: Halfpoint / Shutterstock.com