Apprenticeships have many benefits, one of which is that they pay you to learn and work from day one. But just how much do you stand to make after completing an apprenticeship program, exactly?
Potentially, a lot. Since January 2017, more than 90 percent of apprentices who successfully completed an apprenticeship program made an average of $70,000 per year, according to the U.S. Department of Labor.
Apprenticeship salaries will vary depending on the profession and the type of apprenticeship (i.e., union apprenticeship vs. non-union apprenticeship). It's also important to keep in mind that you'll make less as an apprentice compared to a fully-trained journeyman. But if you want to maximize your earning potential, here are seven job titles with the highest-paying apprenticeships.
Source: U.S. Bureau of Labor Statistics (BLS)
Electricians: $56,180 per year –

Have you always been fascinated by electricity since you were a kid? A career as an electrician could be a good fit. Electricians fall into two categories: construction work and maintenance work. Construction electricians are the ones who assemble, install and wire the electrical systems in new homes and buildings, while maintenance electricians troubleshoot and repair electrical systems that are already installed. Is this

sparking

your interest at all? (Sorry, not sorry.) If so, consider launching your career with an

electrician apprenticeship

.

Boilermakers: $63,100 per year –

If you enjoy welding and aren't scared of heights, you might want to add "boilermaker" to your list of potential careers.

Boilermakers use a variety of welding techniques to assemble and repair boilers, closed vats, and other large vessels that contain liquids and gases. And since many of these vessels are large, boilermakers must often perform their craft at great heights. Think you have what it takes? Check out the

Boilermakers National Apprenticeship Program (BNAP)

and consider applying for a four-year apprenticeship program.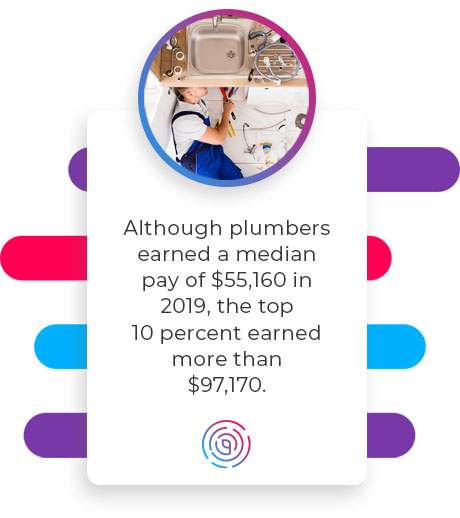 Plumbers: $55,160 per year –

Smell that? No, we don't mean the sewage. It's the sweet, sweet smell of you making a ton of money, which is a very real possibility as a fully-licensed plumber. Although plumbers earned a median pay of $55,160 in 2019, the top 10 percent

earned more than $97,170

. Sure, the hours can be long, and you may need to get a little dirty sometimes. But, look on the bright side: You'll have excellent job security and job opportunities. Like many trade jobs, plumbers are in high demand, with employment

expected to grow four percent

from 2019 to 2029.

Software Engineers: $107, 510 per year –

Be honest, you didn't expect to see an

engineering apprenticeship

on this list, did you? A lot of people don't realize that apprenticeships aren't always blue-collar jobs. Software engineering apprenticeships — like Microsoft's Leap Apprenticeship Program, for example — are often geared towards non-traditional talent, such as those who are self-taught or who may have graduated from a coding bootcamp. Software engineers are the masterminds behind your favorite apps and technologies. If you have computer science expertise and a passion for making things, you could make a lot of money in this career.

Elevator Installers: $84,990 per year –

We're guessing that

"elevator installer" was probably not on your list of things you wanted to be when you grew up. But hey, priorities change, right? If you want to install and repair elevators for a living, you'll get paid a lot of money for it. But as with any career, this profession has its ups and downs. No, seriously though, this job can be pretty dangerous. Elevator installers are at risk of falls, burns from electrical shocks, and muscle strain. 

Cybersecurity Analyst: $99,730 –

Yep, cybersecurity apprenticeships are a thing. Finding skilled cybersecurity professionals has been a huge challenge for employers in every sector, which is why many colleges and organizations are launching cybersecurity apprenticeship programs to address the talent shortage. As a cybersecurity apprentice, you'll get paid to learn how to detect cyberattacks and other malicious network activity. 
Ironworkers: $53,650 –

Do you enjoy doing physically demanding work? Do you have a good sense of balance? Does the thought of working at dizzying heights thrill you rather than terrify you? If you answered yes to all three, an ironworking apprenticeship could be the start of a fulfilling career. Ironworkers are the daredevils who fabricate and install metal support structures for buildings and other large structures. They often work at dizzying heights — hence, the need for nerves of steel. 
Launch a Rewarding Career with an Apprenticeship
College is far from the only pathway to a high-paying career. The highest-paying apprenticeships all offer fantastic wages, job security, and the opportunity to do something you love every day. What more could you ask for? 
CREATE AN ACCOUNT WITH TALLO TODAY!
Image Credits
Source: Andrey_Popov/Shutterstock
Source: Monkey Business Images/Shutterstock
Source: Steve Hamann/Shutterstock