You've always been handy with vehicles. In fact, you've been fixing your own car for years with a little guidance from the internet (shout out to all the shade tree mechanics on YouTube ). And as it turns out, you have a knack for this whole vehicle maintenance and repair thing, which is why you're now seriously thinking about turning it into a lifelong career.
If you're interested in embarking on a rewarding career path as a mechanic, you're probably aware that it can be hard work physically. But if you enjoy working with your hands and are willing to learn, it can be immensely fulfilling work! Read on to learn how to become a mechanic, including education requirements and the specific skills you need to succeed in the industry.
Mechanic Career Overview
Mechanics examine, troubleshoot, repair, and maintain a variety of vehicles, including cars, trucks, heavy equipment, and other transportation vehicles. Some mechanics choose to specialize, while others prefer to be a jack-of-all-trades. If you become the latter, your day could be fairly dynamic and involve a wide of range of daily tasks, from diagnosing check engine lights to building transmissions.
According to the Bureau of Labor Statistics (BLS), the median salary for an automotive mechanic in 2019 was $42,090 ($20.24 per hour). Although the projected job outlook is expected to slow down or not change at all through 2028, the BLS says that "qualified job seekers" should have good job opportunities.
Steps to Become a Mechanic 
Like most other trade school jobs, learning how to become a mechanic takes plenty of motivation and a strong desire to learn. If you have those two qualities in spades, then you're going to do great! Here are the steps you'll need to take to pursue your dream of becoming a mechanic.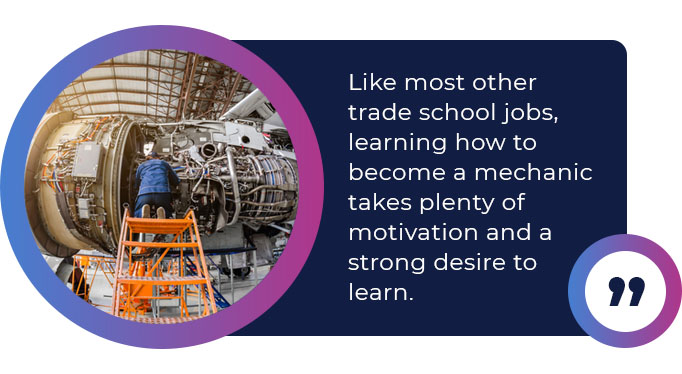 Step 1: Explore Your Options 
First things first: Do your research. If you love tinkering with mechanical parts, but aren't sold on the idea of working in a service shop, take the time to fully explore all your possible career options as a mechanic. 
For instance, you could become an aircraft mechanic and potentially make around $64K working on aircrafts of various sizes. If that doesn't interest you, HVAC mechanics and industrial machinery mechanics also earn great wages. 
Bottom line? There are loads of career pathways for mechanics. You just need to find one that aligns with your interests.
 Step 2: Get Your Diploma or GED 
If you haven't already gotten your high school diploma or equivalent, start working on that first. To become a successful mechanic, you may need basic skills in chemistry, physics, and other areas of physical sciences. Plus, you'll need your diploma before you can enroll in a vocational school (more on this shortly).
Step 3: Complete a Formal Training Program
So, what is vocational school and how does it help you launch your career as a mechanic? Also referred to as trade school, vocational school is a type of educational institution that teaches students the job-ready skills they need to work in their field. 
At a mechanic vocational school, you can take technical courses in a specific field of mechanics (such as automotive) and get hands-on experience in a learning environment. These programs often take less than a year and allow you to take the next step in your career: certification.
Tip: Already working in a mechanic shop as a helper or assistant? Talk with your boss about your career aspirations. They may offer tuition reimbursement that can help pay for your education!
Step 4: Get Certified 
Once you complete your training program and have worked as a mechanic for a certain length of time, you can become certified in your field. For auto mechanics, this can be achieved through the National Institute for Automotive Excellence (ASE), a non-profit organization that tests and certifies automotive mechanics and technicians. 
While you don't necessarily need to complete this step to begin working as a professional mechanic, it certainly helps boost your employment prospects. Having certification distinguishes you from others and proves that you have both the education and skills to succeed in your field.
Step 5: Keep Learning
Having a learning mindset is key to staying competitive in the mechanic industry. Given how quickly technologies can change, keeping up with the latest skills and techniques is critical to securing long-term employment. 
Keep in mind that you can also continue your education by getting an associate degree in automotive technology or a similar field. Taking relevant courses may help you pass the eight examinations that are required to earn master mechanic certification from ASE.
Final Destination: A Rewarding Career
If you value job stability and want opportunities for career advancement, learning how to become a mechanic could be well worth your while. Plus, you'll learn skills that will no doubt save you tons of money in auto repairs! While that may not be the entire reason you should become a mechanic, it could be the tipping point for you.