You want to be an Ivy Leaguer, do you? Well, we don't blame you one bit. There's something cool about walking the same hallowed halls as math prodigies, award-winning authors, and U.S. presidents. Plus, going to Yale, Harvard, Princeton, or another Ivy League school also looks spectacular on a resume and can open tons of doors for you in life.
But if you're looking for tips on how to get into an Ivy League school, then you're probably well aware that the Ivy League admissions process is highly selective. The Ivies get tens of thousands of applications each year, hence their extremely low acceptance rates.
So, how do you get into an Ivy League school? Below, we're dishing out our best tips for getting accepted into the Ivies. 
Related: How to Apply for College
1. Build the perfect class schedule.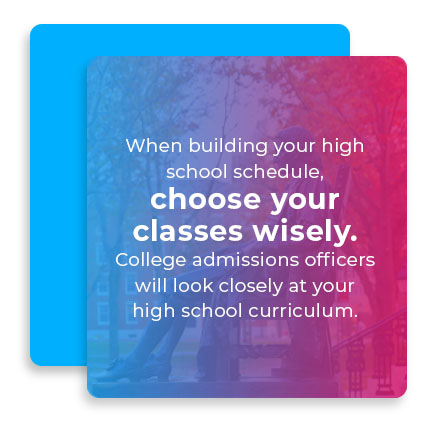 When building your high school schedule, choose your classes wisely. In addition to grades and test scores, college admissions officers will look closely at your high school curriculum.
What are college admissions officers looking for in particular? Mostly, they want to see that you've challenged yourself by taking AP, IB, or honors classes. 
Related: What Do Colleges Look for in Applicants?
Of course, you don't want to feel too overwhelmed in high school. Consider adding some electives (i.e., art or public speaking) to balance out your schedule and broaden your horizons.
2. Get your GPA and SAT/ACT scores as high as possible.
Meeting the minimum college GPA requirements isn't going to be enough to get accepted into an elite school. You're going up against student applicants who have 4.0 GPAs and near-perfect test scores on their college entrance exams, which means you'll need exceptionally good grades and high test scores to be a strong contender for the Ivies.
If your grades are low, talk with your teacher about earning extra credit. Getting a tutor can also help you finish the semester strong. 
And don't forget to study hard for standardized exams! *Cue loud growns.* Although some colleges have become test-optional in light of the pandemic, a strong SAT score can still qualify you for college scholarships such as the National Merit Scholarship.
3. Align extracurricular activities with your passions.
One of the biggest mistakes that students make when applying for an elite school is loading their schedule with unnecessary extracurricular activities. Contrary to popular belief, you don't need to be part of every single club and organization at your school. 
Related: What Are Extracurricular Activities?
In fact, having too many extracurriculars could backfire on you. Selective schools aren't looking for students who are jack-of-all-trades, master-of-none types. They want someone who has clearly invested a significant amount of time into their passions and interests.
Go through your extracurriculars and cross out all of the activities that don't tell the story of who you want to be. Invest any new free time into the things that light the fire under you.
4. Get amazing letters of recommendation.
Letters of recommendation are important no matter where you apply to college. But when it comes to the Ivy Leagues, they're even more critical because they can easily be the thing that gives you an edge over another student.
With that in mind, think carefully about who you ask for letters of recommendation. Choose someone who knows your strengths and has impacted your success in some way.
Don't necessarily choose the teacher who gave you an easy A, either. College admissions officers would much rather hear how you challenged yourself and persevered through a difficult class.
5. Consider applying early decision/early action.
Applying early decision or early action can increase your chances of acceptance into an elite school. One of the reasons is because applying early action/early decision demonstrates that you have a strong interest in attending their school.
However, there are downsides to applying early action, so think carefully before you submit an early application. Early decision plans are binding, which means you must withdraw your applications from other schools if you end up getting accepted.
6. Be authentic.
When filling out your application, don't try to be someone you're not. Elite schools don't want to know what makes you the "perfect applicant." They want to know what makes you unique.
Use your own voice in your essay prompt and short answers. Tell the story of who you are as opposed to who you think college admissions officers want you to be. Your authenticity will come through in your writing and make you a stronger contender for an Ivy League school.
Aiming for the Ivy League
While it's true that getting into an Ivy League school is difficult, don't let that stop you from applying. With these tips, you can make yourself a stronger candidate and increase your chances of getting into a top school. And if you need some extra luck, consider rubbing John Harvard's left shoe on your next visit. (Well, on second thought, maybe you shouldn't. That statue is seriously gross AF.)
Image Credits
Source: Jay Yuan/Shutterstock
Source: f11photo/Shutterstock
Source: Monkey Business Images/Shutterstock