After striking your first arc in shop class, it was love at first weld. Or maybe you caught the welding bug while working in a relative's metal shop. No matter what sparked your love of welding, you're now thinking about turning it into a long-term career.
Welding has long been an in-demand profession and has remained essential across many industries. If you don't mind getting your hands a little dirty, the job can be deeply rewarding and pay a decent wage. According to the U.S. Bureau of Labor Statistics, the median annual pay for welders, cutters, solderers, and brazers was $42,490 in 2019.

What Is a Welding Apprenticeship?
While there are several ways to jumpstart your welding career, scoring an apprenticeship is arguably one of the best. With a welding apprenticeship program, you can get paid to learn valuable skills as you carve out a successful career. 
Interested in apprenticeships? Read our blog – "What Is an Apprenticeship?" – to learn more.
Since welding can be a dangerous profession, workers must be properly trained to meet the unique challenges of the job. However, due to a skilled worker shortage, many companies offer on-the-job training in the form of welding apprenticeships to help meet the increasing demand. 
How to Get a Welding Apprenticeship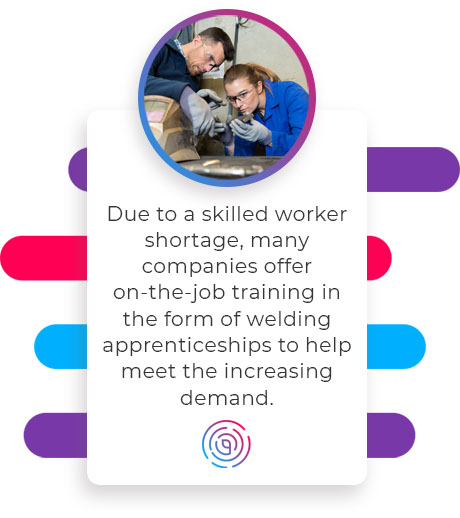 If you have little to no welding experience, don't sweat it! No one expects you to be a good welder right from the start. However, you will need your high school diploma or GED and have a valid driver's license before you can become a welding apprentice. And depending on the program, you may need to take some welding courses as well.
Once the educational requirements have been met, you can start searching for welding apprenticeships. Here are a few ways to find apprenticeship opportunities: 
Local Unions

– One way to score a welding apprenticeship is by contacting local welding unions in your area. Union apprenticeships are generally paid better than non-union apprenticeships; however, they can also be tougher to get.

Vocational School

– Some community colleges and vocational schools offer welding apprenticeships that may be sponsored by local unions. Going to vocational school can help prepare you for a successful career in welding while giving you a distinct edge over the competition.

Tallo

– OK, quick disclaimer — this is us! At Tallo, we help connect students to a bunch of cool opportunities in the form of apprenticeships, internships, scholarships (basically, all the 'ships), jobs, and any other educational or professional opportunity you can think of. Just create a profile, tell us a little about yourself, and we'll take it from there.

Government Websites

–

Some companies offer welding apprenticeships through a program state sponsor, which can usually be found on your state's government website. The U.S. Department of Labor also has an

apprenticeship finder

that can help you find welding apprenticeship opportunities.
As you search for apprenticeships, keep in mind that there are many different trades that use welding techniques. For instance, you could seek out plumbing apprenticeships with the ultimate goal of becoming a pipe fitter. 
Similarly, you could look for construction apprenticeships to become a structural welder or electrician apprenticeships to become a wireman welder. Bottom line: Don't limit yourself to welding if you're still exploring all of your career options in the trades.
How Long Is a Welding Apprenticeship?
It depends on the company and the program. In general, welding apprenticeships typically require at least 144 hours of classroom instruction and three to four years of on-the-job training. Your pay probably won't be too impressive in the beginning, but just know that you can get pay increases as you gain more experience on the job.
What to Expect as an Apprentice
As a welding apprentice, you'll work under the guidance of licensed journeyman. For the first year, expect to do a lot of grunt work for the more experienced welders: carrying tools, cleaning welds, running lines — that sort of thing. Whatever needs to be done, do it without complaint and be sure to ask tons of questions. By the end of your apprenticeship, you should be close in skill to the average journeyman, only without the title. 
Speaking of journeyman titles, you can also earn a specialized certification from the American Welding Society (AWS). Why bother with certification? Put simply, it can advance your welding career by potentially increasing your salary and employment prospects.
A Job Weld Done
If you have a great work ethic and a strong desire to learn, a welding apprenticeship will be right up your alley. And with so many welding job opportunities in a wide range of industries, you can find a job just about anywhere you want. Connect with opportunities and find others who share your interest in Tallo Community!