It is a truth universally acknowledged that all English majors will inevitably panic after realizing that they have no idea what to do with their degree. 'Cuz let's face it: You didn't choose to major in English because it promised to make you filthy rich. You chose it because you have a passion for prose, a love of literature, and an unyielding desire to become a better writer. (And maybe because you really hate math.)
In any case, it's time to find internships that will help you launch your career. And lucky for you, the list of potential career paths you can take as an English major is about as long as a CVS receipt (which is to say, extremely long). By the time you graduate, you'll have a wide range of marketable skills, including research, writing, editing, critical thinking, and storytelling.
Ready to put those skills to good use? Read on for seven internships for English majors that will help prepare you for an exciting career.
Journalism Intern –

Want to be

the next Ida B. Wells

or Bob Woodward?

Get a journalism internship at a newspaper, magazine, or a digital media company. As a journalism intern, you'll learn how to conduct interviews and write engaging articles that match the tone and style of the publication. Even if you ultimately decide that journalism isn't the right career path for you, it's still a great way to hone your writing skills and jazz up your portfolio/resume.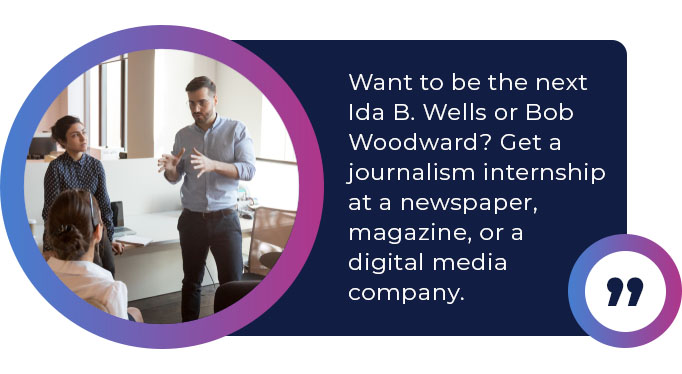 Editorial Intern –

Like journalism interns, editorial interns also work for newspapers, magazines, and digital media companies, as well as companies that may not be affiliated with a traditional publication. As an editorial intern, you'll learn how to write, schedule, and organize content that supports the company's marketing initiatives. Editorial internships can be highly competitive, so be sure to have your best writing samples ready to go. Having an impressive resume and

cover letter for internships

can also give you an edge in the competition!
Related: How to Write a Resume for Internships 
Copywriting Intern –

Did you absolutely crush your Persuasive Writing class? Ever find yourself wondering WTF McDonald's

"painfully thick"

slogan was trying to imply? If so, copywriting could be a great career option for you! Copywriting interns help full-time copywriters craft compelling copy with the aim of increasing brand awareness and persuading the audience to take a particular action. In this role, you'll learn how to conduct research, write concise copy, and use SEO principles to maximize the reach of your copy.

Nonprofit Grant Writing Intern –

Calling all humanitarians! As a grant writing intern for a nonprofit, you'll use your creative thinking, research, and writing skills to help organizations win grant funding for their philanthropic projects. If you've always wanted to use your writing skills to make a positive impact on the world, this career option is definitely worth exploring. But as an intern, don't expect to get paid for your good deeds. Unpaid internships are relatively common in the nonprofit sector.
Related: Do Interns Get Paid?
Public Relations Intern –

Another rewarding internship for English majors, public relations interns work for clients of a PR agency or with a corporate in-house team. As a PR intern, you'll use your strong writing and communication skills to create press releases, compose web copy, track and report on media coverage, and pitch creative ideas that help support the client. 

Technical Writing Intern –

Sure, you may not be majoring in English for the money, but that doesn't mean you can't get a high-paying job with your degree. Case in point: technical writing. The average annual salary for technical writers was

$72,850

in May 2019, according to the Bureau of Labor Statistics. As a technical writing intern, you'll help create technical documents and materials, such as instruction manuals, web-based copy, journal articles, and how-to guides. This is a great internship for English majors who have an interest in STEM fields.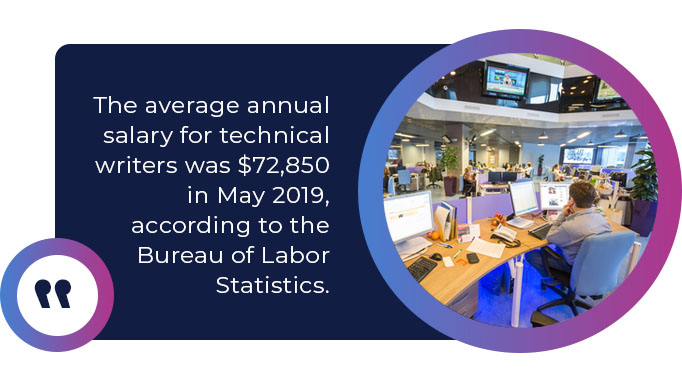 Social Media Intern –

Like staying on top of the latest trends? Do you spend way too much time on TikTok and Instagram? Consider getting a social media internship. As a social media intern, you'll learn how to run your employer's social media accounts and help create content that promotes their brand. This role is perfect for creative types who have strong communication skills. And if you're searching for

remote internships

in particular, you should have no trouble finding a flexible social media position.
Lit Internships for (English) Lit Majors 
Now that you know what types of internships for English majors are out there, it's time to land one for yourself. Start working on your online portfolio and ask your professors for glowing letters of recommendation. Remember, you've got this!
DISCOVER OPPORTUNITIES WITH TALLO
Image Credits
Source: fizkes/Shutterstock
Source: Pavel L Photo and Video/Shutterstock
Source: Diego Cervo/Shutterstock