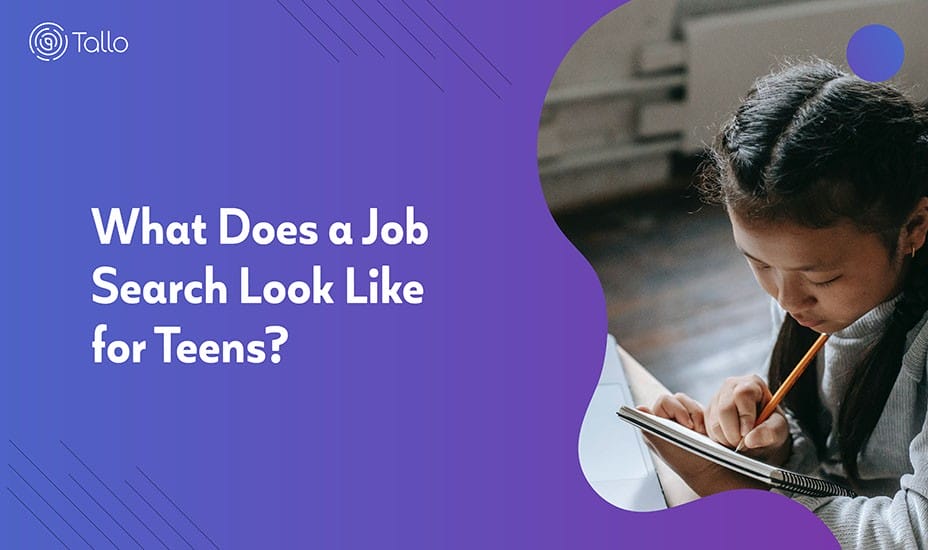 Job hunting as a teen can be intimidating. By understanding your strengths and interests, learning which jobs are ideal for high schoolers, and how to begin your search, you can find the perfect job to kickstart your career.  
What is a job search for teens?
As a high school student looking to earn some cash and build your resume, you have a lot to learn when it comes to landing your first job. This includes understanding the job search process, from figuring out what you're good at to nailing the interview. 
It's okay to have questions and concerns when looking for your first job, and with our tips and resources, you might even find something that sparks your interest in a lifelong career. 

Guidelines for Teen Job Hunters 
According to the Fair Labor Standards Act (FLSA), the minimum age for work in the U.S. is 14 years old for non-agricultural jobs. There are also restrictions on the number of hours a 14 or 15-year-old can work each day and the times of day you can work, with additional restrictions during the school year. However, once you turn 16, many of these restrictions are lifted.
In some states, minors may need to obtain working papers called Employment/Age Certificates. The best place to find out if you need working papers is your school guidance office or your state Department of Labor website.  
Types of Jobs for Teenagers
When it comes to finding jobs for teens, there are several options to consider, including:
Part-time
Part-time jobs offer flexible schedules and can be a great way to earn money. Food service handlers, retail cashiers, and movie theater ushers are popular part-time jobs for teens. 
Seasonal 
Seasonal jobs are a great option if you are looking for part- or full-time work during the summer months. These jobs include camp counselors, hospitality positions, lifeguards, or theme park attendants.
Internship
Internships are an excellent way to gain hands-on experience in a field you are interested in pursuing. Internships can be unpaid or paid positions that provide valuable learning opportunities.
Entrepreneurship 
Starting your own business can be a great way to earn income and gain valuable work experience. Babysitting, dog walking, tutoring, or selling handmade goods online are great options for teens. 

Understand Your Skills and Interests
To kick off your job search, take a step back and assess what you're good at and passionate about. Ask yourself questions like, "What tasks do I enjoy doing?" and "What skills have I developed in school or through extracurricular activities?" These insights will guide you in finding a job that aligns with your skills and interests.
To better understand your skills and interests, consider trying new things and volunteering for various projects or organizations, like the Humane Society or your local community center. You can also take personality tests (e.g., Myers-Briggs), career quizzes, or talk to friends and family to get their perspective on your strengths. 
Search for Jobs
An online job search is a great place to start. When searching online, use keywords such as "part-time," "summer job," or "internship," as well as specific job titles, like "fast food attendant," "pet store assistant," or "retail sales associate," that align with your skills and interests to find relevant job postings.
Let friends, family, and classmates know you're looking for a job and ask for their help. Mowing lawns, shoveling snow, and pet sitting can all be included in your resume, and the people you work for can give you a reference when you apply for other jobs.  
Check with your school guidance office. They may have a list of job postings or internship opportunities that might be a good fit. You can also check your local Chamber of Commerce website to see if they list jobs and internships for high schoolers.   
If time commitment is a concern, consider looking for a job in something you are already involved in, such as a soccer referee. You will have to take a course and pass a test to get your certification, license, and badge, but the USSF allows anyone over age 13 to become a referee.     
Be a Smart Job Seeker
Before applying, look at the company's website, and read reviews on Glassdoor and the Better Business Bureau to better understand the company culture and what it's like to work there. 
Tailor Your Resume and Cover Letter
Once you've found a job you're interested in, tailor your resume and cover letter to the specific job and company. This shows the employer that you're interested in the job and have done your research. Highlight your relevant skills and experiences, and proofread for any mistakes before submitting your application.

Kickstart Your Job Search With Tallo
Knowing where to start when job hunting as a high schooler can be challenging. However, with the right resources and guidance, you can get a headstart finding a job you love that can propel you into a rewarding career path. 
If you are ready to jump into the workforce, Tallo has the resources you need to kickstart your job search. Access Tallo's online and in-person networking events to connect with industry professionals and find a job you love.