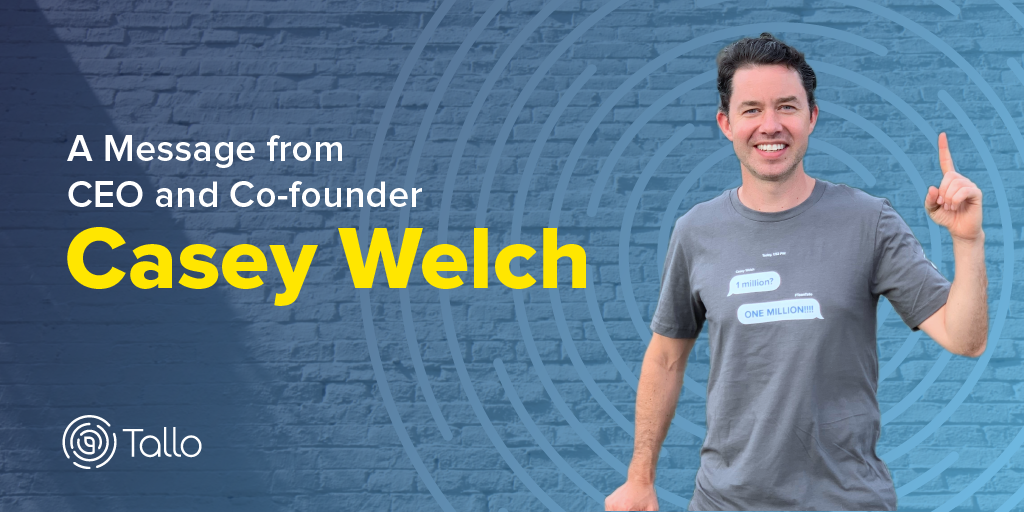 It's amazing how much of a difference one number can make. Today, I have the privilege of announcing a brand new number for our team: the Tallo community now consists of one million users! 
What started as a good idea has transformed into a great reality. Tallo has grown into a platform that now consists of students in nearly two out of every three high schools across the country, in a majority of colleges, and nearly 30% of Tallo users identify as ethnic and racial minorities. 
Along the way, we outgrew our original name, STEM Premier, rebranded to Tallo, and changed some of our tactics. Through it all, we've seen major success. 
One of our greatest accomplishments is the fact that we have such a diverse talent pool. Tallo has cracked the code to include students in middle school, high school, two-year colleges, four-year colleges, and adults looking to re-enter the workforce, re-skill, or continue their education. We have big companies (including several Fortune 100 companies), nonprofit organizations, and small, locally-owned companies. Most importantly, we have them all within one community to create the Tallo virtual ecosystem. 
For a long time, no one had ever connected the end to end talent pipeline. Until Tallo, nobody had figured out how to take a student from 13 years of age and connect them the whole way through to a college and career connection.
But there was a reason that no one was able to do it: It was tough. 
In addition to creating a virtual platform that was simple and useful enough for talent of all ages to engage with, we encountered some challenges with traditional college and corporate recruiting. One of the hurdles was the paradigm shift of getting talent seekers to connect with talent both earlier (before they're even applying to colleges or jobs) and all on a virtual platform. While virtual connections are a necessity today, when we first started seven years ago, Tallo was ahead of the curve. 
This innovation combined with passion is what has allowed us to get to where we are today (at one million users!), and what will allow us to progress in the future. 
And let me tell you, we are charging into that future headfirst. What do the next few years have in store for Tallo? We hope to build the largest career-focused community where we can help those at any level get on track to the career of their dreams. That includes introducing them to new career fields, bringing awareness to different educational pathways, or helping them align their skills with an opportunity to do what they love and support the lifestyle they want to live. 
I am consistently blown away by the value we can offer our users, especially during this time when the world has been forced to go fully remote in a matter of just weeks, and colleges and companies are no longer able to go to schools or in-person events to recruit. For many of our users, we are serving as their only bright light for college and career prep. 
Although reaching this milestone of one million users is one of the most exciting updates I've ever shared, I know this is just the beginning. 
Learn more about our journey to one million users here.