Most employers would agree that effective employee training is key to developing a happy and productive workforce. Still up for debate, however, is which training method is best for helping employees learn the specific skills and knowledge they need to be successful at their job.
Today, we're shining the spotlight on one particular training method: on-the-job training, or OJT. When combined with other training methods — observation, classroom instruction, and eLearning — OJT can be an amazing way to gain mastery of the skills you need to do your job well.
So what is on-the-job training and how can it help launch your career? Let's take a closer look.
What Is On-the-Job Training?
On-the-job training is a type of informal training that is provided at the workplace. During the training period, employees use existing workplace tools, materials, and equipment to learn how to effectively perform the tasks necessary to his or her job. Employees typically work under the supervision of a manager, coworker, or worksite sponsor until they are deemed ready to work on their own. 
On-the-job training can take many different forms. For instance, the training could be part of an apprenticeship, in which employees earn a competitive wage from day one while learning valuable skills. 
Recommended Reading: What Is an Apprenticeship?
OJT can also take the form of an internship. But unlike apprenticeships, internships may not be paid. This is because some interns may not technically count as employees under the Fair Labor Standards Act (FLSA), which means that employers aren't required to compensate them for their work. 
The Benefits of OJT
Why should job candidates look for companies that provide on-the-job training programs?  And why should employers offer them in the first place?
Turns out, OJT programs can offer a slew of benefits to both the employee and the employer. Here are a few reasons why OTJ can be advantageous in the workplace.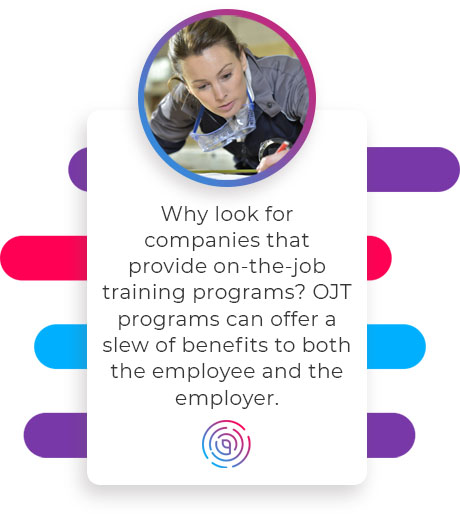 Benefits for Employees
Paid Training –

The majority of OJT opportunities are paid, so you can earn a steady paycheck as you gain valuable skills that advance your career. Plus, your wages can increase as you learn more skills on the job. 

Acquire Skills in Less Time –

Learning through hands-on experiences is a quick and effective way to gain new skills quickly, which benefits both you and your employer.

Supportive Atmosphere –

Employers who offer on-the-job training do so because they want to retain top talent. Since they're investing time and money into training you, you're more likely to form close relationships with your peers and employer. 
Benefits for Employers
Develop Highly-Skilled Employees –

One of the biggest benefits of on-the-job training for employers is the ability to develop skilled workers who know the company's structure. When you need to backfill a manager position, you'll have a pool of qualified and eager candidates who want to move up within the company. 

Cater to the Learning Style of Most Employees –

According to a LinkedIn Learning report,

68 percent

of employees prefer to learn at work. By catering to the majority of learners, you can increase the happiness and productivity of your employees while making your workplace a safer place to be.

Retain Top Talent –

Most employees want more than a job that pays their bills — they want a rewarding career path. Providing on-the-job training shows that you're willing to invest in your employees and offer them a way forward.
On-the-Job Training Examples
Want to score a job that offers on-the-job training? You're in luck! There are several industries and professions that are known for offering this form of training.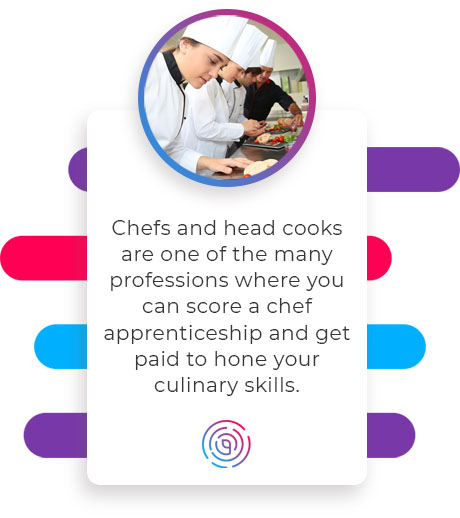 Chef ($51,530) –

Got a passion for food? Chefs and head cooks are one of the many professions where you can

score a chef apprenticeship

and get paid to hone your culinary skills. As a chef or head cook, you'll manage kitchen staff, create mind-blowing recipes, and prepare meals for (sometimes demanding) customers. 

HVAC Technician ($48,730) –

HVAC technicians are responsible for repairing and installing heating, ventilation, cooling, and refrigeration systems. They work in a variety of settings, including homes, office buildings, factories, and schools.

Construction Worker ($36,000) –

Construction workers commonly learn their trade through on-the-job training. They work full-time on construction sites and do physically demanding work in all sorts of weather conditions. Interested in becoming a construction worker? Check out our blog post on

construction apprenticeships

to learn more.

Electrician ($56,180) –

Want to work in a fast-growing and well-paying field? Consider becoming an electrician. Electricians work on lighting, electrical power, communications, and control systems. Most electricians get their start through an

electrician apprenticeship

, while some decide to attend technical school first.

Plumber ($55,160) –

Plumbers, pipefitters, and steamfitters work with pipes and related systems. Like electricians, plumbers may choose to attend vocational school before getting a

plumbing apprenticeship

.
Final Tips 
If you score a job that provides on-the-job training, be sure to pay attention and take it seriously. Don't be afraid to ask questions. It's better to ask a dumb question than to make an educated guess and potentially get someone hurt. And if you have free time, find something to do by organizing or cleaning up the workspace. 
Lastly, remember to go easy on yourself. You're going to make mistakes — that's part of the learning process. Just keep moving forward and your career success is sure to follow!