As a high school student with big college dreams, there are numerous ways to spend your summers wisely. The summer months are a good time to apply for college scholarships and get free money for school. You could also spend your time volunteering or interning to strengthen your college application. Or, maybe, you could just vibe to Fleetwood Mac's "Dreams" while drinking Ocean Spray as a way to de-stress before school starts up again.
Another option to consider? Enrolling in pre-college programs.
Pre-college programs are summer programs that are offered by colleges and universities. Aimed at motivated high school students, these programs last anywhere from one week to one month and are designed to give you a taste of college life.
Many (but not all) pre-college programs come with a hefty price tag, which leads many students and their parents to wonder: Are pre-college programs worth it? To give you a better idea of what they have to offer, here are five benefits of pre-college programs.
Related: How to Apply for College 
1. Prepare for College Life
Nervous about starting college? (That's totally normal, BTW.) Pre-college programs can be a huge help in calming your first-year jitters. Pre-college programs typically require students to live in dorm rooms for the duration of the program, which helps give you a feel for life on campus.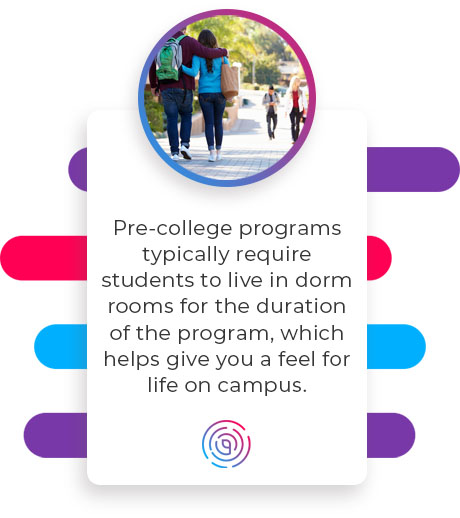 But the acclimation to college life goes beyond dorm living. Pre-college programs also give students a better idea of what to expect in terms of coursework. You can sign up for introductory college-level courses and work out the flaws in your study habits without the pressure of a letter grade. Depending on the program, you may even have the opportunity to earn college credit.
2. Discover Your Passions
Don't have a specific major or career path in mind yet? NBD. A pre-college program can help you discover your passions and figure out how to choose a career that really drives you. 
For instance, maybe you've always been interested in art but never knew what to do with it. But after participating in a pre-college program at the University of Michigan Stamp School of Art & Design, you realized that 3D artwork lights your inner fire. With your newfound knowledge, you can figure out what career paths involve 3D modeling and choose a major that leads to a rewarding career after you graduate from college.
3. Meet New People
One of the low-key benefits of participating in a pre-college program is that you get to meet a lot of new and interesting people. If you enroll in a well-known program from the likes of Harvard or Yale, you're practically guaranteed to meet students from all different backgrounds and countries.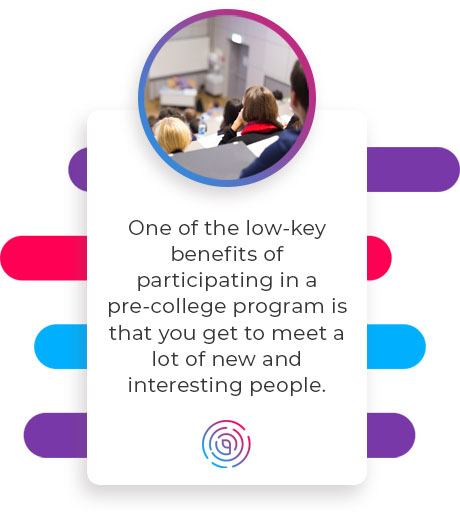 If you're not a social butterfly, try not to stress. Pre-college programs typically offer many opportunities to break the ice with your fellow pre-college students. You could find yourself playing ultimate frisbee and other sports, participating in student organizations, and exploring local attractions with your mentors and peers. You might even make lifelong friends through the program.
4. Make Your College Application Stand Out
Quick disclaimer: This one is up for debate. While some experts believe pre-college programs can enhance your college resume, others say it likely has no influence on college admissions. But generally speaking, colleges do like to see high school students taking an interest in academics over the summer, and pre-college programs accomplish that.  
The program you attend also matters. Some pre-college programs allow anyone to attend, while others are more selective and require you to meet certain college GPA requirements. Selective pre-college programs are more difficult to get into and are, therefore, more likely to turn college admissions' heads.
5. Get a Real Feel for Your Potential School
Choosing the right college or university can be difficult. You can't always tell what the school is going to be like until you're finally on campus.
A pre-college program can give you the chance to test drive your potential school and get a feel for what it's really like on campus. It's similar to an official college visit except better because you're actually going to class and living in the dorms.  
The Takeaway
Pre-college programs are honestly a great way to get a feel for college life and explore your academic interests on a deeper level. For many students, the biggest obstacle is the cost of such programs. If you don't have thousands to drop on a pre-college program, your best bet is to put together a strong application for a free (but often highly-selective) pre-college program. You got this!
Image Credits
Source: Matej Kastelic/Shutterstock
Source: Monkey Business Images/Shutterstock
Source: Jorge Salcedo/Shutterstock