Henry Shires, a junior in high school in Des Moines, Iowa, has utilized Tallo as a way to find scholarships and connect with opportunities before college. Initially, Henry heard about Tallo through the FIRST scholarships page and was interested in the scholarships sponsored by Tallo. After applying for various scholarships on Tallo, Henry was the lucky winner of a $1,000 Tallo scholarship specifically for students in Iowa. This scholarship was part of a recent initiative with the Greater Des Moines Partnership, an economic and community development organization in Iowa. Together, the Greater Des Moines Partnership and Tallo   will raise awareness of career and higher education opportunities in the Des Moines area. We recently spoke with Henry about his time on his FIRST 
team, how to land scholarships early, his best advice for new high schoolers, and his dream college and career. 
FIRST: 
Henry became involved with robotics through FIRST at the beginning of high school. He has competed with both local FTC teams and FRC teams. Through his participation in FIRST competitions he realized his love for robotics and technology. In his free time, Henry works at his local Code Ninjas, a franchise that teaches kids how to make their own video games.
Scholarships: 
As Henry began to think about college and the cost associated with it, he started to research ways to earn scholarships. That search was what brought Henry to Tallo initially. Henry's advice for students who are beginning to search for scholarships is that "starting as early as possible is crucial!" He believes that continuing to apply helps students  gain experience and increases their likelihood of winning. He urges students to start with applying to "easy scholarships or the ones that take the least time" before moving on to scholarships that match their interests and goals best. Henry credits Tallo's scholarship feature with helping him find these opportunities and making it easier to apply.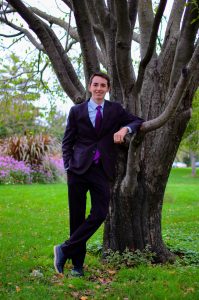 Staying Organized: 
Henry's best advice for students entering high school is to figure out how to best manage their time in order to decrease stress. He encourages students to focus on the activities that make them happiest and eliminate those that don't. This way, students will enjoy their favorite activities more and can be more successful in the long run. 
College and Career
Henry's dream is to attend Purdue University or Georgia Institute of Technology where he plans on studying Computer Engineering. He hopes that balancing his interests, academics, and applying for scholarships early will help give him the best chance of attending one of these dream schools and pursuing a career in Computer Engineering. 
We're thrilled Tallo has been a small part of Henry's journey so far. We hope he finds success and makes his dream of becoming a Computer Engineer a reality —  he is already well on his way!