Struggling to find a career path that actually gets you excited about your future? You're definitely not alone. While some people know from an early age what they want to do in life, most of us need a little more help with choosing a career that provides a sense of purpose, meaning, and stability. 
So, where do you even start? Enter: this comprehensive list of different types of careers. Whether you're about to graduate from high school or thinking about a career change, there are likely several types of careers that could be a good fit for you. 
Ready to find your passion in life? Let the career exploration begin!

Agriculture, Food, and Natural Resources
Careers in the Agriculture, Food, and Natural Resources cluster are centered around one important topic: life. From managing food production to preserving our planet's natural resources, occupations in this career cluster are critical to ensuring that humans are using the planet's resources wisely. Here are some rewarding careers worth exploring. 
Food Science Technician ($41,230)

Conservation Scientist and Forester ($62,410)

Logging Equipment Operator ($42,060)

Soil and Plant Scientist ($69,860)

Natural Sciences Manager ($129,100)
Architecture and Construction
Are you fascinated by modern buildings, bridges, and other structures? The architecture and construction career cluster has a slew of exciting jobs that may interest you. Here are a few occupations — including a couple of trade school jobs — that can lead to a stable and rewarding career.
Architect ($80,750)

Construction Laborer ($36,000)

Electrician ($56,180)

Civil Engineer ($87,060)

Surveyor ($63,420)
Arts, Audio/Video Technology, and Communication
Calling all creative personality types! The arts, audio/video technology, and communication career cluster features tons of career options that allow you to flex your creative side. The best part? There are a slew of associate's degree jobs within this career cluster that you can score in as little as two years.
Art Director ($94,220)

Reporter, Correspondent, and Broadcast News Analyst ($43,490)

Graphic Designer ($52,110)

Photographer ($36,280)

Editor ($61,370)
Business and Finance
Interested in starting your own business? Got a flair for crunching numbers? Check out these careers in the business and finance career cluster.
Human Resources Manager ($116,720)

Bookkeeping, Accounting, and Auditing Clerk ($41,230)

Financial Analyst ($85,660)

Administrative Services Manager ($96,940)

Loan Officer ($63,270)
Education and Training
As far as meaningful careers go, it doesn't get much better than helping educate and train the upcoming workforce. Check out these promising careers in the education and training career cluster.
Instructional Coordinator ($66,290)

High School Teacher ($61,660)

Librarian ($59,500)

Training and Development Specialist ($61,210)

Postsecondary Education Administrator ($95,410)
Government and Public Administration
Working for the government comes with a slew of perks, including increased job security and generous health benefits. Here are some government and public administration jobs worth taking a closer look at.
Compliance Officer ($72,850)

Legislator ($49,440)

Military Careers

(N/A)

Court, Municipal, and License Clerks ($42,030)

Urban and Regional Planner ($74,350)
Health Science
From anesthesiologists to orthodontists, some of the highest paying jobs can be found within the medical career cluster. Studying medicine can be a long and difficult journey, which is why it's important to take your career for a test drive by job shadowing a healthcare professional. But if you have a passion for helping people when they're most vulnerable, you might enjoy these health science occupations.
Physicians and Surgeons ($208,000)

Registered Nurse ($73,300)

Dental Assistant ($40,080)

Physical Therapist ($89,440)

Epidemiologist ($70,990)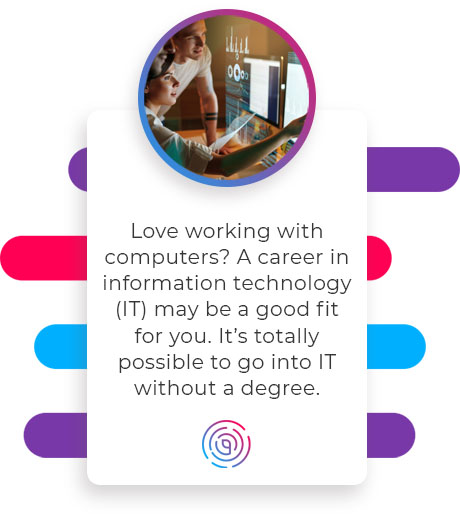 Information Technology 
Love working with computers? A career in information technology (IT) may be a good fit for you. While many occupations in this career cluster are bachelor's degree jobs, it's totally possible to go into IT without a degree. Here are a few IT careers to consider.
Computer Programmer ($86,550)

Information Security Analyst ($99,730)

Web Developer ($73,760)

Computer and Information Research Scientist ($122,840)

Database Administrator ($93,730)
Law, Public Safety, Corrections, and Security
Want to be a real life superhero and get paid for it? Pursue one of the following careers within the law, public safety, corrections, and security career cluster.
Police and Detectives ($65,170)

Firefighter ($50,850)

Arbitrators, Mediators, and Conciliators ($63,930)

Hazardous Materials Removal Worker ($43,900)

Correctional Officers and Bailiffs ($45,300)
Marketing
A career in marketing can take you in many different directions. If you're equal parts creative and analytical, one of the following marketing careers could be a great fit for you.
Market Research Analyst ($63,790)

Advertising Sales Agent ($53,310)

Public Relations Specialist ($61,150)

Advertising, Promotions, and Marketing Managers ($135,900)

Sales Manager ($126,640)
Science, Technology, Engineering, and Math
Science, technology, engineering, and math (STEM) occupations continue to be in high demand across the country. According to the U.S. Bureau of Labor Statistics, there were nearly 8.6 million STEM jobs in 2015. If you want a stable career that fetches a high salary, here are the STEM careers that should be on your radar.
Statistician ($87,780)

Speech-Language Pathologist ($107,510)

Genetic Counselor ($80,370)

Biochemists and Biophysicists ($94,490)

Civil Engineer ($87,060)
Finding Your Dream Career
Choosing a career is rarely easy. There is so much to take into consideration: your personality, your daily habits, your motivations. But once you finally choose a direction that gets you pumped about the future, you'll be so glad you have done your research. Get started exploring careers and internship opportunities, connect with industry-leading companies and more with Tallo.
Image Credits
Source: puhhha/Shutterstock.com
Source: mezzotint/Shutterstock.com
Source: Budimir Jevtic/Shutterstock.com