Students apply to fellowship programs for all sorts of reasons. Some are looking for an opportunity to do amazing work in their chosen field. Others hope that their fellowship will provide entry to their first job out of college, and others still wish to seek out fellowship programs to help them pay for a graduate degree. 
But what is a fellowship program, exactly? Tallo is here to break it all down.
Related: What Is a Graduate Degree?
What Is a Fellowship Program?
The term "fellowship" can be hard to define because it's often used to describe a variety of different programs. In undergrad circles, for example, the term may be used to refer to merit-based scholarships awarded to a student to help them pay for their academic pursuits. Occasionally, private-sector employers will use the term to describe an entry-level job opportunity that's geared toward recent college graduates.
But, in general, fellowships are monetary awards that are given to scholars to help provide funding for their education. Usually, fellowships:
Are short-term opportunities that last anywhere from a few months to a few years.

Focus on the fellow's professional field of study.

Are sponsored by an organization with an interest in advancing the field.
Apart from those key characteristics, fellowship programs can look wildly different across disciplines and programs. Some fellowships help students pay for educational costs, such as books and tuition, while others may be used to fund research projects. Some programs require fellows to participate in an internship or service commitments. 
Fellowship vs. Scholarship–What's the Difference?
The difference between fellowships and scholarships is fairly simple. Fellowships are awarded to students based on their future potential, while college scholarships are awarded based on past achievements. 
Additionally, fellowships are not usually need-based. Fellowships typically want applicants who can point to past successes that demonstrate their potential to do something impressive in their field.
Related: How to Find College Scholarships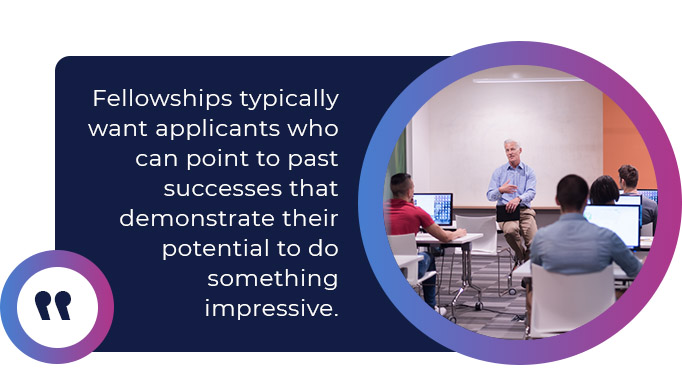 Who Should Apply to Fellowship Programs?
While most fellowships take place at the graduate level, this is beginning to change. Many fellowships (like Google's Public Policy Fellowship) now invite both senior undergraduate and graduate students to apply to their programs. In fact, some fellowships specifically require the applicant to be an undergraduate student, such as the James C. Gaither Junior Fellows program.
What Are the Benefits of Fellowship Programs?
Now, onto the most important question: Why should you apply for a fellowship? Here are a few reasons why securing a fellowship could be a smart move:
Funding for school:

Like college scholarships, securing a fellowship can help knock down the sticker price on your education. Just be sure to read the financial terms before you accept a fellowship. Also, keep in mind that you can apply for both college scholarships and fellowships.

Networking opportunities:

Participating in a fellowship can connect you with highly-respected professionals in your field. These individuals may be invaluable when it comes to finding your first job out of college.

Make a lasting impact:

Perhaps most importantly, a fellowship program can provide an opportunity to do amazing work in your field of study. Unlike many internships, fellowships allow students to perform in-depth research and intensive training. Who knows? You could find yourself

working with NASA

to develop innovative technologies or

participating in a Greenlining fellowship program

to help take on racial and economic injustice.

How to Find a Fellowship
Fortunately, fellowships aren't too difficult to find. A simple search for [Fellowships + your field of study] on Google will likely turn up plenty of results. 
Here are a few additional resources for finding fellowship programs:
Professors:

One of the best resources for fellowship programs is going to be your professors. Ask them if they know of any fellowship programs that you might be a good fit for. (Hint: Your profs are also a great source for getting letters of recommendation for your fellowship.)

College advisor:

Next stop: your college advisor. They've probably walked a number of students through internships, fellowships, assistantships—you name it. Start building a relationship with your college advisor so you can tap them for career opportunities.

Search for internships:

 Take a closer look at internship opportunities in your field (stick with us here). The truth is that many internships are nearly indistinguishable from fellowships, so don't be so quick to rule them out. 
Final Thoughts 
Pursuing a fellowship program can extend your skills, boost your professional reputation, and help you achieve your academic goals. However, many fellowships are also quite competitive, so you'll need to bring your A-game when submitting your application. If you've got the passion, drive, and a glowing recommendation, you'll likely be considered a great candidate for a fellowship.
Are you considering a fellowship program or know someone who has? Share your experience with the Tallo Community. The Tallo Community is filled with students, scholars and professionals who are sharing their experiences as they work to fulfill their dreams.
Image Credits:
Source: ProStockStudio/Shutterstock
Source: Gorodenkoff/Shutterstock
Source: dotshock/Shutterstock