Every year during the fall, millions of high school juniors sharpen their No. 2 pencils and sit down to take the Preliminary SAT/National Merit Scholarship Qualifying Test, or the PSAT/NMSQT. Are they doing it because they absolutely love standardized tests? Of course not! They're doing it for two reasons:
To prepare for the SAT, a

college entrance exam

that gauges college readiness.

To qualify for

college scholarships

, including the prestigious National Merit Scholarship.
If you haven't taken the PSAT yet, the National Merit Scholarship is something you should definitely keep in mind. But WTF is it, exactly, and why should you care? Tallo is here to give you the deets.

What Is the National Merit Scholarship?
The National Merit Scholarship Program is an annual academic competition in which high school students compete for college scholarships and recognition. The program is administered by the National Merit Scholarship Corporation (NMSC), a privately-funded non-profit organization.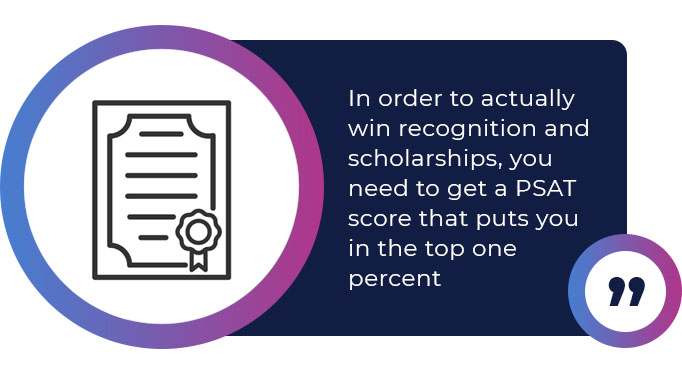 Winning a National Merit Scholarship is a fairly difficult undertaking. Each year, the NMSC screens approximately 1.5 million qualifying entrants. Of those entrants, only about 16,000 students will be named Semifinalists based on their PSAT scores and other achievements. 
If you reach Semifinalist status, your odds of becoming a Merit Scholar Finalist are extremely high. In fact, 95 percent of Semifinalists become Finalists.
Related: When to Apply for Scholarships
So, What's at Stake?
Besides recognition and bragging rights, you could also potentially win a lot of college scholarship dough. The National Merit Scholarship Program doles out 8,700 scholarships each year.
There are three different types of Merit Scholarship Awards:
National Merit $2,500 Awards

provide a single payment of $2,500 towards the student's first year of college.

Corporate-sponsored Merit Scholarships

are awarded to students who meet criteria specified by a corporate sponsor. These awards can range from $2,500 to $5,000 for a single payment and $1,000 to $10,000 for renewable awards.

College-sponsored Merit Scholarships

are provided to Finalists who plan to attend the college that is sponsoring the award. The monetary value varies by sponsor.
While the amount of scholarship dough may not seem huge, being a National Merit Scholarship Finalist can pay off. Many colleges, like the University of Alabama, offer full-tuition scholarships for Finalists (and smaller award packages for Semifinalists), so it's well worth your while to qualify for the National Merit Scholarship Program.
How to Qualify for the National Merit Scholarship
Right, so how do you qualify for the National Merit Scholarship? The first requirement is that you must take the PSAT/NMSQT during the specified year in your high school program. For most students, this means taking it during your junior year, although you can take the PSAT prior to junior year for additional practice.
Related: When to Take the PSAT 
Taking the PSAT will put you in the running for the National Merit Scholarship. But in order to actually win recognition and scholarships, you need to get a score that puts you in the top one percent—or the 99th percentile—of test-takers in your state. This can be tricky if you live in a competitive state like California or New Jersey, both of which tend to have high average cutoff scores.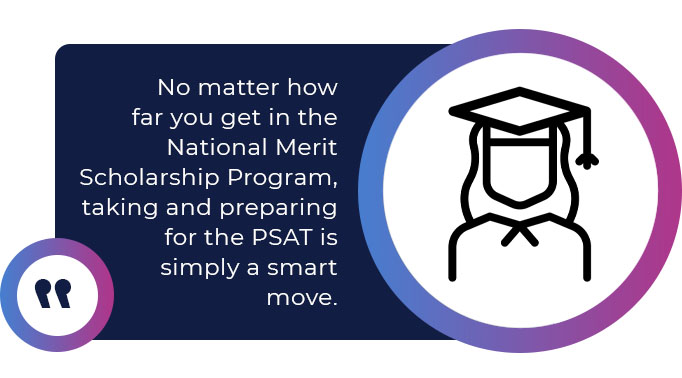 How to Become a National Merit Scholarship Finalist 
During your senior year of high school, you'll be notified if you are a Semifinalist. Let's say that you make it to Semifinalist status. How do you advance to the next level of competition? 
To become a National Merit Scholarship Finalist, you need to submit an amazing application. As a matter of fact, the process is pretty similar to applying for college! You'll need to fill out an NMSC application and submit the following:
Your high school transcript 

SAT scores

Information about

extracurricular activities

A personal essay

A recommendation from your high school principal
Related: What Is a Good SAT Score?
Finalists are chosen based on their abilities, skills, and accomplishments. To have the greatest shot at being chosen, focus on boosting your GPA, taking accelerated courses, and developing your extracurricular activities. Not only will you increase your chances of advancing in the competition, you'll make your college applications more impressive!
Related: College GPA Requirements 
The Takeaway 
No matter how far you get in the National Merit Scholarship Program, taking and preparing for the PSAT is simply a smart move. Studying for the PSAT can help you achieve a higher SAT score, which can help you earn more scholarships and get into your dream school. So even if you don't think you have a good shot at winning the big prize, go for it anyway!
Image Credits
Source: Nano99/Shutterstock
Source: SurfsUp/Shutterstock
Source: MicroOne/Shutterstock