Corteva invites you to join Tallo!
Corteva is proud to partner with Tallo to identify future talent, like you. Tallo helps you with finding career pathways, applying to internships, and connecting with colleges and companies.
Join Tallo now and connect with Corteva!
Join Tallo Today!
Build your profile to share your bragworthy accomplishments, find scholarships, and get discovered by colleges and companies.
Already on Tallo?
Let Corteva know you're interested!
Log into your account and complete the short application.
Getting Started With Tallo
Here's how to build an attention-grabbing profile and find internships, scholarships, and competitive events on Tallo.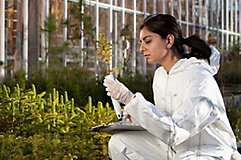 Corteva Agriscience™ is the only major agriscience company completely dedicated to agriculture. By combining the strengths of DuPont Pioneer, DuPont Crop Protection and Dow AgroSciences, we've harnessed agriculture's brightest minds and expertise gained over two centuries of scientific achievement.